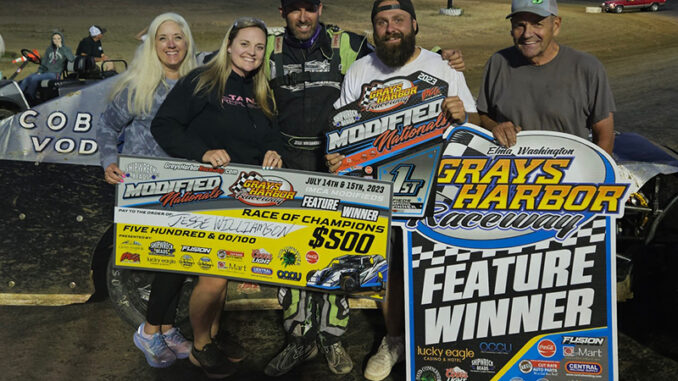 By Aaron Reed
ELMA, Wash. (July 14, 2023) – Night number one of Grays Harbor Raceway's 24th annual Shipwreck Beads Nationals saw Jesse Williamson win the Friesen Performance IMCA Modified Race of Champions while Trevor Points prevailed in the $1,000 to win Friesen Performance IMCA Northern SportMod main.
Twenty-one cars set the field for 25 laps during the Race of Champions, made up of 2023 feature winners and track champions across the Northwest and Canada.
Williamson and Jason Tole set the front row. Williamson struck first going into turn one, taking the lead while Jason Beaulieu moved into second and Collen Winebarger made it a battle for the runner-up position.
Williamson quickly put some distance on Winebarger, Beaulieu and Matthew Drager as Austin Kerrigan ran fifth. Following an early restart, it was Williamson with Winebarger right at his back bumper. Winebarger tried for the lead in turn two but couldn't make the pass.
The battle for fifth was the race to watch between Kerrigan, Bricen James and Lane Zerbin.
Williamson slowly put some distance on Winebarger during a long green flag run. Williamson ran the low side of the raceway late in the feature, working his way through lapped traffic and picked up the win and $500. Winebarger, Beaulieu, James and Drager rounded out the top five.
Grey Ferrando was the Elma Lane's Hard Charger, picking up 12 positions.
Forty-two IMCA Modifieds saw on-track heat and RoC action Friday night.
Brayden Brookshire took the early Northern SportMod lead with Points right on his back bumper before going to the low side early on and taking away the front spot.
A three-car battle for third saw Ethan Killingsworth work his way into a podium spot, battling it out with Kody Greer and Landyn Philpott before Greer spun and brought out the caution.
Points, Brookshire and Killingsworth led the field to the green flag. Killingsworth jumping into second and looking to track down Points for the lead.
Killingsworth stayed within striking distance of Points, getting closer each lap on a long green flag run. Points continued to run a strong line on the bottom of the raceway, however, and picked up the win over Killingsworth, Brookshire, Jordan Henry and Kevin Williamson.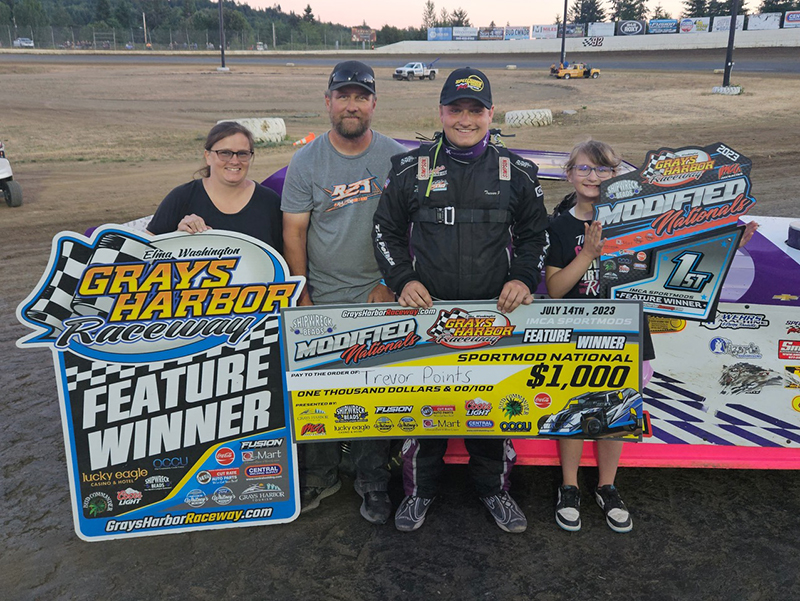 Trevor Points was right on point in topping the Friday feature for Friesen Performance IMCA Northern SportMods at Grays Harbor Raceway. (Photo by Josh Bryant)