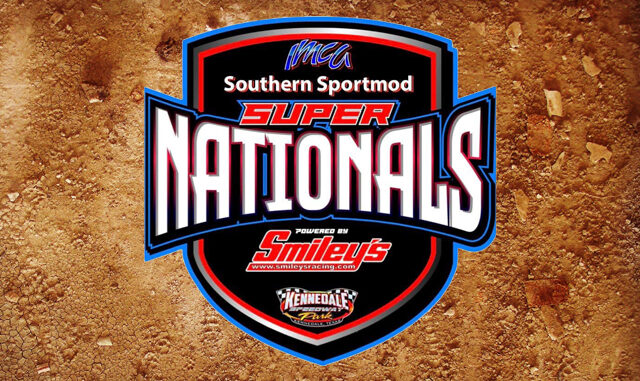 KENNEDALE, Texas (June 21, 2023) – IMCA Southern SportMod drivers will have a super weekend all their own Sept. 7-9.
Kennedale Speedway Park hosts the second annual IMCA Southern SportMod Super Nationals powered by Smiley's Racing Products, culminating with a $5,000 to win, minimum $500 to start main event Saturday night.
Twenty-four or 25 drivers will start the 30-lap main event grind. Purse for the main event is more than $20,000 with another $4,000-plus paid to drivers in the accompanying All-Star race.
A number of contingencies are also to be awarded at the second annual event and the top four fnishers take home trophies similar to those given the same night at the IMCA Speedway Motors Super Nationals fueled by Casey's.
"Division title sponsor Smiley's Racing Products returns as title sponsor for this event," said KSP promoter James Lopez. "The format for the weekend will be very driver friendly. It is very fair to drivers racing with us both nights."
Qualifying format for the weekend sees all Southern SportMods running two heats on Friday and locking in the top eight for the main event. The next 16 in passing points advance to one of two Saturday 'B' features while all other drivers will attempt to advance from 'C' features.
One Lucky Dawg starting spot will be awarded to a driver who practiced Thursday and attempted to qualify both Friday and Saturday. Another starting spot will be auctioned off, two more filled by provisionals.
The final starting spot will go to the winner of Friday night's All-Star race if he or she is unable to qualify for the main event.
"There will not be any voting this year. Drivers will have to race their way into the All-Star race," explained Lopez. "Any driver in the division with a valid license who has won a sanctioned feature by Aug. 31 this season can show up Thursday and draw for a starting spot in a heat race."
"The top 20 drivers in passing points will lock into Friday's $1,000 to win, $100 to start All-Star race," he continued. "Depending on car count, we'll have one or two eight-lap shootout races to add four more drivers to make up the 24-car field."
There is no entry fee for the All-Star race, the two requirements being at least one feature win this season and the purchase of a pit pass. Justin Long at Generation Race Cars helps with sponsorship of the All-Star race as well as Thursday's party in the pits.
Early registration for the IMCA Southern SportMod Super Nationals powered by Smiley's Racing Products is $65 and begins on MyRacePass on July 1. Registration after Sept. 1 will be $95.
Pit passes will be $25 for the Thursday practice session that runs from 6-8 p.m. and will be followed by All-Star qualifying and the party in the pits. No grandstand seating will be available that evening.
Pit passes are $35 Friday and Saturday. Spectator admission for adults is $15 on Friday and $18 on Saturday, with seniors $12, kids ages 6-11 $7 and five and under free both nights.
THE DFW R/C Oval Racers bring their radio controlled cars back to KSP on Saturday morning. Race On Texas broadcasts both nights of the Southern SportMod Super Nationals.
More information will be available from Lopez, who also noted that Dirt Defender will design a custom wheel cover for the event, at 817 478-7223.