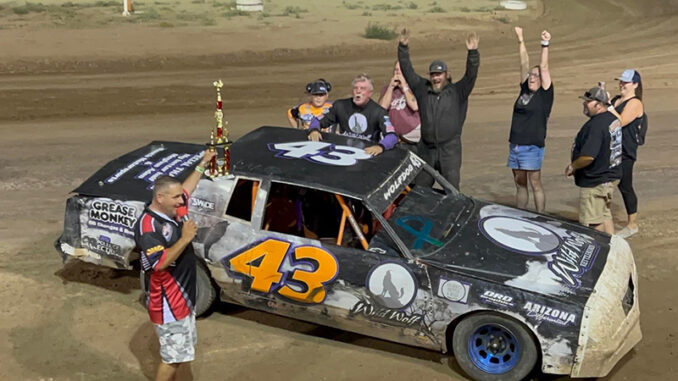 CASA GRANDE, Ariz. (June 3, 2023) – John Thomas' one-man tour took him to victory lane Saturday night.
The leader in national and Big Daddy Race Cars Southern Region rookie points won for the first time in his IMCA Sunoco Hobby Stock career, hauling from ninth in the checkered flag run at Central Arizona Raceway.
The win came in his 22nd start of the season, after three straight second-place finishes and, best of all, on girlfriend Meghan Aden's birthday.
"We're calling this my You Only Die Once, You Live Every Day Tour," explained Thomas, who turns 58 at the end of July. "I got back into racing this year following a health scare. I told Meghan this was something I wanted to do, she said 'Do it,' so I did."
"I've always been a fender guy," added Thomas, most recently a winner circa 2007 in the pure stock class at West Valley Speedway. "This was something I did way back when and I never got away from it. I'm really glad to be racing again."
The Arizona native is a self-described "Reverse Snow Birder," wintering in his home state and summering in Strasburg, Colo., some 35 miles east of Denver. His kettle korn business sets up mainly at tracks in Arizona and county fairs in Colorado, Meghan sneaks away from working at the trailer to watch Thomas race.
"The pure stock I used to race is similar to an IMCA Hobby Stock, but with Hoosier tires and a bigger carburetor," he said. "I never expected to be where I am in points and I've really had a lot of fun in this class. I like that it's competitive, it's affordable and the guys I race with are some of the best I've been involved with."
"They're always right there to help when you need it and after I got my win, so many of them came over to congratulate me."
With the summer break coming in Arizona, Thomas will next road trip to Aztec Speedway in New Mexico, Fairgrounds Speedway at Cortez, Colo., and Utah's Desert Thunder Raceway.
He's hoping to start September at the IMCA Speedway Motors Super Nationals fueled by Casey's.
"I'm hoping to run Boone," Thomas said. "That's big on my bucket list, too."