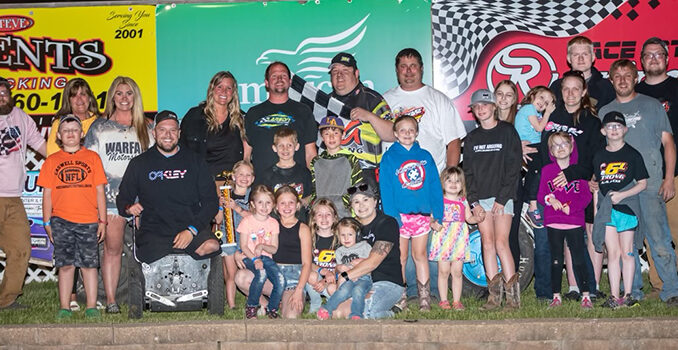 READING, Minn. (May 27, 2023) – The perfect night and the perfect track provided the perfect setting for Jeffrey Larson's 100th IMCA Sunoco Stock Car win.
Larson led the last lap and a half of the opening night feature Saturday at Worthington Speedway, racing virtually side-by-side with Luke Sathoff coming to the white flag and telling himself "Don't mess this up" the rest of the way.
"We were just trying our best to get the win was all. The track was good, we had a good car and we were just hoping we could get there," said Larson, from Reading. "It was pretty cool to get this win and share it with Warfare Motorsports. We've been fortunate to win some big races over the years and this one is definitely right up there."
"Dad would be so proud, for sure."
The win was Larson's first of 2023 and first since his father, team member and mentor Jim passed away this spring.
Jim had been the first in the family to race, starting in enduros and winning 53 times during his own IMCA Stock Car career. Both Larson and his brother Dustin, already a member of the division's 100 win club, helped Jack Zimmerman's Warfare Motorsports Team raise money and promote awareness of Amyotrophic Lateral Sclerosis (ALS, or Lou Gehrig's Disease) last season.
"Racing is going to be different for us this year. It can be hard to find the drive to go to the track," Larson said. Hopefully we can continue to do it."
Larson turned his first Stock Car laps in 2007 and finished with double figure wins four seasons since. He has five track championships and a Minnesota State title to his credit as well.
"We've just gone out every night and done our best. Everybody's goal every night is to win and we've been fortunate to win as many times as we have," he said. "There's a lot of luck involved, sometimes just being in the right place at the right time."
"Now that we've done it, I know how cool it is to win 100 races," Larson added. "It's not something a lot of drivers do."
Larson became the 31st driver in division history with 100 wins, reaching the century mark one night after Iowan John Oliver Jr. did so.