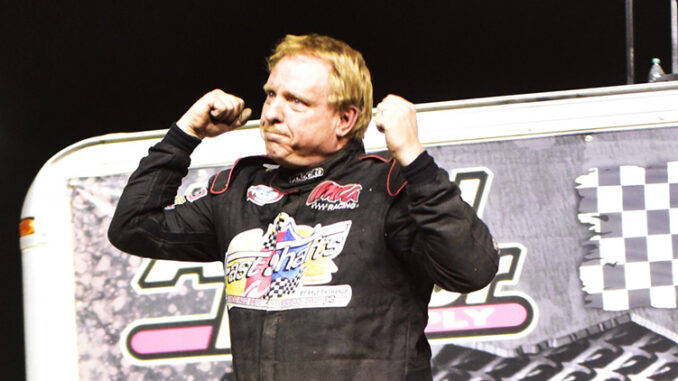 SPENCER, Iowa (May 22, 2023) – He's won a lot of races at a lot of tracks but there's just something about Clay County Fair Speedway that makes Kelly Shryock even better.
Shryock started fourth, got to the front in a hurry and led the distance in Monday's 35-lap Clay County Classic, collecting $5,000 for the IMCA Sunoco Stock Car victory.
"I just seem to get around here pretty good," explained Shryock, who had run first and then second in Sunday qualifying heats at Spencer.
"We watched what the track did and made to the car accordingly," he continued. "After I got the lead I looked around to see where the best line was. I didn't know if the top side was coming in but the bottom worked for us and that's where we stayed and just kept doing our thing."
Multiple cautions slowed the main event and both Dustin Vis and Dylan Thornton were rebuffed after trying to get under the leader.
Vis and Jesse Sobbing ended in second and third, respectively, after both advanced seven spots from their initial starts.
Devin Snellenberger won his last-chance race and earned hard charger honors, racing from 19th starting to fourth. Thornton completed the top five.
Austin Brauner was also a plus 15 on the night, ending in ninth after starting last in the field of 24.
"I had a little left and was able to pull away some at the end," Shryock said. "It was pretty awesome. Five thousand dollars is a lot of money and it automatically gets me into the B & B Racing Chassis All-Star Invitational (at Super Nationals). That takes some of the pressure off going to Boone."