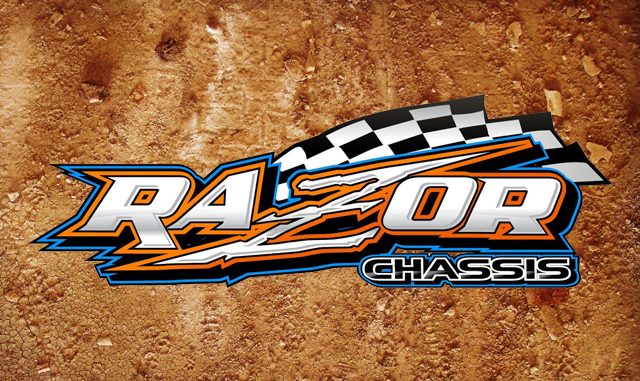 PLATTE CENTER, Neb. (May 19, 2023) – Razor Chassis marks a decade of IMCA Modified support in 2023, its second season as title sponsor of the North Central Region.
The Platte Center, Neb., chassis builder and high performance parts and Hoosier Race Tire retailer again provides a por­tion of the $6,000 point fund that will be paid to top 10 drivers in the region including tracks in Illinois, Iowa, Minnesota, North Dakota, Saskatchewan, South Dakota and Wisconsin.
Champion of the Razor Chassis North Central Region will earn $2,500, with $1,250 paid to the runner-up and $625 for third, $325 for fourth, $300 for fifth and $200 for sixth through 10th places.
Drivers in the region will be required to display two Razor logos on their race car to be eligi­ble for point fund shares. Information about Razor-built Modified and SportMod chassis is available by calling 402 246-2021 and on Facebook.
Razor also provides a parts trailer during weekly racing at US 30 Speedway in Columbus and with Outback Motorsports at Off Road Speedway in Norfolk and Boone County Raceway in Albion
"I think the Razor title sponsorship of our North Central Region is really a perfect combination," said IMCA Marketing Integration and Sponsorship Director Carson Becker-Gramm. "We've already seen a number of Modified and SportMod drivers in Razor Chassis race their way to the winner's circle in the North Central Region as well as across the country."
Razor Chassis had originally come on board with IMCA as title sponsor for the Modified South Central Region.