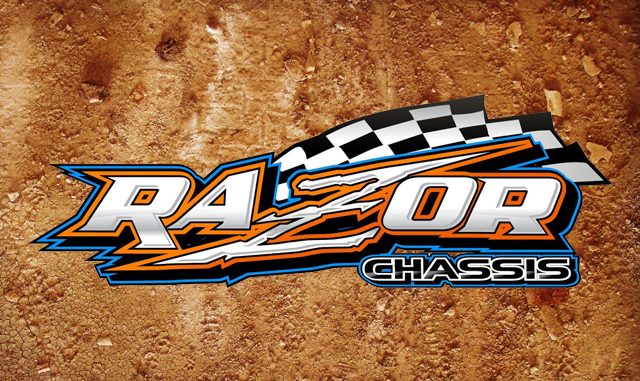 PLATTE CENTER, Neb. – Modified drivers in the IMCA South Central Region enjoy title sponsor­ship support of Razor Chassis for an eighth consecutive season in 2021.
The Platte Center, Neb., chassis builder and high performance parts retailer again furnishes a por­tion of the $6,000 point fund to be paid to top 10 drivers in the region, comprised of tracks in Texas, southern Oklahoma and southern New Mexico.
Winning the Razor Chassis South Central Regional crown is good for a $2,500 share of that point fund. The runner-up gets $1,250 with $625 paid for third, $325 for fourth, $300 for fifth and $200 for sixth through 10th places.
"It has been a privilege to be working with IMCA again this year. As we continue to grow as a company, having a partner like IMCA keeps us on the cutting edge of designing and building a competitive chassis for all of our drivers who chose to #JointheElite," said Razor Chassis owner Travis Roth. "We look forward to partnering with IMCA for many years to come. Good luck to the Razor Chassis South Central Region drivers."
The South Central Region includes tracks in Texas, southern Oklahoma and southern New Mexico, and drivers in the region must display two Razor logos on their race car to be eligi­ble for point fund shares, to be presented during the IMCA national awards banquet in November.
Information about chassis built by Roth, drivers' Only Choice For Performance Parts, Sales and Service, is available by calling 402 246-2021 and on Facebook.
"The Razor brand is one of the elite chassis builders in IMCA competition year in and year out, as evidenced by another regional Manufacturer of the Year award last season," noted IMCA Marketing Director Kevin Yoder. "They are used to competing for regional and national championships and a host of Razor drivers will be right there again this season."