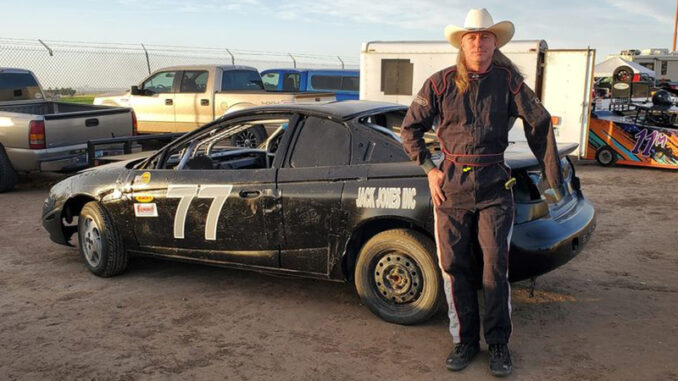 YUMA, Ariz. (May 18, 2023) – The Adventures of Wesley Bruce continue, this season in a Mach-1 IMCA Sport Compact.
Forty-five years old, from Yuma and a rookie to circle track racing, Bruce comes to the 4-cylinder class after an already lengthy career ranging from drag to road course, off-road and utility terrain vehicle racing.
And all those adventures have come after Bruce lost both his left arm above the elbow and left leg above the knee in a motorcycle accident that ended his Navy career in 2001.
"I just enjoy racing. I'd never raced a front wheel drive car before so it's new and exciting," said Bruce, who bought defending 2022 Arizona State champion D.J. Werkmeister's backup ride after Cocopah Speedway's IMCA.TV Winter Nationals ended in January. "I've met a lot of neat people and I've had a lot of fun."
He's chronicled his adventures on and off the track on the aptly titled Adventures of Wesley Bruce Facebook page. Bruce competes while wearing a prosthetic leg and had nine podium finishes in 12 starts in his final UTV season in 2017.
Then the racing bug bit again.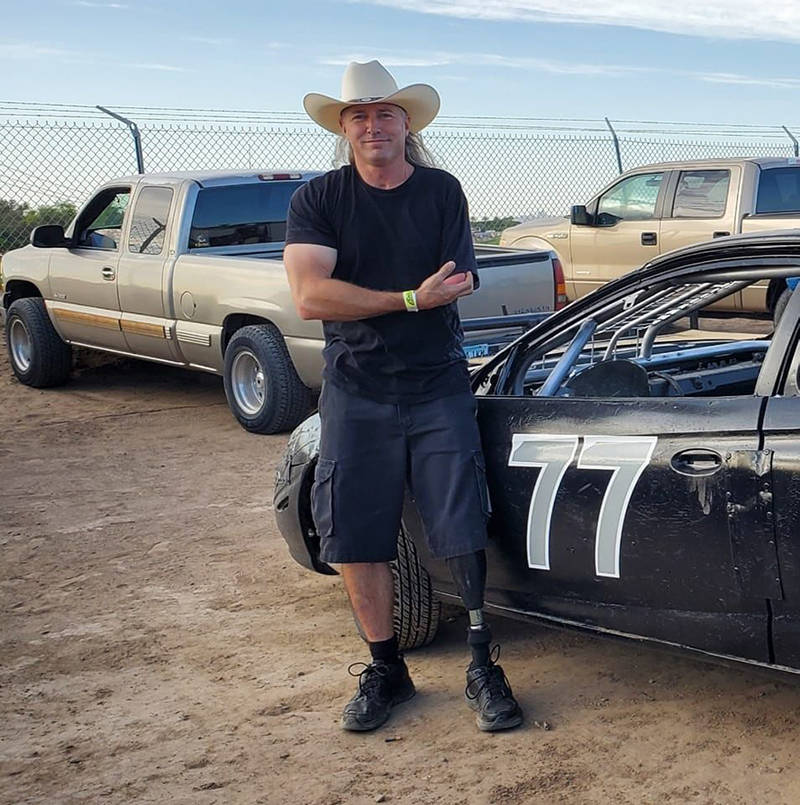 "I had always watched from the stands and finally decided to get one of these cars. It's been fun," he said.
I steer with one hand and do the best I can to get to the front. I have a couple friends who help with the car at the track and one who videotapes my races."
"The only help I need that other drivers don't is getting my suit, gloves and shoes on, and then getting into the car and getting the window net up," Bruce continued. "Other than that, I'm just another guy who likes to race."
Friday and Saturday nights have been devoted to doing just that while Mondays are for bowling, Tuesdays for pool league and Wednesdays and Sundays are golfing days.
Showing steady improvement since his first outing at hometown track Cocopah Speedway, the mulleted Bruce – also a gym rat and chaplain for the Yuma chapter of the Disabled American Veterans – posted back-to-back sixth place runs in his last two Cocopah shows.
"I didn't have any goals when I started but now I'd like to get one of those real nice winner's trophies. I always try to do better every night. I'm still looking for a seat with better padding but other than that I'm enjoying everything about this," he said, before parking his car ahead of the summer break at Cocopah. "It's a good group of people who race here and I've got nothing but good to say about IMCA."
"I have my stepdad Jack Jones' name on the car along with RZR Werks and T.J. Wright's company Wright Way Wraps. They each gave me some cash and/or help," Bruce adds. "I'm lucky to know a lot of small business owners who help me here and there. No matter how big or small the help, everyone adds a lot to my life and it keeps me going to the next adventure."