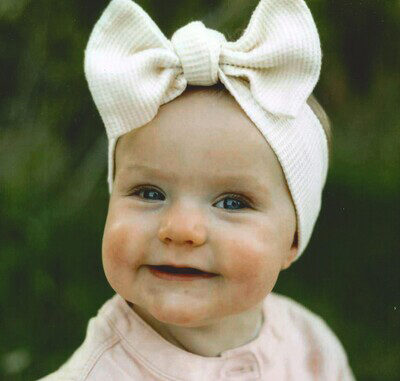 Navy Drew Smith, 9 months, of Waterloo, was called back to Heaven on Thursday, May 4, 2023. She was born August 4, 2022, in Waterloo, the much loved daughter of Tyler Smith and Alyssa Root.
Despite her young age, Navy traveled with her parents, grandparents and great-grandparents for vacation experiencing her first airplane ride, ship ride and island adventures. She would ride around deck on the ship in her stroller, greeting all her fellow passengers with her warm and contagious smile.
Navy especially enjoyed the many hours spent with Grandma Sue. She liked being outdoors, going on walks and playing in the water but hated the feel of grass on her feet. She was very curious and alert and didn't miss anything within ear or eyeshot. Navy sat up at 6 months, then moved right into crawling and was already pulling herself up on furniture. Her adventurous nature also included eating and enjoying every food she ever tried.
Navy was loved and cherished and will be deeply missed by the many people whose lives she touched in such a short lifetime.
She is survived by her parents; grandparents Sue Smith, Keith and Kari Smith and Brett and Virginia Root; great-grandparents Mahlon and Becky Smith, Twyla and Kim Schneck, Carlton and Kathy Root and Susan Davis; great-great grandmothers Harriet Schatzberg and Opal Miller; aunts, Kayla (Jarett) Schatzberg, Alyssa Smith and Kenidi Root; cousins Kingsten and Ace Lewis; and many extended family members and friends.
Navy was preceded in death by her cousins Daxten Lewis and Cain LaVelle, great uncle Daxton Schneck, great-grandparents Ronald Smith, Mike Schatzberg and Linda Schatzberg, and other extended family members.
A private service has been held. Navy's family will honor her with a Celebration of Life at a future date. In lieu of flowers, the Navy Smith Memorial Fund has been established c/o Farmers State Bank, 131 Tower Park Dr #100, Waterloo, IA 50701.