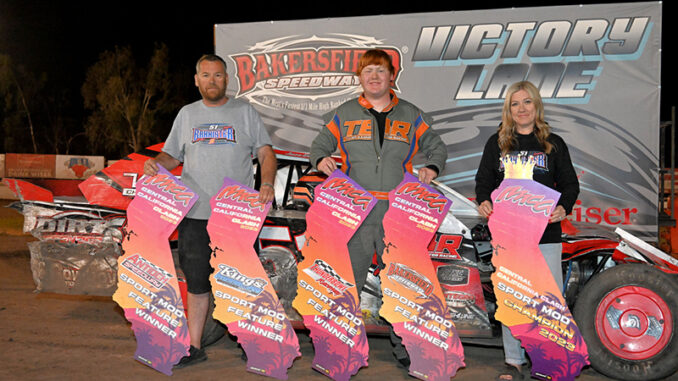 BAKERSFIELD, Calif. (May 7, 2023) – He was the defending tour champion but Tyler Bannister admittedly went into opening night of the IMCA Central California Clash with low expectations.
Four wins – the last of them best described as improbable – in as many races later, the Bakersfield driver was a repeat champion in the Friesen Performance IMCA Northern SportMod portion of the tour.
"Our goal had been to show up and turn laps," said Bannister, forced into father Jason's 2019 Victory Circle ride after totaling his own mount late last month. "I'd finished second in my only other start in that car but we struggled to do that and there were a lot of things we had to change."
"We ended up having a pretty good week," he continued, "and to get our first wins of the season in our home state was great."
Getting his fourth win of the week, and first of 2023 at his hometown track was even better.
Feature wins at Antioch Speedway, Kings Speedway and Tulare Thunderbowl Raceway … the night two show at Merced fell to wet weather … followed similar storylines as Bannister started close to the front, got the lead early and led the last 20-plus laps each night.
The May 7 finale at Bakersfield had a plot all its own, however.
With a $1,000 bounty in place for the driver who could end his streak at three, Bannister started 10th, was quickly part of "a big ol' crash" at the start of the 25-lapper and came to a stop in the middle of turns one and two looking at the back end of another car on top of the front end of his own.
"The body was bent up some but there was no main component damage and no flat tires. We got really lucky on that situation there," said Bannister, then faced with restarting from the back of the field. "I just knew we'd have to be patient at that point. We were still racing for a championship. The win was just a plus."
He worked his way steadily toward the front, getting help from a couple timely restarts, and passed Austin Manzella for the lead with nine laps to go.
The front pair stayed close the rest of the way and Bannister led Manzella and Brock Crawford across the stripe in a 1-2-3 finish for hometown drivers.
"I have never won a race quite like that. It was definitely a first for us," said Bannister, also the 2021 track champ at Bakersfield. "I've started in back and won but not after being part of an incident that played out before like it did Sunday night."
He'd won twice in Arizona before sweeping the tour, during Cocopah Speedway's IMCA.TV Winter Nationals and at Mohave Valley Raceway. Sponsors for his Clash car included Victory Circle, Chris Sivesind Suspension and his parents Jason and Amy.
"It was an awesome week but I don't know if I'd ever be able to do something like that again," Bannister said. "It's one of those things that I'm always going to be able to look back on and smile."
Jerry Flippo won three features and the IMCA Sunoco Stock Car tour title. The Friesen Performance IMCA Modified Central California Clash king was Troy Foulger.