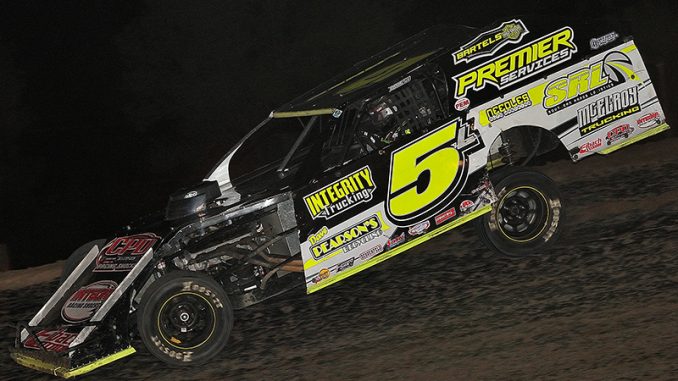 By Ben Deatherage
MERCED, Calif. (May 6, 2022) – Night five of the IMCA Central California Clash saw Cody Laney put another $1,000 in his racing account.
The Torrance standout won his third Friesen Performance IMCA Modified start of the week when the Clash shifted locations to Merced Speedway Friday evening.
Ryan Porter paced the competition on the initial start and held down the front position being overtaken on lap five by Laney.
A series of six stoppages slowed things down, but Laney, already Fast Shafts All-Star Invitational qualifying eligible, kept his mount ahead of all challengers, equaling Ethan Dotson's 2021 feat for the most wins in a single season with the series.
Bobby Hogge was second over Kyle Heckman, Cody Burke and Troy Foulger.
The IMCA Sunoco Stock Cars had a thriller of a main event. Dakota Schweitzer marshaled the field on the opening start with double-duty driver Foulger in second.
Mid-race cautions kept the competitors close. Schweitzer battled Anthony Guiliani before the two briefly touched and the contact allowed Foulger to pass both on lap 12.
Four cautions followed the lead change, but Foulger kept everyone behind him every time the race restarted.
Schweitzer, Steven Johnson, Guiliani and Bo Partain completed the top five.
Lastly, in the Friesen Performance IMCA Northern SportMods, Cale Kanke faced off with Kenny Shrader. For the early lead but Tyler Bannister motored his way underneath to lead lap two.
From there on, Bannister was in dominant form and held off Matt Sanders before collecting his second win of the week.
Sanders beat Kanke for second while Shrader and Garrett Jernagan were next across the stripe.
Feature Results
Modifieds – 1. Cody Laney; 2. Bobby Hogge; 3. Kyle Heckman; 4. Cody Burke; 5. Troy Foulger; 6. Paul Stone; 7. Buddy Kniss; 8. Josh Combs; 9. Tim Yaeger; 10. Chuck Weir; 11. Jeffrey Faulkner; 12. Ryan Porter; 13. Robby Sawyer; 14. Jake Pike; 15. Danny Roe; 16. Raymond Keldsen Jr.; 17. Jim Pettit II; 18. Troy Morris III; 19. Chase Aue; 20. Michael Paul Jr.
Stock Cars – 1. Troy Foulger; 2. Dakota Schweitzer; 3. Steven Johnson; 4. Anthony Guiliani; 5. Bo Partain; 6. Chad Johnson; 7. Mike Shepherd; 8. Garrett Corn; 9. Cody Johnson; 10. Loren DeArmond; 11. Scott Foster; 12. Dave Hill; 13. Jacob Van Essen; 14. Michael Shearer; 15. Paul Stone; 16. Rick Diaz.
Northern SportMods – 1. Tyler Bannister; 2. Matt Sanders; 3. Cale Kanke; 4. Kenny Shrader; 5. Garrett Jernagan; 6. Jason Bannister; 7. Jacob Mallet Jr.; 8. Nick Spainhoward; 9. Brian Baker; 10. Jeremy Hoff; 11. Tyler Browne; 12. Richard Ragsdale; 13. Riley Jeppesen; 14. Markus Frazier; 15. Chuck Golden; 16. Dave Pearson; 17. Adam Baker; 18. Gavin Espino; 19. Jarrod Mounce; 20. Dutch Jantz.