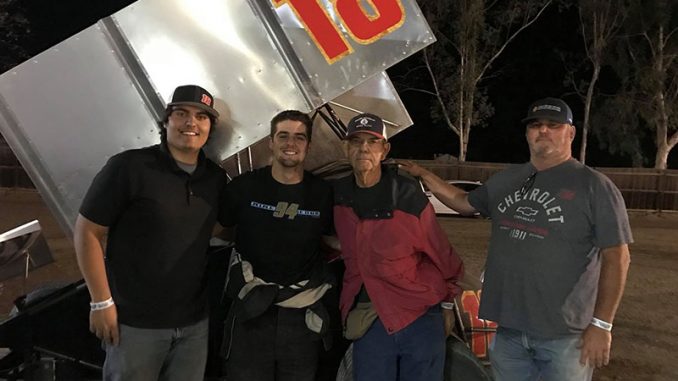 MERCED, Calif. (April 6) – Grant Champlin had a pair of top four finishes to show for his first two Western RaceSaver Sprint Series outings of the season.
He had his career first IMCA RaceSaver Sprint Series victory to show from his third, Saturday night at Merced Speedway.
Champlin chased Grant Duinkerken most of the 30-lapper, gaining ground in traffic and finally taking the lead coming out of turn four with six circuits left.
"All the tough guys were here tonight. There was no lack of talent," said Champlin, who beat defend­ing series champion Duinkerken to the checkers by four car lengths. "It's good to get this win. It gives you a bump up in your confidence."
He'd run fourth and third in the first two series events of the season, both at Keller Auto Speed­way.
Kyle Rasmussen, Rob Solomon and Brendan Warmerdam completed Saturday's top five.
Feature results – 1. Grant Champlin; 2. Grant Duinkerken; 3. Kyle Rasmussen; 4. Rob Solomon; 5. Brendan Warmerdam; 6. Ryan Delisle; 7. Monty Ferriera; 8. Brandon Emmett; 9. Mauro Simone; 10. Lance Jackson; 11. Michael Pombo; 12. Brandon Burd; 13. Ben Catron; 14. Brooklyn Hol­land.