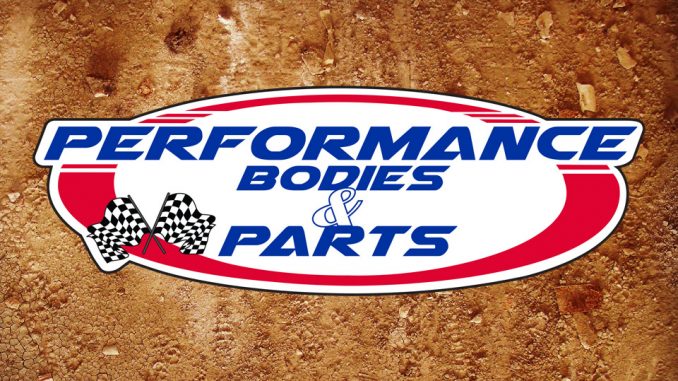 CEDAR FALLS, Iowa (April 19, 2023) – IMCA drivers in seven divisions are the beneficiaries of a partnership that begins its fifth decade this season.
Performance Bodies gives nearly $26,000 in contingency awards. Just to name a few contingency winners, drivers finishing in national top 10 standings, rookie of the year contenders and Super Nationals competitors in 2023.
The high performance parts distributor and race car body manufacturer is in its 41st season of IMCA sponsorship.
"Time flies when you are having fun! Forty-one years means one thing and that is I am getting old," said Scott Braun, who founded Performance Bodies in Cedar Falls, Iowa, in his home garage 44 years ago. "I enjoy being a part of dirt track racing and the hardest working customers around. The amount of time, energy and money put into each race team is overwhelming and only growing."
"Being able to give back to the racers through IMCA contingency funds, I feel, is a great way to help as many racers and newcomers as possible."
Awards to Friesen Performance IMCA Modified, IMCA Sunoco Late Model, IMCA Sunoco Stock Car, IMCA Sunoco Hobby Stock, Friesen Performance IMCA Northern SportMod, Smiley's Racing Products IMCA Southern SportMod and Mach-1 IMCA Sport Compact drivers will be presented during the national banquet in November or mailed beginning the first week of December.
Each of the top five drivers in Late Model national standings receive a $400 product certificate.
Drivers finishing in second through seventh place in standings for each of the five Modified regions, and the second, third and fourth-place finishers in regional standings all receive $200 product certificates.
Also earning $200 certificates will be top 10, 15th and 20th place finishing drivers in the two Stock Car regions and second through 10th place drivers in national Northern and Southern SportMod points.
Top 10, the 15th and the 20th place drivers in both Hobby Stock regions earn $175 certificates.
And product certificates valued at $100, $50 and $50, respectively, go to top three finishers in national Sport Compact standings.
National rookie of the year certificate awards are $400 for the Late Models, $200 for the Stock Cars and $175 for the Hobby Stocks. Runners-up in both Northern and Southern ROY point standings earn $200 product certificates as well.
Awards given at the IMCA Speedway Motors Super Nationals fueled by Casey's include $200 certificates to fifth, sixth and seventh place drivers in main events for the Modifieds, Stock Cars and Northern SportMods, and $175 certificates to each of the fifth through seventh place finishers in the Hobby Stock main event.
Part of national de­cal programs for Modifieds and Hobby Stocks, Performance Bodies also returns as primary sponsor for Late Model and Stock Car rookie of the year programs.
Performance Bodies is a distributor for more than 120 manufacturers and over 10,000-plus parts IN STOCK! Information about those products is available at WWW.PERFORMANCEBODIES.COM or call 1-800-722-4641.
"Performance Bodies support of IMCA and IMCA weekly racers is outstanding, in terms of both scope and duration," observed Carson Becker-Gramm, director of marketing integration and sponsorship for the sanctioning body. "They have been an excellent partner for four-plus decades, and I appreciate everything they have done for so many thousands of our drivers as an IMCA sponsor."