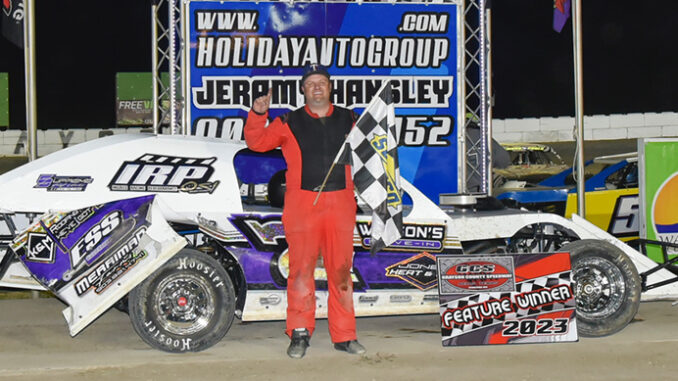 BELLS, Texas (April 1, 2023) – Sixteen years after his first visit to victory lane, Donovan Waw made his second Saturday night at Grayson County Speedway.
The Royce City racer wowed the crowd with the opening night Friesen Performance IMCA Modified win … his career second and first since the 2007 season, also at Bells.
"After that last restart, I don't know if I realized I was even in the lead. I was focused on running laps," said Waw, still living those Days of Thunder dreams. "It didn't register when I won. I was excited but I was a little taken aback. It had been a little while since I won."
Feature win number one came in just the third start of Waw's admitted challenging first IMCA season. A newcomer to the sport, he was chasing the learning curve on everything about the car while making just a handful of starts every year.
During a lengthy break from driving, Waw helped Brandon Watson while turning his focus to family. He got back behind the wheel in a Smiley's Racing Products IMCA Southern SportMod for three years, then logged three IMCA Modified starts in a 2022 IRP Chassis last fall.
The Grayson County checkers came in his second start this year, following a mid-pack finish at Southern Oklahoma Speedway the previous weekend.
"I have always loved racing but family always come first, so I race when mama (wife Kristen) and the kids let me," said Waw, kept plenty busy with the activities of sons Cade, 13, Dylan, 11, and Drew, 7. "When I do race, I want to be competitive and not just do it to drive around. You have to be on your 'A' game in the Modified division and most nights when I do race I can run top five."
He'd taken the initial green flag Saturday from seventh, worked his way toward the front and moved into second following a late restart. Waw took charge after the lead car fell off the pace and despite the bumping and banging that followed in the ensuing scramble behind.
"We ended green, white, checkered and I stayed clean and straight to the finish," said Waw, the winner by three car lengths. "It felt good to win and this one definitely wasn't given to me. The car was very maneuverable and I could go where I wanted to. We had a clean race and I put myself in a position to win."