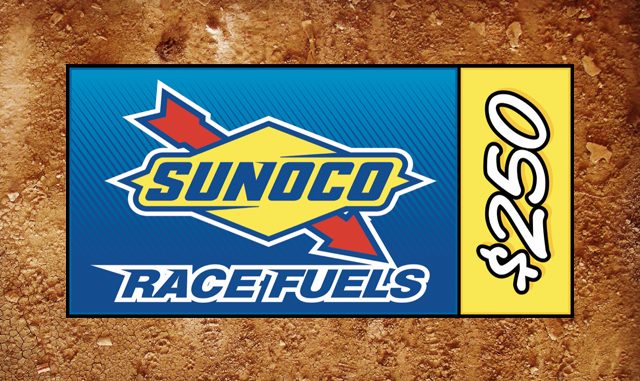 VINTON, Iowa (March 13, 2023) – IMCA Late Model drivers are in the running for $250 bonuses again this season courtesy of division title sponsor Sunoco Race Fuels.
Winners of features on designated race nights at each track that sanctions the division and at two special events receive those bonuses. In the event that driver has already won and received a bonus at an earlier event, it will be presented to the next eligible finishing driver.
Division Director Joe Hayes or another IMCA representative will make the check presentation on these nights:
Saturday, May 13 at Independence, Iowa, Motor Speedway.
Friday, May 19 at Crawford County Speedway in Denison, Iowa.
Saturday, May 20 at Shelby Co Speedway in Harlan, Iowa.
Sunday, June 4 at Dubuque, Iowa, Fairgrounds Speedway.
Friday, June 9 at Boone County Raceway in Albion, Neb.
Saturday, June 10 at Junction Motor Speedway in McCool Junction, Neb.
Wednesday, July 5 for the Denny Osborn Memorial at Independence Motor Speedway.
Thursday, July 13 at US 30 Speedway in Columbus, Neb.
Saturday, July 15 at Off Road Speedway in Norfolk, Neb.
Sunday, July 23 at East Moline, Ill., Speedway.
Friday, Aug. 4 at Lee County Speedway, Donnellson, Iowa.
Saturday, Aug. 5 at 34 Raceway, West Burlington, Iowa.
Friday, Aug. 11 at Davenport, Iowa, Speedway.
Saturday, Aug. 12 at Maquoketa, Iowa, Speedway.
And Friday, Aug. 25 for the Drive For Five finale at Lee County Speedway in Donnellson, Iowa.
"One of the best things about the Sunoco feature winner bonus is the opportunity it gives us to recognize and reward so many different IMCA Late Model drivers," said Hayes. "This will be the fourth season Sunoco and IMCA have awarded bonuses to drivers who supported weekly race tracks."