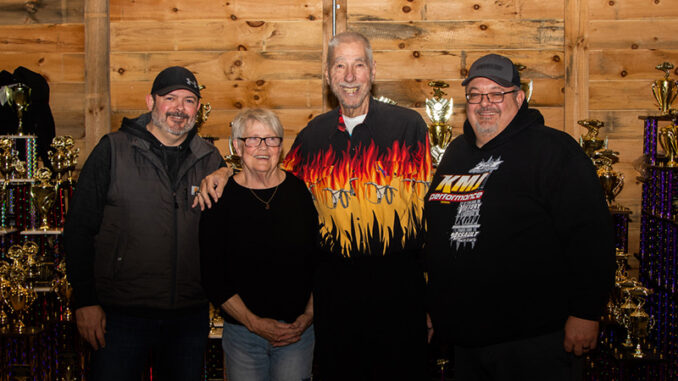 CRYSTAL, Mich. (Feb. 15, 2023) – Looking back at the end of one era and the beginning of another, Ron Flinn hopes to be remembered for the respect he showed the drivers, race teams and fans. 
It's a good bet he'll be remembered for his height and his sense of humor, too.
Owner and promoter Flinn and his wife Mary Jane have announced the sale of Crystal Motor Speedway, Michigan's longest continuously sanctioned Friesen Performance IMCA Modified track. The Flinns and son Ryan have handed the keys to Jake LeBaron, Steven Vernon and Brian LeBaron and will help the new ownership team in the transition.
"It's been a long and treasured ride for sure. I have been so blessed," said the 81-year-old Flinn, the tallest promoter in IMCA at 6-8 and a regular in senior basketball action across the country when not at the track. "I have been blessed by my racing families and my basketball families, to say nothing about my personal family. They are all near and dear."
Now a Michigan Motorsports Hall of Famer and multi-time nominee for the RPM Auto Racing Promoter of the Year award, Flinn got his start promoting demolition derbies.
He started working at Crystal in 1989 – the year after IMCA Modifieds joined weekly programs there – where twin brother Roger flagged and brother Bob raced. Flinn first leased the track in 1990 and bought it outright in 1991.
Ever the innovator, Flinn added a midweek Lions Club Series to the schedule, required mufflers and introduced transponders to help with scoring.
Weekly Modified car counts at Crystal were soon among the best in IMCA and nationwide, and the late season Great Lakes Nationals established itself as one of the division's premier special events.
"Our location helped, being right smack dab in the middle of the state. We were able to get racers from one side of the state to the other here," Flinn said. "It also helped that Rick Stout, IMCA's national champion in 1995, raced here. Other drivers recognized that they could come to Crystal and race with the best."
He also credits the IMCA sanction and rules package for their role in three-plus decades of success at Crystal.
"The number one thing about IMCA is the rules. I believed in them from the beginning," states Flinn. "The IMCA rules are well-written and they keep costs down, and I have tech inspectors who believe the same thing."
The legacy he hopes to leave behind has more to do with how he has treated drivers, fans track officials and employees over the years than car count numbers or special events.
"I've always thought the best people you could meet were at the race track. They're pretty darn classy. I would hope people at Crystal will remember that I was fair, that I treated everyone the same and with respect," he said, noting his promotional career has spanned 52 years between three different tracks and arenas. "And that they let me practice my humor with them on occasion."
While he won't be at the track as often, Flinn will continue the hoops as long as his health and Mary Jane allow.
"Racing always helped me condition for basketball and vice versa. They both help me stay active and upright," he explained. "I played basketball four nights last week and playing senior basketball has taken us all over the country. As my wife likes to say, 'Oh boy, another gym.'"