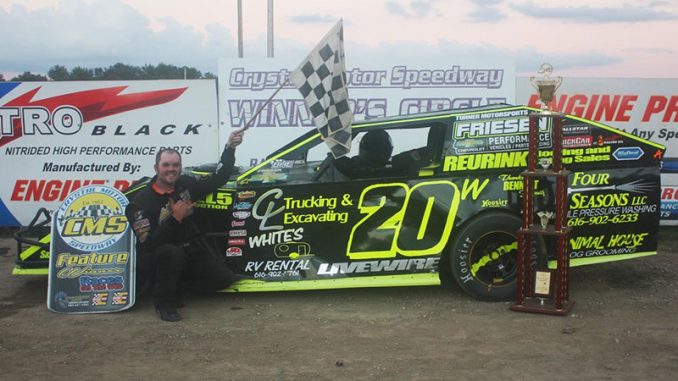 CRYSTAL, Mich. (Sept. 16) – The ninth time was a charm Sunday for A.J. Ward.
Ward won the Great Lakes Nationals in his career ninth start at Crystal Motor Speedway's season-ending special for IMCA Modifieds. The victory was accompanied by a check for $3,000 and a very tall trophy.
"I knew we were good at the end but I didn't know if anyone behind me was saving their tires," Ward said, after checking the last big IMCA Modified special in Michigan off his must-win list. "We've been trying to win this race for a long time. It feels good to finally be able to do it."
Brenten DeYoung ended the 50-lapper in second and five-time Great Lakes Nationals king Myron DeYoung was third.
Twentieth starting Joey Burch and Chad Wernette completed the top five.
Ward made his way patiently from eighth starting, finally catching leader Matt Szecsodi in lapped traffic.
"I concentrated on saving my tires and picked 'em off one at a time," said Ward, runner-up in the 2013 event and third last year. "It seemed like every four or five laps I was able to pass somebody. I just stayed patient and never pushed it until the opportunity became available."
Ward was already on the ballot for the 2019 Fast Shafts All-Star Invitational.
Feature results – 1. A.J. Ward; 2. Brenten DeYoung; 3. Myron DeYoung; 4. Joey Burch; 5. Chad Wernette; 6. Gary VanderMark; 7. Nick Stormzand; 8. Chance Allen; 9. Ken Zeigler; 10. Victorya Truemner; 11. Kody Johnson; 12. Matt Szecsodi; 13. Rusty Zeigler; 14. Brody Bowser; 15. Taylor Wiles; 16. Mitchell Hunt; 17. Clifford Denman; 18. Nate Jones; 19. Chad May; 20. Jimmy Hale Jr.; 21. Brady Hollenback; 22. Brad Roberts; 23. Austin Wonch; 24. Chaz Pray.