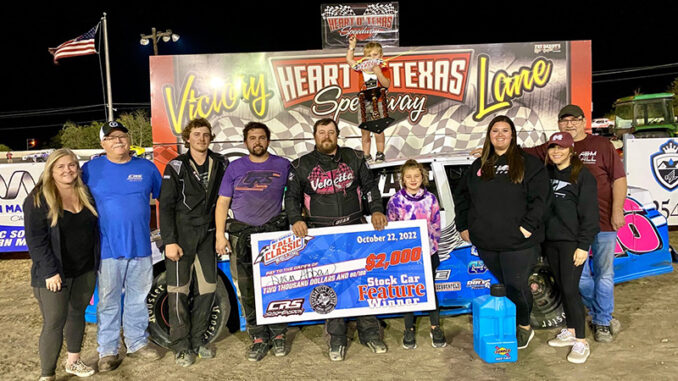 WACO, Texas (Oct. 22, 2022) – Their classic runs to the checkers at Heart O' Texas Speedway's 25th annual Fall Classic sent Dean Abbey and Jeff Shepperd home with $2,000 checks.
Abbey outran brothers Westin and Jeffrey in Saturday's main event for IMCA Sunoco Stock Cars, earning family bragging rights for the night along with qualifying eligibility for the 2023 B & B Racing Chassis All-Star Invitational.
And Shepperd won his first Fall Classic crown in nearly two decades of racing the season-ending special at Waco, topping the Smiley's Racing Products IMCA Southern SportMod headliner ahead of Brandon Geurin and Kyle Wilkins.
Dean and Westin Abbey ran side-by-side the first two times around the track in the Stock Car feature before Dean eked ahead racing down the front stretch. Westin's pass for the lead on lap 15 was erased by a caution.
The final yellow waved with two laps left and Jeffrey Abbey would complete his charge from 12th to complete the top three.
"We haven't raced together for a long time, let alone finished 1-2-3," Dean said. "Westin and Jeffrey were side-by-side behind me at the end. You could have thrown a blanket over the three of us."
"That was probably the coolest part of the race, finishing first, second and third," he added. "I've raced with Jeffrey pretty consistently but this was the first time I raced with Westin since I got back in a Stock Car."
Dean's win came in the Sniper Speed house car he first piloted at the IMCA Speedway Motors Super Nationals fueled by Casey's in September – third in the Late Model main event at Boone, he's already making plans for Super Nationals in 2023 – with a motor borrowed from Lemirande Motorsports, shocks from brother Jeffrey at CRS Suspension and gear and driveshaft from Dynamic Drivelines.
"It really was a team effort," he said.
Shepperd had checked Kennedale Speedway Park's Showdown off his races to win bucket list earlier in the month from 15th starting.
He got to HO'T just minutes after his heat race after watching son Jesse's Connally High School Cadet football team top Salado 58-35, then raced from17th starting to second in his qualifying feature on Friday.
"The track was tricky with just a little bit of moisture on the bottom," he said. "I ran a neutral setup and was able to work my way toward the front quickly, running right around the tires."
Shepperd started third, ran the lower line in the first set of turns and the higher groove in the second, passed Trevor Egbert for the lead and took the win ahead of Geurin by two seconds.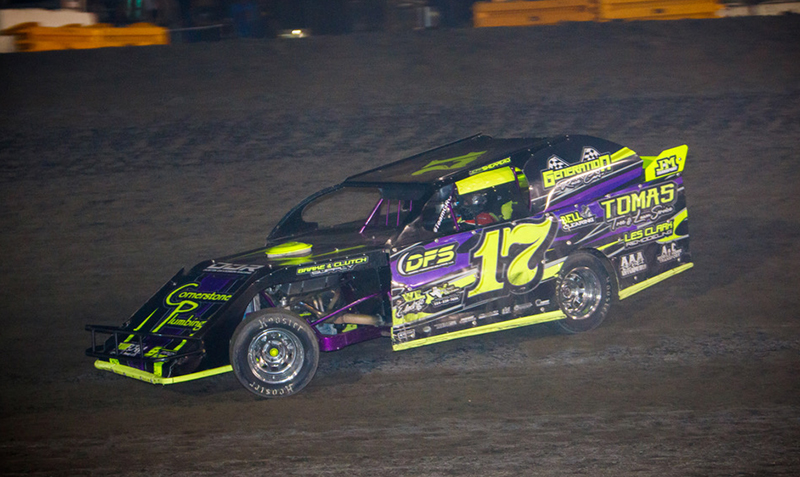 Jeff Shepperd earned his first Fall Classic feature win in 19 starts in the season-ending special at Heart O' Texas Speedway, topping the Smiley's Racing Products IMCA Southern SportMod main event. (Photo by Stacy Kolar, Southern Sass Photography)
"I tried for 19 years and finally won the Fall Classic," said Shepperd, who drove a factory stock prior to the Southern SportMod. "I finished second five or six times and had some top five's but had never won it. This was a great way to end the season."
"I like racing with the guys I race with and I get a lot of good help from a lot of people," he continued. "This was amazing."
Feature Results
Stock Cars – 1. Dean Abbey; 2. Westin Abbey; 3. Jeffrey Abbey; 4. Chris Gallien; 5. Blake Clark; 6. Ryan Powers; 7. P.J. Egbert; 8. Dennis Bissonnette; 9. Dustin Mooney; 10. Thomas Hall Jr.; 11. Jimmie Helona-Heatherington; 12. Chris Birmingham; 13. Bryce Burden; 14. Andy Roller; 15. Damon Hammond; 16. Anthony Otken; 17. Thomas Hall; 18. Jeff Whitehead; 19. David Goode Jr.; 20. Tim Carman; 21. Lance Hanson Jr. 22. Chase Neill; 23. Gregory Muirhead; 24. Jason Batt.
Southern SportMods – 1. Jeff Shepperd; 2. Brandon Geurin; 3. Kyle Wilkins; 4. Trevor Egbert; 5. Robert Scriver; 6. Garrett Gregory; 7. Paul White; 8. Sid Kiphen; 9. Chris Florio; 10. Trevor Cogburn; 11. Terry Pritchett; 12. Garett Rawls; 13. Mason Day; 14. Jason Hubbert Sr.; 15. Taylor Florio; 16. Tyler Muirhead; 17. Gregory Muirhead; 18. Michael Dabney; 19. Don Painter; 20. Nathan Northcott; 21. Corbin Willett; 22. Kayden Petty; 23. David Lackey; 24. Rawdy Hull.