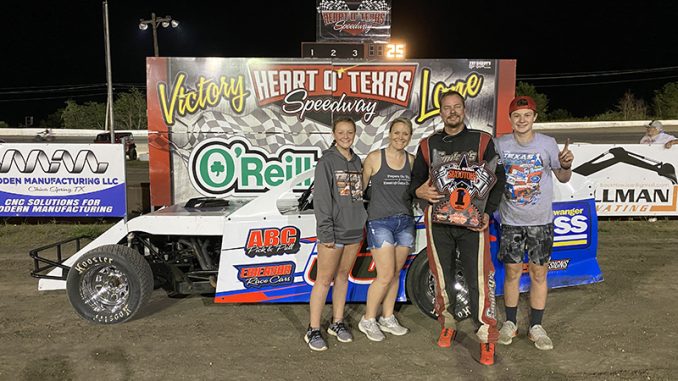 WACO, Texas (May 29, 2022) – Three drivers won features and three drivers won championships on the final night of the IMCA All Star Shootout Sunday at Heart O' Texas Speedway. 
Jeff Emerson earned $1,000 and Fast Shafts All-Star Invitational qualifying eligibility for his Friesen Performance IMCA Modified win while Markiss Harcrow collected $750 and became B & B Racing Chassis All-Star Invitational qualifying eligible for his IMCA Sunoco Stock Car checkers. Cody Smith was also a $750 winner, in the Smiley's Racing Products IMCA Southern SportMod main.
Jacob Pirkle ran eighth in repeating as the Shootout Modified champion. Stock Car champion Jeffrey Abbey was sixth and Southern SportMod champion Brandon Geurin eighth in their respective finales at Waco.
A regular visitor to HO'T with the Texas Sprint Series, Emerson got to watch son Kaleb finish fourth in the SportMod feature before taking his turn on the track. He started third and stalked leader Beau Collins before making his move to the front on the 16th of 25 circuits.
Home track hotshoe and defending track champion Kevin Green ended in second. Chris Morris, Dennie Gieber and William Gould were next.
"The best part for me was starting on the inside. The track was slick and it took rubber," said Emerson. "I tried to be as patient as possible and be in position when the opportunity came."
"Kevin Green is very, very fast at Heart O' Texas," he added. "I've never won before on this tour so it was super cool to do that."
His Binswanger Glass, Stone Oil Field Services, ABC Pick and Pull and Emerson Race Cars ride finished seven tenth's of a second ahead of Green.
Harcrow weathered five restarts after leading all 20 laps from his inside row two start in the Stock Car feature. Thomas Hall Jr. ran second the last 19 times around the track and was half a second behind Harcrow at the finish.
Tim Clonch, Dillon Smith and Blake Clark completed the top five. Abbey had started ninth and avoided getting caught up in the second of two lap two entanglements on his way to sixth and the All Star title.
Smith, the fourth different Southern SportMod winner in as many nights, led flag to flag in a 20-lap feature slowed by a single early caution. Boone Evans ran second most of the way, then got the runner-up position back with a last-lap pass of Dabney.
Dabney, Kaleb Emerson and Jeff Sheppherd ran 3-4-5. All Star champion Geurin had started 12th and advanced four places.
Nearly 100 IMCA entries were on hand for the final All Star Shootout event.
Feature Results
Modifieds – 1. Jeff Emerson; 2. Kevin Green; 3. Chris Morris; 4. Dennie Gieber; 5. William Gould; 6. Steven Whiteaker Jr.; 7. Josh McGaha; 8. Jacob Pirkle; 9. Robbie Daniels; 10. Tanner Whitmore; 11. Spencer Hartwick; 12. Tommy Davis Jr.; 13. Michael Maraschick; 14. Steve Askew; 15. Mike White; 16. David Gonzales Jr.; 17. Beau Collins; 18. David Goode Jr.; 19. Matthew Day; 20. Chuck Sanders; 21. Cody Tidwell; 22. Danny Patterson; 23. Garrett Gregory; 24. Jon White.
Stock Cars – 1. Markiss Harcrow; 2. Thomas Hall Jr.; 3. Tim Clonch; 4. Dillon Smith; 5. Blake Clark; 6. Jeffrey Abbey; 7. Cameron Cook; 8. Boone Evans; 9. Darryl Campbell; 10. Chris McCurdy Jr.; 11. Anthony Otken; 12. Shelby Williams; 13. Erik Miles; 14. George Egbert; 15. Haydan Hartwick; 16. Thomas Hall; 17. Justin Nabors; 18. Trevor Egbert; 19. Dennis Bissonnette; 20. Tim Carman; 21. Lance Hanson Jr.; 22. Allan Essenburg; 23. Ryan Sanfortd; 24. Zach Terry.
Southern SportMods – 1. Cody Smith; 2. Boone Evans; 3. Michael Dabney; 4. Kaleb Emerson; 5. Jeff Shepperd; 6. G.W. Egbert IV; 7. Paul White; 8. Brandon Geurin; 9. Mike Martin; 10. Taylor Florio; 11. Zane Goff; 12. Steven Ashcraft; 13. Devin Chambers; 14. Andy Hulcy; 15. Kaden Honeycutt; 16. Chris Florio; 17. Jacob Martin; 18. Trevor Cogburn; 19. Mark Patterson; 20. Dustin Hector; 21. John Rodriguez; 22. Trevor Stoermer; 23. John Reid Jr.; 24. Rowdy Day.