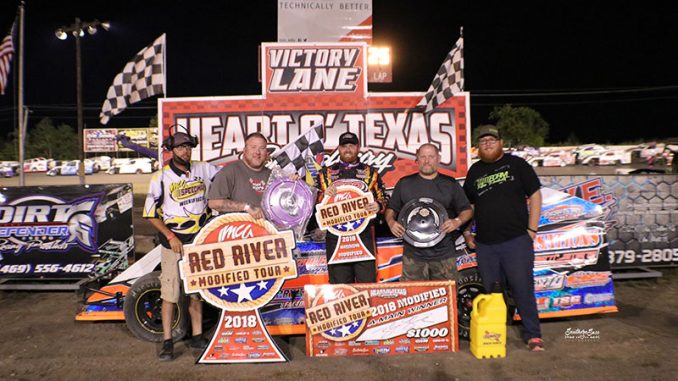 By Mike Spieker
WACO, Texas (May 27) – Tyler Stevens raced to the win on night two of the IMCA Red River Modified Tour at Heart O' Texas Speedway on Sunday, earning $1,000 and a spot on the Fast Shafts All-Star Invitational ballot.
Matt Guillaume, Kevin Sustaire and Stephens went three-wide for the race lead down the back stretch on lap 10. Guillaume fended off the challenge to remain in the lead as a caution reset the field on lap 11.
As the race resumed, Stevens jumped into second over Sustaire and set his sights on Guil­laume. The following circuit, Stephens dove to the inside of Guillaume and completed a textbook slide job with 11 laps remaining.
Stevens opened up a four car length lead and Guillaume and Sustaire continued to battle for second.
A late race caution set up a green, white, checkered finish with Sustaire and Guillaume lined up in se­cond and third, respectively. Stevens got a great start off turn four and ran the final two trips around the high-banked quarter-mile dirt oval unchallenged as the cruised to the win.
"I made a lap or two [on the high side] before we caught a caution and I felt a little grip. I knew nobody had been running up there so I thought there might be a little traction left," Stevens said. "I ran up there a couple times and finally I got a good enough run to where I could slide [Guil­laume] in three and four. It was fun racing. I had a blast."
Sustaire, Guillaume, Eric Tomlinson and Chad Melton made up the rest of the top five.
Feature results – 1. Tyler Stevens; 2. Kevin Sustaire; 3. Matt Guillaume; 4. Eric Tomlinson; 5. Chad Melton; 6. Justin Radcliff; 7. Jeffrey Abbey; 8. Kevin Green; 9. Josh McGaha; 10. Chris El­liott; 11. Fred Wojtek; 12. Cory Davis; 13. William McGuire; 14. Colin Deming; 15. Chris Morris; 16. Erik Miles; 17. David Goode; 18. Dennie Gieber; 19. William Gould; 20. Clay Money; 21. Jus­tin McCoy; 22. Matt Martin; 23. Drew Armstrong; 24. J.P. Dowell; 25. Chase Allen.