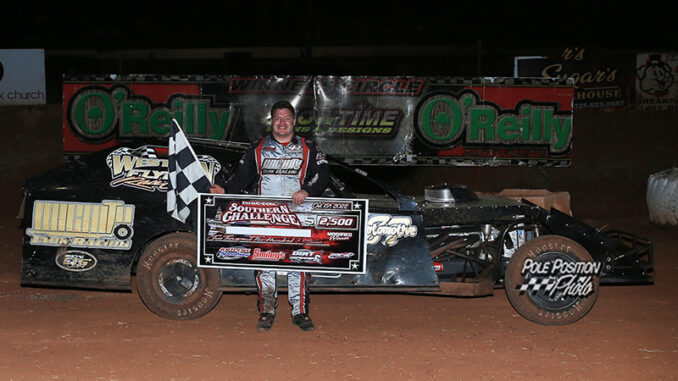 ABILENE, Texas (Oct. 15, 2022) –  Kale Westover, Matt Guillaume and Bradley Poor each added second Ryan Bard Memorial Southern Challenge trophies to their IMCA hardware collections Saturday night.
They each banked $2,500 for their latest Abilene Speedway feature wins as well.
Westover came out of a last-chance qualifier, started 10th and won the Friesen Performance IMCA Modified main. Guillaume had just enough left to beat Chad Hertel to the IMCA Sunoco Stock Car checkers and Poor got rich dominating the Smiley's Racing Products IMCA Southern SportMod feature at the 28th annual special.
The 2019 Southern Challenge Southern SportMod winner, Westover found the top line in turns three and four to his liking and was in the lead before midway of the Modified 30-lapper.
"I ran the top in three and four. I kept rolling the top in and it picked up more speed," said Westover, newly eligible to qualify for the Fast Shafts All-Star Invitational. "I grew up racing bullrings and I go good at pretty much every bullring I show up to."
"It means a lot to win this race, especially with the competition here. It proves our program is working real good and we can continue to do that."
Matthew Day continued to impress in his rookie season, ending in. second. Josh McGaha, Caleb Stone and William Gould rounded out the top five.
Guillaume got the lead out of the last turn in winning the Southern Challenge Stock Car feature seven years ago. He led the distance this time around despite the best efforts of Chad Hertel, who crossed the stripe the last time around virtually three-wide with Guillaume and a lapped car.
A long green flag session took the frontrunners into lapped traffic and set the stage for on-track drama the last two circuits.
"Luckily I was able to get by the lapped car but my margin of victory was very close. It was something like .081 of a second," said Guillaume, on the inside of that three-wide battle. "Things went really well for us the first 28 laps but we had to work especially hard the last two."
"It was a good thing we didn't go 31 laps," added Guillaume, now eligible to qualify for the B & B Racing Chassis All-Star Invitational. "And it was a good way to finish off the year."
Stone, Gould and 13th starting Dammond Hammond ran 3-4-5. 
Poor wired the show in repeating as the Southern SportMod winner, giving team owners Robert and Robby Crabtree their third straight Southern Challenge title.
"We had a pretty dominant car. We were able to take off and pull away after every restart," said Poor, who negotiated heavy lapped traffic around midway before the final caution waved with three laps left.
"It's pretty cool to be able to win this race. I tried to do it for about 20 years and came close or broke while I was leading. Last year was my first year racing for the Crabtrees and now I've won it two years in a row. Kale raced for them in 2019, when I finished second, so now my car owners have won it three years in a row."
He was chased to the checkers by Kyle Wilkins, Matt Mueller, David Montgomery and Mason Day.
Steven Bevills was the $1,250 Mach-1 IMCA Sport Compact winner, ahead of Keagan Haralson and Sean Leasure.