ABILENE, Texas (Feb. 15) – Following his opening night Sniper Speed Lone Star Tour win Saturday at Abilene Speedway, Westin Abbey will take aim at a much bigger payday.
The three-time and defending EQ Cylinder Heads Southern Region champion topped the main event for IMCA Sunoco Stock Cars, earning $1,000 and a shot at a $10,000 bonus if he can win Texas Motor Speedway's Wednesday night Dirty 30 show as well.
Eighty drivers from 11 states saw tour action at Abilene. Ninth in Friday's opening night show at the Ice Breaker, Abbey won the first of 10 heat races, started outside the front row and caught Derek Green for the lead midway through the 30-lapper.
Green, the Friday winner, ran side-by-side and bumper-to-bumper with Abbey the last half of the race. The front pair caught up to lapped traffic with two laps left but Abbey found the fastest way through and left Green to settle for second.
"We didn't know what the car was going to do. We changed a lot of stuff after the heat race," Abbey said from victory lane. "We just put the car on the top (line) and stuck to it."
Abbey's career 58th feature win came ahead of Green, early leader Tommy Fain, Brian Blessington and multi-time Abilene track champion Jason Adcock.
Jesse Sobbing started 15th and finished sixth in the Stock Car feature, tuning up for the IMCA Modified feature he'd lead start to finish.
Those $1,000 checkers were good for a Fast Shafts All-Star Invitational ballot berth as well as a potential $10,000 Wednesday night bonus.
Sobbing led all 30 laps of the Modified main after drawing the pole. Josh McGaha, a six-time Abilene track champion, ran second most of the way before Jeffrey Abbey snuck by in the green, white, checkered finish.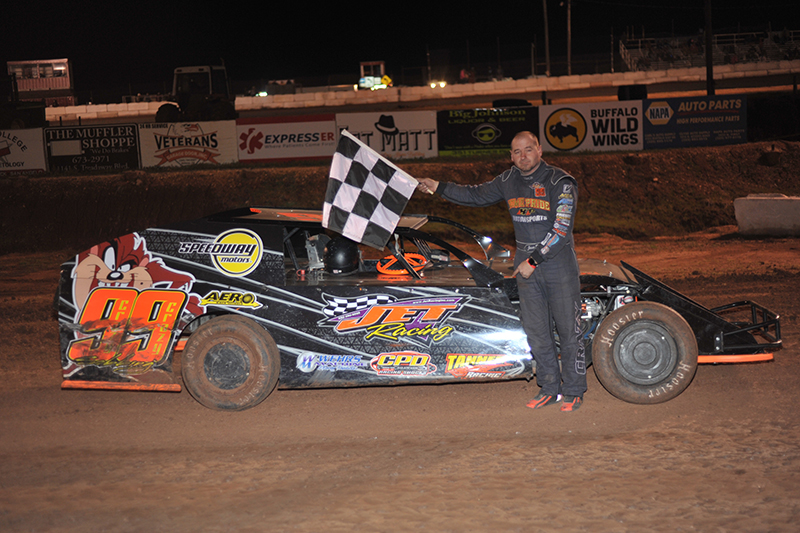 Chris Elliott started 16th and finished fourth; hard charger Tyler Iverson drove from 18th starting to round out the top five.
Gabe Tucker's late drive to the second spot would make him the winner of the Smiley's Racing Products Southern SportMod feature after Dean Abbey was disqualified for an engine rule violation.
His sixth consecutive Ice Breaker triumph makes Tucker eligible for a $5,000 bonus by winning Wednesday at TMS. Bradley Poor, Kale Westover, Cody Thompson and G.W. Egbert IV rounded out the top five.
Fifty-two Modifieds and 39 Southern SportMods saw track time Saturday at Abilene.
Feature Results
Stock Cars – 1. Westin Abbey; 2. Derek Green; 3. Tommy Fain; 4. Brian Blessington; 5. Jason Adcock; 6. Jesse Sobbing; 7. Todd Van Eaton; 8. George Egbert III; 9. Abe Huls; 10. Jeff Mueller; 11. Jeffrey Abbey; 12. Matt Guillaume; 13. Elijah Zevenbergen; 14. Dean Cornelius; 15. G.W. Egbert IV; 16. Chad Schroeder; 17. Kyle Falck; 18. Jimmy Gustin; 19. Mike Petersilie; 20. Kyle Slader.
Modifieds – 1. Jesse Sobbing; 2. Jeffrey Abbey; 3. Josh McGaha; 4. Chris Elliott; 5. Tyler Iverson; 6. Chad Melton; 7. Fred Wojtek; 8. Anthony Roth; 9. John Gober; 10. Dustin Robinson; 11. Cody Tidwell; 12. Jason Wolla; 13. Mark Carrell; 14. Clay Money; 15. Nick Roberts; 16. Danny Hogue; 17. Austin Howes; 18. P. Egbert; 19. Jim Thies; 20. Mike Hansen; 21. William Gould.
Southern SportMods – 1. Gabe Tucker; 2. Bradley Poor; 3. Kale Westover; 4. Cody Thompson; 5. G.W. Egbert IV; 6. Lawrence Mikulencak; 7. Damon Hammond; 8. Chris Dawson; 9. Matt Mueller; 10. Kirk Martin; 11. Danny Cavanagh; 12. Gary Underwood; 13. Kevin Manning; 14. Devin Burgess; 15. Gregory Muirhead; 16. Tyler Fain; 17. Aaron Alley; 18. Mike Watkins; 19. Brian Osantowski.