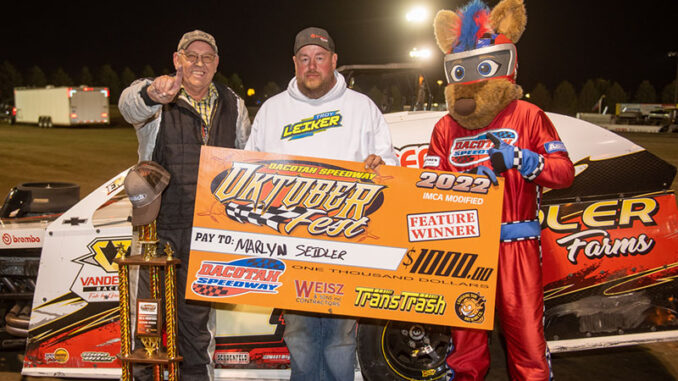 By Becca Pelkey
MANDAN, N.D. (Oct. 1, 2022) – Veteran Marlyn Seidler led green to checkered in the final race of the season Saturday at Dacotah Speedway, earning $1,000 for his Friesen Performance IMCA Modified feature win at the Oktoberfest show.
With 180-plus drivers on hand for the fifth annual special, Seidler and Jeremy Keller quickly distanced themselves from the field before catching lapped traffic. Third running Shawn Strand closed in before a mid-race caution regrouped the field and then led to a string of cautions.
Seidler survived each and every restart to lead all 30 laps for the Fast Shafts All-Star Invitational qualifying win over Keller and Strand.
Other $1,000 feature winners were Trent Grager in the IMCA Sunoco Stock Cars, Rich Pavlicek in the Friesen Performance IMCA Northern SportMods and Brandon Beeter in the IMCA Sunoco Hobby Stocks.
Dakota Classic Tour champion Grager ran in front of Stock Car Stampede winner Krogh and Randy Klein before Joren Boyce made it a four-car battle late in the race. However, Grager led all 20 laps to earn B & B Racing Chassis All-Star qualifying eligibility. Krogh settled for second as Klein held off Boyce for third.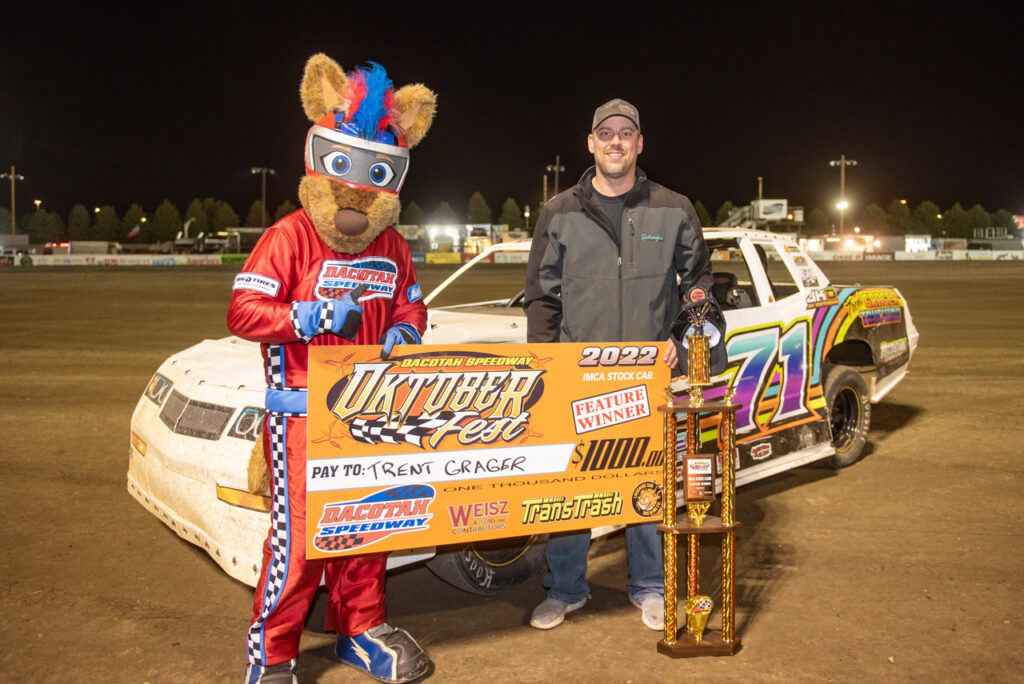 Trent Grager topped Dacotah Speedway's season-ending Oktoberfest feature race for IMCA Sunoco Stock Cars, earning $1,000 for his Oct. 1 efforts. (Photo by Layn Mudder)
Pavlicek cleared Scott Jacobson for the top spot following a restart early in the SportMod main and quickly pulled away as Jacobson fell into the clutches of Robby Rosselli and Brock Beeter.
They raced hard for several laps until Rosselli grabbed second. Chris VanMil made it a three-car battle as they raced three-wide for third. With only a couple laps to go, Jacobson got too high off turn two, allowing Beeter and VanMil to slip by and finish in that order.
Beeter, in a borrowed car, quickly pulled away from the Hobby Stock field in a caution-slowed feature that nonetheless saw a thrilling three-car battle for second between Tim Anderson, Connor Hansen and Caden Appelt.
They raced two- and three-wide for second before Appelt broke loose on the backstretch on the white flag lap. Beeter dominated to win head of Anderson and Hansen.
And after winning his dash the night before, Krys Yost led all 12 laps in topping the Mach-1 IMCA Sport Compact feature and $500. Hunter Goulet finished a distant second ahead of Stan Thompson.