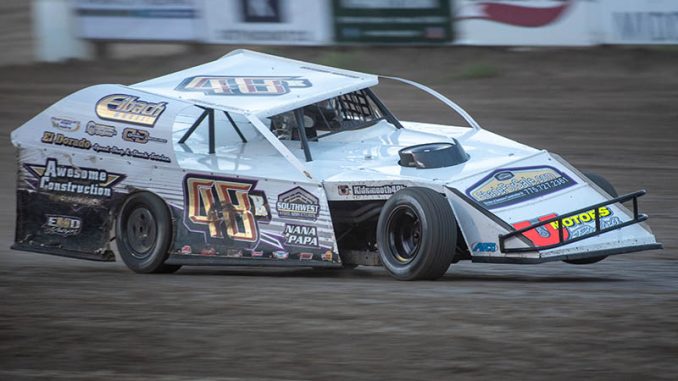 MANDAN, N.D. (June 5) – Kollin Hibdon brought a simple strategy into Saturday night's 100-lap Iron Man main event for IMCA Modifieds at Dacotah Speedway.
And after staying patient and "not burning stuff up," the 17-year-old from Pahrump, Nev., had a career highlight-type win and $5,000 to show for his first visit to the quick North Dakota oval.
"This was my biggest win ever. I've won $1,500 to win and $1,700 to win races but nothing over $2,000," said Hibdon, who chased teammate Casey Arneson over the first half of the race, then caught and held off Jeremy Keller the last 21 laps. "I kept looking at the leader board late in the race and knew if I didn't burn stuff up that I had a pretty good chance."
Arneson and Hibdon ran 1-2 to the mandatory caution at midway. Keller had moved to third on lap 25, right before top five running Tom Berry and Marly Seidler were part of a multi-car tangle.
Defending national champion Berry exited for the pits and Spencer Wilson caught Seidler for fourth before halfway.
Keller shot into the lead on the second restart after racing resumed, with Arneson keeping up the chase for 23 fast-paced laps before slowing with a flat tire.
Hibdon kept Keller in his sights and made his own move to the front on lap 80. He was a lapped car ahead of Keller when lap 96 was scored and was uncatchable with an open track ahead of him the final four times around the track.
"I would have been happy if the 2A car (Arneson) and I could have finished one-two," said Hibdon, wheeling an Arneson-built ride. "I got a bad start (at midway), fell back to sixth and it took me a few laps to get back to where I was at. I drove back to fourth and knew I had to get back on the wheel to make things happen."
"After I passed for second, I was patient," he continued. "He (Keller) made a mistake and I was able to get past him for the lead."
Seidler was third and Arneson raced his way from the back of the field to fourth. Hard charger Mark Dahl started 18th and rounded out the top five.
Hibdon was already a Fast Shafts All-Star Invitational ballot candidate. Arneson and Quentin Kinzley won the qualifying features on Friday night.