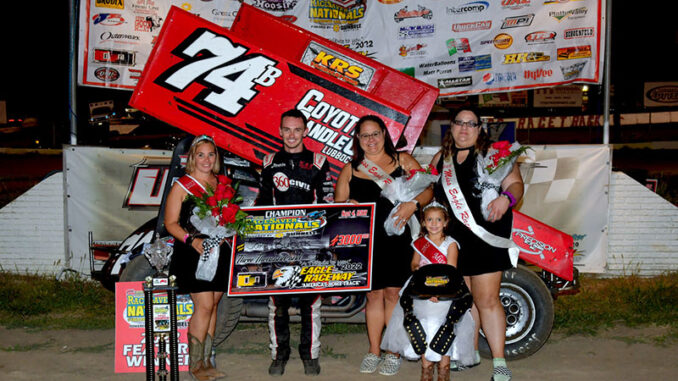 By Greg Soukup           
EAGLE, Neb. (Sept. 4, 2022) – Now that was the way to finish the biggest RaceSaver Sprint Car event in the world, as Jake Bubak added two trophies from the 10th annual IMCA RaceSaver Nationals to his hardware collection.
Bubak won the Precise Racing Products Race of Champions for the third time on Saturday night, then raced to a second RaceSaver Nationals crown and $3,000 on Sunday at Eagle Raceway.
Also the 2020 champion, Bubak took his final win of the weekend ahead of John Carney II, defending race winner Tyler Drueke and Chase Brewer.
"We really enjoy coming here. It helped that we had a really good car this week. Starting on the front row didn't hurt any, either, and starting outside was a big advantage," he said following the 35-lapper. "John (Carney) got a little bit stuck down on the bottom on the start and that allowed us to get away from him and the pack."
"I felt like I was getting through traffic really well," he continued, "but you don't dare make any mistakes with John behind you, especially with him in another Coyote Candle Company car because we had two of the best cars here, there's no doubt about that."
Bubak took advantage of his outside front row start to grab the lead on the initial green, which was called back for a multi-car pileup in turn four.
Bubak took off in the lead on the complete restart with Carney, Chad Wilson and Brewer close behind.
Back-to-back cautions on lap two led to a single file restart. Lap eight saw Brewer move up to third but lose the spot back to Wilson the following circuit. Wilson slipped to the infield while Drueke's advance to third on lap 25 would be the final change in the top four.
"The track started out a little narrow, making it kind of hard to pass, but that worked out good for us, starting on the front row," Bubak said. "I don't know what we could have done if we had started out further back, but we'll take the win and be glad that it worked out good for us."
Adam Gullion's 13th place run netted him a $2,500 bonus as the highest finishing driver with perfect attendance in RaceSaver Nationals history. He'd qualified for eight of the previous nine main events with a career best of sixth in the inaugural show.
"I'm very appreciative," said Gullion. "Eagle is my home track and 14 miles from my house. "I am grateful for the opportunity to have won this."
Feature results – 1. Jake Bubak, Lincoln; 2. John Carney II, Amarillo, Texas; 3. Tyler Drueke, Eagle; 4. Chase Brewer, Waxahachie, Texas; 5. Landon Thompson, Haslet, Texas; 6. Jason Danley, Lincoln; 7. Cody Ledger, Omaha; 8. Max Guilford, Clay City, Ind.; 9. Trevor Serbus, Olivia, Minn.; 10. Kevin Rutherford, Justin, Texas; 11. Shayle Bade, Lincoln; 12. Justin Clark, Hamersville, Ohio; 13. Adam Gullion, Lincoln; 14. Joey Danley, Martell; 15. Mitchell Moore, Peculiar, Mo.; 16. Trevor Grossenbacher, Panama; 17. Jeremy Huish, Ness City, Kan.; 18. Stuart Snyder, Lincoln; 19. Clint Benson, Papillion; 20. Brandon Bosma, Rock Rapids, Iowa; 21. Jay Russell, Wathena, Kan.; 22. Nathan Weiler, Omaha; 23. Chad Wilson, North Richland Hills, Texas; 24. Kevin Ramey, Fort Worth, Texas; 25. Bradley Sterrett, Bloomington, Ind.; 26. Josh Riggins, Lincoln; 27. Ethan Barrow, Bloomington, Ind.
Race of Champions – 1. Jake Bubak; 2. Tyler Drueke; 3. Stuart Snyder; 4. Joey Danley; 5. John Carney II; 6. Adam Gullion; 7. Chase Brewer; 8. Cole Vanderheiden, Papillion; 9. Claud Estes, Godley, Texas; 10. John Paynter Jr., Bloomington, Ind.; 11. Daniel Nekolite, Oneill; 12. Clint Benson; 13. Jason Danley; 14. Michael Stien, Ceylon, Minn.; 15. Zach Blurton, Quinter, Kan.; 16. Chad Wilson; 17. Brandon Allen, St. Peter, Minn.; 18. Trevor Serbus.