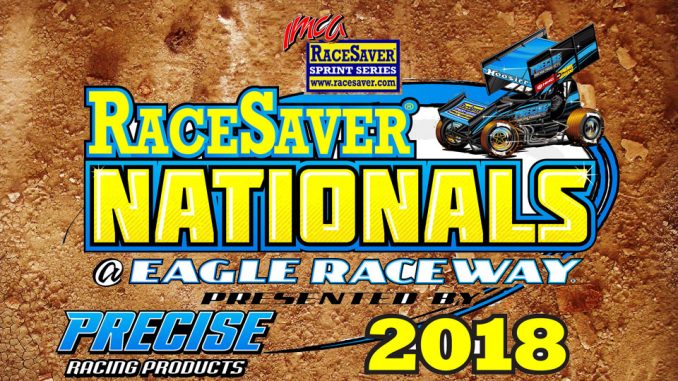 EAGLE, Neb. – The best IMCA Sprint Car drivers from across the United States are Eagle Raceway bound for the Aug. 30-Sept. 2 RaceSaver Nationals.
Early entries for the sixth annual event have now passed 110, with the pre-registration fee of $15.
That comes with a reserved pit stall while they last in effect until Aug. 23.
"There are a lot of different reasons why so many drivers want to be part of the RaceSaver Nationals. For some it's the atmosphere, the thousands of fans and the great friends they make every year from different parts of the country," said Eagle promoter Roger Hadan. "For others it's the prestige and chasing the title of being the best of the best. Just making the main event is a major accomplishment."
"Maybe it's the format and getting the chance to qualify for the main event all three nights instead of only having just one or two chances," he added. "Or maybe it's the fact the pay is dispersed well – $2,500 to win and $1,250 to start Sunday's main event."
The winner is also in line for a bonus of as much as $1,500, $30 for each of as many as 50 sanctioned starts coming into the weekend.
Tech inspection begins at 9 a.m. Thursday. Aug. 30. An open practice starts at 6 p.m. and precedes race of champions qualifying. Qualifying features on Aug. 31 and Sept. 1 both pay $700 to win while the top prize for Saturday's Jake Ita Memorial race is $1,000.
"The first non-qualifier in the 'B' feature on Sunday gets $1,000, the 20th place finisher gets $500 from IMCA.TV," Hadan said. "There's a minimum amount of $450 that each driver would receive for the weekend if they start a race each day. We also have a lot of other great supporters that give more money to non-qualifiers."
All RaceSaver Nationals drivers must be licensed IMCA members and are required to have competed at a minimum of three IMCA sanctioned RaceSaver events prior to the Labor Day Weekend.
"There's an even playing field because each car goes through pre-technical inspection with French Grimes and crew before it gets on the track," said Hadan. "And the Eagle Raceway crew is dedicated to getting the show in no matter what. Drivers know that when they come to the RaceSaver Nationals, the crew will do whatever it takes to get the show in as we have witnessed downpours and major storms interrupting our show in the past. We still will get the full show in one way or another."
Adding to the atmosphere this year will be Thomas Weeks from the Discovery Channel's Misfit Garage. Grand marshal Weeks and crew will spend the week at Eagle.
Pit passes are $15 on Thursday and $25 each night Friday & Saturday. Sunday pit passes are $30. Dis­counted three-day pit passes are available for $75. Adult grandstand admission is $13 on Friday, $15 on Satur­day and $18 on Sunday. Kids ages 6-12 are $5 and five and under get in free each night.
A three-day grandstand pass is $40 and can be purchased online or by calling the Eagle Raceway office at 402 238-2595.
RaceSaver Nationals is presented by Precise Racing Products. Mach-1 Sport Compacts are also on the card Fri­day, Karl Chevrolet Northern SportMods on Saturday and IMCA Sunoco Hobby Stocks on Sunday.
Drivers pre-entered for RaceSaver Nationals now include:
Gene Ackland, Martell; Dusty Ballenger, Harrisburg, S.D.; Ethan Barrow, Bloomington, Ind.; Brett Becker, Odessa, Texas; Tom Belsky, North Platte; Clint Benson, Papillion; Zach Blurton, Quinter, Kan.; Daren Bolac, Moyock, N.C.; Greg Bolte, Fremont; Brandon Bosma, Round Lake, Minn.; Mike Boston, Lincoln; Rick Bray, Lemoore, Calif.; Nick Bryan, Lincoln; Jake Bubak, Arvada, Colo.; Casey Burkham, Combine, Texas; Dwight Carter, Lincoln; Toby Chapman, Panama; Clayton Christensen, Spencer, Iowa; Dalyn Cody, Northfield, Minn.; Jason Danley, Lincoln; Joey Danley, Lincoln; and Michael Day, Greenville, Texas
Jack Dover, Springfield; Keith Dragoo, Greenwood; Tyler Drueke, Eagle; Kenneth Duke, Selinsgrove, Pa.; Claud Estes, Godley, Texas; Colby Estes, Mansfield, Texas; Daniel Estes Jr., Burleson, Texas; Matt Etzelmiller, Keller, Texas; Tony Everhart, El Cajon, Calif.; Monty Ferriera, Fresno, Calif.; Justin Fifield, Mesquite, Texas; Tim Fricke, Lincoln; Kyle Ganoe, Thompsontown, Pa.; Bill Garrow, Lincoln; Jesse Graham, Lewisville, Texas; Trey Gropp, Lincoln; Adam Gullion, Lincoln; Ryan Hall, Midlothian, Texas; Rick Hansen, Omaha; and Jaremi Hanson, Dillsburg, Pa.
Jerald Harris, Rockingham Va.; Brandon Hickman, Lubbock, Texas; Bob Hildreth, Iowa Falls, Iowa; Tim Hilfiker, Greenwood; Brandon Horton, Omaha; Jason Howell, Forth Worth, Texas; Junior Jenkins, Greenville, Texas; Tige Jensen, Lincoln; Kaleb Johnson, Sioux Falls, S.D.; Nathan Johnson, Hastings; Mike Johnston, Des Moines, Iowa; Chris Kelly, Moore, Okla.; Ryan King, Bennet; Ryan Kitchen, Lincoln; Cody Ledger, Omaha; Samantha Lieberman, Southhampton, Pa.; Doug Lovegrove, Waverly; Scott Lutz, Jonestown, Pa.; Chance McCrary, Farmersville, Texas; and Austin McLean, Loveland, Colo.
Larry McVay, Bordentown, N.J.; Jason Martin, Lincoln; Justin Melton, Lewisville, Texas; Michelle Melton, Flower Mound, Texas; Jason Miller, Omaha; Mike Moore, Des Moines, Iowa; Danny Nekolite, O'Neill; Zachary Newlin, Millerstown, Pa.; Neil Nickolite, Bellwood; Rod Ort, Lewisberry, Pa.; Mark Pace, Lincoln; Jeff Pendergast, Norfolk; Boyd Peterson, Ithaca; Shon Pointer, Grand Island; Kevin Ramey, Fort Worth, Texas; Dustin Reeh, Council Bluffs, Iowa; Matt Richards, Lincoln; Steven Richardson, Liberal, Kan.; John Ricketts, Burleson, Texas; Josh Riggins, Lincoln; Frank Rodgers, Lucas, Iowa; and Dan Satriano, Papillion.
Logan Scherb, Bowie, Texas; Lucas Scherb, Decatur, Texas; Jeremy Schultz, Stewart, Minn.; Blake Scott, Pauls Valley, Okla.; Trevor Serbus, Olivia, Minn.;Steven Shebester, Mustang, Okla.;  Andy Shouse, Mustang, Okla.; Colin Smith, Sheldon, Iowa; Stuart Snyder, Lincoln; Rob Solomon, Fresno, Calif.; Joey Starnes, Springtown, Texas; Randy Sterling, Morrisdale, Pa.; Joel Thorpe, Urbandale, Iowa; Josh Toho, Hinton, Okla.; Robert Vetter, Wolfe City, Texas; Charlie Ware, Hallieford, Va.; John Webster, North Platte; Chase Weiler, Lincoln; Nate Weiler, LaVista; Dustyn Welch, Bryan, Texas; Chad Wilson, North Richland Hills, Texas; Lorne Wofford, Alamagordo, N.M.; Ben Woods, Newton, Iowa; and Jared Zionkowski, Wyalusing, Pa.