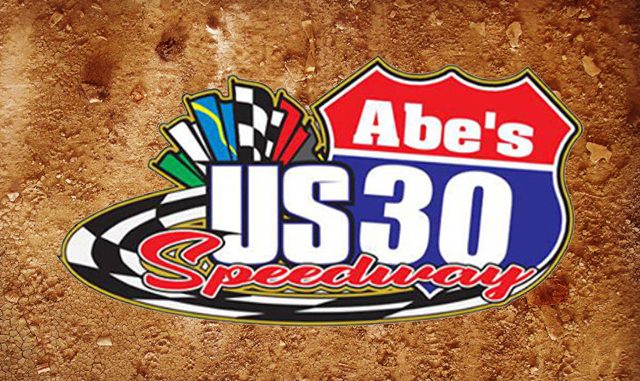 By Anthony Ainslie
COLUMBUS, Neb. (Sept. 1, 2022) – Elijah Zevenbergen can add a new title on his IMCA Sunoco Stock Car resume: Governor's Cup winner. 
Zevenbergen led the distance in winning the inaugural event and $2,000 Thursday night at Abe's U.S. 30 Speedway. He also became the seventh different winner in as many Stock Car Crown Summer Series presented by Herbster Angus Farms events this season.
Cameron Wilkinson started on the pole for the 30-lap main event but outside row one starter Zevenbergen jumped to lead.
Wilkinson developed a tire rub on lap nine which brought out a caution. His team make the repairs and got him back on the track. On the ensuing restart, series point leader Kyle Vanover caught the outside wall on the back stretch, resulting in heavy suspension damage and ending his race early.
After a debris caution with 14 laps to go, the race stayed green to the end, and it was all Zevenbergen.
The Ocheyden, Iowa, driver led the entire distance and ran away from a wild battle throughout the top 10 for his fourth B & B Racing Chassis All-Star Invitational qualifying victory.
Wilkinson climbed all the way back through the field to finish second. Tyler Iverson, Mike Nichols and Austin Brauner completed the top five.
The Friesen Performance IMCA Northern SportMod feature saw Brandon Spanjer leap into the early race lead.
The Crete driver led the first four circuits before Robbie Thome took over the top spot and would not surrender it for the rest of the race. Spanjer and Devyn Peterson put on a great show for the second spot in the closing laps as the two weaved their way through lapped traffic.
After 20 laps of action, Thome picked up his fourth feature win at Columbus this season, along with a $1,000 check.
The 15-lap, $500 to win IMCA Sunoco Hobby Stock main event featured a highly contested battle between two veterans of the division.
Sal Hernandez and Jason Wilkinson went side-by-side for numerous laps and when the dust settled, it was Hernandez scoring the big win in front of his hometown crowd.
Feature Results
Stock Cars – 1. Elijah Zevenbergen; 2. Cameron Wilkinson; 3. Tyler Iverson; 4. Mike Nichols; 5. Austin Brauner; 6. Jordan Grabouski; 7. Jeff Ware; 8. Dana Rassmussen; 9. Jed Williams; 10. Benji Legg; 11. Chad Briese; 12. Austin Carter; 13. Dan Nelson; 14. Kyle Wilkinson; 15. Nick Beckman; 16. Jeremy Down; 17. Allen Zimmerman; 18. Tanner Pettit; 19. Kyle Vanover; 20. Justin Bertschinger.
Hobby Stocks – 1. Sal Hernandez; 2. Jason Wilkinson; 3. Kevin Betzen; 4. Lance Mielke; 5. Dustin Jackson; 6. Anthony Nelson; 7. Jordan Uehling; 8. Colin Hein; 9. Brooke Fluckiger; 10. Branden Lotspeich; 11. Austin Bruhn.
SportMods – 1. Robbie Thome; 2. Devyn Peterson; 3. Brandon Spanjer; 4. Lukas Pohlman; 5. Shawn Kelley; 6. Jacob Slough; 7. Blaine Walt; 8. Justin Svoboda; 9. Riley Osantowski; 10. Mary Hahn; 11. Amber Cook; 12. Ronnie Grass; 13. Mason Richards; 14. Doug Hilemann; 15. Lauren Cook; 16. James Kleinheksel; 17. Cody Brill; 18. Daryl Shockley.