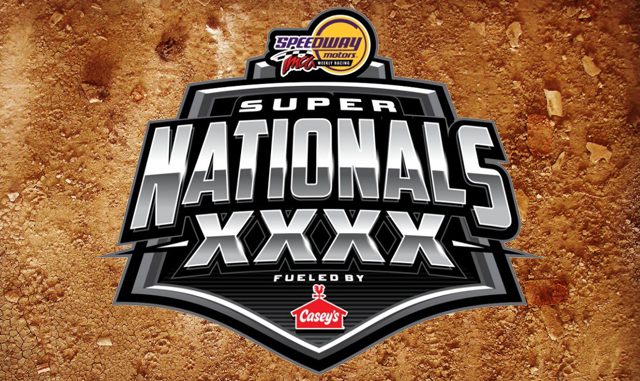 BOONE, Iowa (Sept. 2, 2022) – The records continue to fall before the first green flag of the 40th annual IMCA Speedway Motors Super Nationals fueled by Casey's even waves.
The number of drivers pre-entered hit 1,004 Friday morning, 82 more than the previous mark set last year. 2022 entries come from a record 29 states and four Canadian provinces.
"Super Nationals has been the biggest event not only in IMCA but in all of dirt track racing for much of its history," said IMCA President Brett Root. "We are honored that so many drivers want to be part of the 40th annual event. We will do everything possible to make their week at Boone Speedway the highlight of their 2022 season."
The 29 states represented among this year's pre-registered drivers include Arizona, Arkansas, California, Colorado, Florida, Illinois, Indiana, Iowa, Kansas, Kentucky, Louisiana, Michigan, Minnesota, Missouri, Montana, Nebraska, Nevada, New Mexico, New York, North Dakota, Oklahoma, Oregon, Pennsylvania, South Dakota, Tennessee, Texas, Utah, Washington and Wisconsin.
Canadian provinces represented include Alberta, British Columbia, Ontario and Saskatchewan.
By division, new pre-entry records set this year are 263 Modifieds, 261 Stock Cars, 183 Northern SportMods, 88 Sport Compacts and 68 STARS Mod Lites. Also pre-entered are 126 Hobby Stocks and 15 Late Models.
A record 909 cars competed over the course of Super Nationals last September.
The complete STARS Mod Lite program will be held during the Sept. 3-4 Prelude at Boone.
The Late Model program on Labor Day kicks off the week of Super Nationals Sept. 5-10 and the entire Sport Compacts program is Tuesday, Sept. 6. Hobby Stocks and Northern SportMods qualify both days.
Modified and Stock Car qualifying begins Wednesday, Sept. 7. Championship events for the Modifieds, Stock Cars, Northern SportMods and Hobby Stocks is Saturday, Sept. 10.
"Winning a Super Nationals championship is one of the most prestigious awards in all of IMCA," noted Root. "Drivers doing so this year will be able to say they did so at an event that raised the bar for dirt track racing."
Both the Prelude and Super Nationals will be broadcast by IMCA.TV.
*
STARS Mod Lite drivers Doug Williams and son Justin of West Monroe, New York became the 1,000th and 1001st drivers to pre-enter for the upcoming Super Nationals at Boone Speedway. Doug Williams was enroute with their cars and completed the electronic process while on the road somewhere in the middle of Indiana Friday morning.
"Oh wow! Cool! That's a lot of people. Holy cow!" he said after being informed of his new place in IMCA Super Nationals history. "We've heard a lot about Super Nationals the last three or four years – we don't have anything like this on the East Coast – and racing at Boone is something we've always wanted to do. It's something we've wanted to check off our bucket list."
In awe at the number of cornfields he'd seen since getting to the Midwest, Williams was still a couple hours from Boone when he answered the phone.
"We both just want to qualify and be able to load up the cars in one piece at the end of the night. If we were to finish in the top 10, we'd be ecstatic," he said. "We watched Super Nationals on IMCA.TV last year. Boone is a hammer-down track. It's like asphalt but you're on dirt."
MODIFIEDS
1X, Chris Abelson, Sioux City, IA
711, Larry Adams, Van Alstyne, TX
2A, Chance Allen, Alma, MI
WW1, Ricky Alvarado, Hotchkiss, CO
0A, Jamie Anderson, Meservey, IA
70, Steve Askew, Aubrey, TX
24K, Keaton Atkinson, Hot Springs, AR
12T, J.D. Auringer, Waterloo, IA
24A, Robert Avery, Des Moines, IA
B4, Jared Baird, Norman, OK
3J, Jeremy Baker, Nebraska City, NE
1Z, Eric Barnes, Colona, IL
7B, Curtis Barnes, Lindsborg, KS
J1, Jason Barnhill, Milton, FL
B21, Jesse Barnhill, Milton, FL
B24, William Barnhill, Milton, FL
415, Josh Barta, Cedar Falls, IA
26, James Beaulieu, Chatham, ON
22, Austen Becerra, Carthage, IL
5X, Brandon Beckendorf, Danube, MN
7T, Tyler Belcher, Laceyville, PA
43B, Tommy Belmer, Evansdale, IA
5R, Aaron Benjamin, Forksville, PA
13B, Garrett Bennett, Davison, MI
35, Jeff Berens, Dakota Dunes, SD
11X, Tom Berry, Altoona, IA
57B, Dennis Betzer, Central City, IA
20B, Chris Biggs, White City, OR
44T, Tanner Black, Otis, KS
95, Jeff Bodendorfer, Waterford, WI
77, Steven Bowers Jr., Topeka, KS
78X, Brody Bowser, Ionia, MI
111, Ethan Braaksma, Newton, IA
10B, Bree Brasington, Crystal, MI
21K, Kyle Brown, Madrid, IA
21D, David Brown, Kellogg, IA
16B, Randy Brown, Chowchilla, CA
37P, Ronnie Burkhardt, Topeka, KS
18, Noah Burlison, Malvern, AR
28CO, John Burrow, Denver, CO
87N, Joel Bushore, Boone, IA
43C, Kaid Calhoon, Beloit, KS
36, John Campos, Scio, OR
121, Roy Capps, Howe, TX
33, Nicholas Carpenter, Leavenworth, KS
5C, Chris Carter, Redfield, AR
333, Rob Charapata, Green Bay, WI
55, Jimmy Cole, Sioux City, IA
42, Beau Collins, Savoy, TX
71C, Troy Cordes, Dunkerton, IA
62, Greg Cox, Kellogg, IA
185C, Brian Craighead, Farmerville, LA
78, Brian Cross, Brighton, CO
185, Timothy Culp, Prattsville, AR
C42, Paul Culp, Creswell, OR
21CZ, Tim Czarneski, Denmark, WI
02, Jacob Dahle, Morristown, MN
28D, Cory Davis, Seminole, TX
54T, Matthew Day, Farmersville, TX
66, Tyler DeBouche, Green Bay, WI
80, Jerry Dedrick, Vinton, IA
30M, Maguire DeJong, Montezuma, IA
15M, Shane DeMey, Denison, IA
10D, Chris Derenne, Luxemburg, WI
18Z, Zane DeVilbiss, Farmington, NM
28R, Russ Dickerson, Boone, IA
38C, Kellie Drury, Eldora, IA
95E, Blake Edmonds, Muir, MI
121NZ, Jerry Ensey, Ada, OK
42JF, John Fabrizius, Levant, KS
V13, Grey Ferrando, Stayton, OR
13, Jerry Flippo, Bakerfield, CA
44K, Kelsie Foley, Tucson, AZ
37, Randy Foote, Stanton, IA
0, Scott Gartner, Jamestown, ND
83G, Josh Gilman, Earlham, IA
7G, J.T. Goodson, Bryant, AR
10G, Mike Goodson, Ardmore, OK
60, William Gould, Calera, OK
24G, Gregory Gretz, Kewaunee, WI
45T, Trent Guest, Medicine Hat, AB
19, Jimmy Gustin, Marshalltown, IA
19G, Richie Gustin, Gilman, IA
14G, Greg Gustus, Brighton, CO
55H, Larry Hall, Rochester, MN
75H, Garry Hall, Rochester, MN
15, Austin Harnick, Clare, MI
9JR, Spencer Hartwick, Rose Bud, AR
9, Brint Hartwick, Rose Bud, AR
13H, Travis Hatcher, Honey Creek, IA
3Z, Randy Havlik, Ankeny, IA
11XX, Kyle Heckman, Fort Dodge, IA
48K, Kollin Hibdon, Pahrump, NV
45H, Jason Hickingbottom, Pocahontas, IA
4, Tony Hilgenberg, Waukee, IA
01J, Jacob Hobscheidt, Plattsmouth, NE
61B, Dalton Houghton, Rosamond, CA
28H, Darrell Hughes, Decatur, TX
42RH, Ronald Hults, Truro, IA
38, Mitchell Hunt, Lakeview, MI
24T, Terry Hurt, Omaha, NE
12X, Jason Ingalls, Longview, TX
13J, Bricen James, Albany, OR
127, Drew Janssen, Pella, IA
6, Ryan Jenkins, Blair, NE
442, Aaron Johnson, Brainerd, MN
428, Tyson Keeney, Hot Springs, AR
00K, Trey Kline, Schleswig, IA
49K, Cody Knecht, Whittemore, IA
28K, Chester (Buddy) Kniss, Oakley, CA
B133, Kenny Kostenbader, Freeport, IL
56, Dustin Kroening, Hebron, IL
54L, Benji LaCrosse, Casco, WI
24, Corey Lagroon, Salina, KS
0L, Lucas Lamberies, Clintonville, WI
222, Carla Laney, Torrance, CA
5L, Cody Laney, Torrance, CA
B1, Jeff Larson, Freeport, IL
10K, Ronn Lauritzen, La Porte City, IA
164, Brandon Leeman, Radcliffe, IA
37J, Pappie Leonard, Ravenden, AR
5G, Gat Leytham, Garwin, IA
72, Mike Lineberry, Omaha, NE
69JR, Johnathon Logue, Logansport, IA
88, Josh Long, Little Suamico, WI
11, Trent Loverude, Courtland, MN
135L, Christopher Luttmer, Saint Jo, TX
35L, Charles Luttmer, Myra, TX
8X, Trevor Lutz, Snyder, TX
M8, Dalton Magers, Redwood Falls, MN
4X, Ryan Maitland, Waterloo, IA
X52, Sean Manning, Bennington, NE
171, Michael Maraschick, Midland, TX
05M, Mike Mashl, Green Bay, WI
12LF, Jonathan Mawhinney, Las Vegas, NV
16, Chad May, Rockford, MI
82, Jake McBirnie, Boone, IA
27, John McCaul, Montague, MI
10RM, Ryan McDaniel, Olivehurst, CA
911, Josh McGaha, Abilene, TX
75M, Justin Medler, Minot, ND
16M, Landon Meilke, Brookland, AR
5M, Matthew Meinecke, Jamaica, IA
71, Chad Melton, Mineral Wells, TX
19M, Dan Menk, Franklin, MN
77M, R.J. Merchant, Sioux City, IA
2, Nick Meyer, Whittemore, IA
17X, Richard Michael, Ischua, NY
02JR, Chris Mills, Sioux City, IA
10, Jeremy Mills, Clear Lake, IA
2B, Robert Moore, Ames, IA
48, Bob Moore, Sioux City, IA
07X, Troy Morris, Bakersfield, CA
99, Mike Mullen, Seymour, WI
46, Joe Mullins, Erie, CO
19X, Josh Munsen, Atchison, KS
99X, Dallon Murty, Chelsea, IA
05, Paul Nagle, Nevada, IA
4J, Jordy Nelson, Marysville, KS
3JN, Jake Nightingale, Maize, KS
10NN, Keegan Nordquist, Beresford, SD
12J, Justin O'Brien, West Union, IA
27EH, Lawrence O'Connor, Port Hardy, BC
711K, Kade Ogle, Lubbock, TX
C5, Chris Palsrok, Estherville, IA
21P, Adam Parmeley, Cadet, MO
31P, Mitch Parmeley, Hillsboro, MO
92P, John Parmeley, Phoenix, AZ
0P, Hunter Parsons, Green Bay, WI
75C, Bo Partain, Casa Grande, AZ
26P, Nathan Patrick, Pewamo, MI
4P, Dave Pedersen, Brady, NE
1, Eric Perry, Beebe, AR
25P, Mike Petersilie, Hoisington, KS
56J, Jamie Pfeiffer, Freeport, IL
223, Jake Pike, Pahrump, NV
23J, Jason Pike, Pahrump, NV
12, Chad Porter, Madison Lake, MN
12R, Bret Ramsey, Waterloo, IA
12JJ, Jeff Reay, Portland, MI
21, David Reay, Portland, MI
1R, Craig Reetz, Dunlap, IA
28, James Reichart, Indianola, IA
15J, Jeremy Richey, Medford, OR
8R, Jesse Richter, Great Bend, KS
45, Ryan Roath, Peoria, AZ
23JR, Nick Roberts, Des Moines, IA
17R, Joe Roberts, New Ulm, MN
7R, Ethan Robey, Ames, IA
03, Danny Roe, Turlock, CA
33X, Dan Roedl, Beaver Dam, WI
47, Darin Roepke, Le Mars, IA
18X, Frank Rose, Melissa, TX
60IV, Anthony Roth, Columbus, NE
8, Chase Rudolf, Norwalk, IA
26J, Joel Rust, Grundy Center, IA
96J, Johnny Saathoff, Beatrice, NE
96, Jaxon Saathoff, Beatrice, NE
13K, Kaity Sample, Winnemucca, NV
00, Cory Sample, Winnemucca, NV
54, Jeff Sampson, Evansdale, IA
10N, Robert Sanders, Bakersfield, CA
742, Larry Sanders, Ardmore, OK
17, Cory Sauerman, Johnston, IA
198, Robby Sawyer, Bakersfield, CA
95S, Ashley Schaaf, Lincoln, NE
7S, Troy Schaberg, Amity, AR
20, Brandon Schmitt, Beaver Dam, WI
44X, Jason Schneiders, North Sioux City, SD
20C, Cody Schroeder, Manitowoc, WI
23, J.J. Scott, Iowa City, IA
3X, Kelly Shryock, Fertile, IA
5, Todd Shute, Norwalk, IA
21J, Jared Siefert, Luxemburg, WI
43S, Scott Simatovich, State Center, IA
29, Chris Simmel, Valley View, TX
21R, Riley Simmons, Susanville, CA
3S, Jesse Skalicky, Fargo, ND
12E, Doug Smith, Lake City, IA
32, Chris Snyder, Dunkerton, IA
98, Jason Snyder, Dunkerton, IA
00S, Chris Spalding, Montgomery City, MO
08, Dakota Sproul, Hays, KS
12A, Ayden Steffens, North Platte, NE
25, Ricky Stephan, South Sioux City, NE
92, Jeff Stephens, Arion, IA
7ST, Todd Stinehart, Waseca, MN
66P, Paul Stone, Winton, CA
6C, Caleb Stone, Hobbs, NM
53T, Larry Sutton, Beloit, KS
24R, Regan Tafoya, Farmington, NM
01, Peyton Taylor, Batesville, AR
20T, Chad Ten Napel, Sioux City, IA
23A, Jim Thies, Mapleton, IA
01T, Ed Thomas, Waterloo, IA
25C, Cody Thompson, Sioux City, IA
38T, Dylan Thornton, Orcutt, CA
3, Andy Tiernan, Madrid, IA
10TT, Tyson Turnbull, Estevan, SK
57V, Mike Van Genderen, Newton, IA
33Z, Zack VanderBeek, New Sharon, IA
43, Milo Veloz, Colona, IL
4TW, Tim Ward, Harcourt, IA
37W, Frank Waszkiewicz, Nixa, MO
87W, John Webb, Pauls Valley, OK
757, Tony Wedelstadt, Combined Locks, WI
19S, Chase Weimer, Eldora, IA
51W, Chuck Weir, Atwater, CA
75, Clint Wendel, Mason City, IA
89, Steven Whiteaker, Robstown, TX
17W, Ashton Wilkey, Batesville, AR
87, Ryan Williams, Waxahachie, TX
118, Cameron Wilson, Gainesville, TX
7D, Dustin Wilwert, North Buena Vista, IA
S, Collen Winebarger, Corbett, OR
44F, Fred Wojtek, Blackwell, TX
178, Albert Wolfgram, Boone, IA
98W, Austin Wonch, Crystal, MI
69N, Cory Wray, Trenton, MO
00AZ, T.J. Wyman, Klemme, IA
492, Trent Wyssbrod, Monroe, WI
110, Tyrone Yazzie, Farmington, NM
STOCK CARS
26, Dean Abbey, Boyd, TX
37, Jeffrey Abbey, Comanche, TX
911, John Adams, Denmark, WI
14X, Derrick Agee, Moberly, MO
3, Mike Albertsen, Audubon, IA
6, Trace Ayers, Salina, KS
50B, Brock Badger, Perry, IA
52T, Travis Baird, Lincoln, KS
29, Nathan Ballard, Marengo, IA
30, Travis Barker, Sioux City, IA
46, J.J. Baumli, Lathrop, MO
11X, Tom Berry, Altoona, IA
07D, Dennis Bissonnette, Stephenville, TX
14B, Austin Bouzek, Trenton, MO
71, David Brandies, Wilton, IA
271, Randy Brands, Boyden, IA
17, Austin Brands, Boyden, IA
10A, Austin Brauner, Platte Center, NE
77B, Rob Brillhart, Crystal, MI
11, Derek Brown, Stoutland, MO
40B, Tom Brumlic, Denmark, WI
78B, Andrew Burg, Maricopa, AZ
250, Tathan Burkhart, Hays, KS
25X, Troy Burkhart, Hays, KS
16B, Jeff Byers, Milo, IA
43, Aaron Cain, Homer, NE
32C, Tom Cannon, West Branch, IA
85RX, Tyler Carey, Nashua, IA
85R, Bryce Carey, Nashua, IA
107, Tim Carman, Copperas Cove, TX
$, Cody Center, Des Moines, IA
77, Brian Cesar, Sheboygan, WI
24, Bob Chalupa, McCook, NE
24C, Jim Chisholm, Osage, IA
99X, Jeremy Christians, Horicon, WI
88C, Blake Clark, Joshua, TX
7C, Andrew Claus, Spencer, IA
11K, Kyle Clough, Wallace, NE
88, Mike Coel, Pulaski, WI
124C, Brandon Conkwright, Wamego, KS
C29, Garrett Corn, Merced, CA
57, Eric Cross, Salina, KS
21CZ, Cole Czarneski, Denmark, WI
4JR, Russell Damme, Sumner, IA
25J, Josh Daniels, Carlisle, IA
81D, Scott Davis, Madrid, IA
28, Cory Davis, Seminole, TX
54, Dan Day, Farmersville, TX
42, Todd Decker, Edmond, OK
13D, Timothy DeGroft, Elwell, MI
18Z, Zane DeVilbiss, Farmington, NM
1$, Chris Dollarhide, Little Rock, AR
40J, Jason Doyle, Marion, IA
1D, Matthew Duggan, Grand Blanc, MI
211, Tim Eaton, St Joseph, MO
63, Dale Eaton, St Joseph, MO
72, Jacob Ellithorpe, Maquoketa, IA
8E, Mitchell Evens, Dubuque, IA
2K, Kyle Everts, Holland, IA
21, Eric Faber, Sioux Center, IA
343, Jeff Feaster, Dakota City, IA
23K, Kersey Ferrando, Stayton, OR
51, Andrew Fidler, Elwell, MI
82F, Dylan Fitzpatrick, Magnolia, MN
64, Clint Forstner, Shiocton, WI
77F, Josh Foster, Fairfax, IA
22S, Scott Foster, Oakley, CA
50F, Kyle Frederick, Oconto Falls, WI
1G, Bosco Garrett, Dublin, TX
20G, Jeremy Gettler, Casey, IA
8J, Leslie Gill, Odessa, TX
17*, Jason Goddard, Green Isle, MN
18, Anthony Goldsberry, Runnells, IA
5G, Tim Gonska, Brainerd, MN
60, William Gould, Calera, OK
48G, Austin Gray, Story City, IA
32, Derek Green, Granada, MN
24A, Aidan Gretz, Kewaunee, WI
24G, Gregory Gretz, Kewaunee, WI
14G, Brandon Gritz, Enid, OK
16, Ryan Grochow, New Ulm, MN
50, Matt Guillaume, Haslet, TX
23, Cody Gustoff, Scranton, IA
33G, Kevin Gyles, St Charles, IA
20PBR, Eric Haase, Norfolk, NE
57H, Daniel Hagen, Grimes, IA
5H, Lance Hanson, Palmer, TX
49, Ryan Harris, Homer, NE
6X, Haydan Hartwick, Tumbling Shoals, AR
06, Brad Hartwick, Rose Bud, AR
13H, Travis Hatcher, Honey Creek, IA
01C, Charles Hedges, Tripoli, WI
157, Cary Heinen, Fort Dodge, IA
72H, Miciah Hidlebaugh, Menlo, IA
62X, Ray Allen Hoedebeck, Madill, OK
6H, Chanse Hollatz, Clear Lake, IA
17H, Trevor Holm, Chandler, MN
27H, Brandon Hoover, Gallatin, MO
21H, Jim Horejsi, Marshall, MN
14H, Mike House, Panora, IA
30C, Abraham Huls, Carthage, IL
13J, Brandon Jacoby, Waterloo, IA
93, Michael Jaennette, Kellogg, IA
06J, Jerry Jansen, Plainville, IL
11T, Roger Jenniges, Echo, MN
01, Troy Jerovetz, Iowa Falls, IA
21J, Andrew Jochim, Harwood, ND
A1A, Austin Kaplan, Collins, IA
00K, Trey Kline, Schleswig, IA
12K, Chad Krogmeier, Burlington, IA
93S, Jacob Kubik, Bassett, NE
89K, Taylor Kuehl, Cave Creek, AZ
54L, Benji LaCrosse, Casco, WI
2, Wayne Landheer, Buffalo Center, IA
5L, Dustin Larson, Reading, MN
7L, Jeffrey Larson, Reading, MN
509, Logan Leary, Little Suamico, WI
7CC, Chad Legere, Ankeny, IA
84, Benji Legg, Beatrice, NE
007, Luke Lemmens, Green Bay, WI
E7, Doug Lockwood, Beaverton, OR
87, Curt Lund, Redwood Falls, MN
69JR, Johnathon Logue, Logansport, IA
99L, Matthew Looft, Swea City, IA
17X, Justin Luinenburg, Reading, MN
14JB, Ryan Lujeck, Oshkosh, WI
92, Dan Mackenthun, Hamburg, MN
47, Landon Maddox, Fairview, OK
9, Eric Mahlik, Suamico, WI
05M, Mike Mashl, Green Bay, WI
47X, Connor Masoner, St. Joseph, MO
82, Jake McBirnie, Boone, IA
25A, Andrea McCain, South Haven, MN
55AZ, Joey McCullough, Goodyear, AZ
1J, Tyler McDougall, Hawley, MN
707, Brandon McElroy, Burleson, TX
10M, Mitch Meier, Chilton, WI
8M, Austin Meiners, Polk City, IA
77X, Tejay Mielke, Norfolk, NE
V31, Jeremy Mills, Clear Lake, IA
99KK, Derek Moede, New Franken, WI
27, Sid Mosher, Sioux City, IA
12, Josiah Moulds, Urbandale, IA
77M, Jeff Mueller, Albion, IA
99, Mike Mullen, Seymour, WI
2M, Angel Munoz, Lamar, CO
25RC, Trent Murphy, Jefferson, IA
99D, Damon Murty, Chelsea, IA
99XX, Dallon Murty, Chelsea, IA
20N, Justin Nehring, Storm Lake, IA
18X, Tyler Nelsen, Lohrville, IA
43N, Tommy New, Russellville, AR
44N, Brent New, Dover, AR
25, Trent Nolan, Shawano, WI
10N, Kole Nordquist, Beresford, SD
22N, Gage Noyes, Sibley, IA
05JR, John Oliver, West Burlington, IA
8X, Scott Olson, Blairsburg, IA
44K, Kevin Opheim, Mason City, IA
14, Chad Palmer, Renwick, IA
82P, J.C. Parmeley, Peoria, AZ
75C, Bo Partain, Casa Grande, AZ
17TK, Travis Patterson, Ashland, NE
292, Blake Peeler, Trimble, MO
46M, Loren Pesicka, Burt, IA
25P, Mike Petersilie, Hoisington, KS
44P, Kris Peterson, Isanti, MN
12X, Ron Pettitt, Norfolk, NE
12T, Tanner Pettitt, Norfolk, NE
5A, Tyler Pickett, Boone, IA
71P, Corey Piffer, Indianola, IA
37K, Kylie Rawlins, Kellogg, IA
119, Dustin Reeh, Council Bluffs, IA
22R, Todd Reitzler, Grinnell, IA
1, Kaden Reynolds, Cedar Rapids, IA
23HR, Rod Richards, Madrid, IA
IB25, Shane Richardson, Wapello, IA
23JR, Nick Roberts, Des Moines, IA
88R, Kevin Roberts, Gresham, OR
24R, Kevin Robinson, Woodward, IA
37R, Jason Rogers, Selden, KS
34X, Mich Ross, Maysville, MO
0C, Charlie Rustman, Saint Peter, MN
0, Steve Rustman, Saint Peter, MN
17S, Cory Sauerman, Johnston, IA
92X, Buck Schafroth, Orient, IA
75S, Tony Schlei, Union Grove, WI
19J, Jay Schmidt, Tama, IA
38, Joe Schmit, Ventura, IA
45, Levi Schoenick, Luxemburg, WI
77S, Jerry Schram, Vancouver, WA
93SS, Chad Shaw, Trimble, MO
67J, Michael Shearer, Atwater, CA
3X, Kelly Shryock, Fertile, IA
25JS, Jared Siefert, Luxemburg, WI
21R, Riley Simmons, Susanville, CA
37S, Mike Smith, Kellogg, IA
12E, Doug Smith, Lake City, IA
75X, Randy Smith, Hamilton, MO
35, Donavon Smith, Lake City, IA
8, David Smith, Lake City, IA
81, Devin Smith, Lake City, IA
3S, Bryan Snell, Urbandale, IA
16A, Aaron Spangler, Dove Creek, CO
40JR, Bubba Stafford, Wittmann, AZ
10, Mike Stapleton, Denison, IA
94J, Josh Steele, Smithville, MO
62, Jeff Steenbergen, Watertown, WI
19S, Aaron Stolp, Suamico, WI
66P, Paul Stone, Winton, CA
6C, Caleb Stone, Hobbs, NM
19SR, Tim Stupka, Coal Valley, IL
171, Calvin Swanson, Waterloo, IA
73, Troy Swearingen, Forest City, IA
77T, Tobie Talk, Malcom, IA
5*, Brandon Taylor, Joshua, TX
7, Peyton Taylor, Batesville, AR
20, Chad Ten Napel, Sioux City, IA
12B, Ed Thomas, Waterloo, IA
38T, Dylan Thornton, Orcutt, CA
67II, Chris Toot, Albert Lea, MN
67, Darin Toot, Albert Lea, MN
699, Johnny Torres, San Antonio, TX
850, Heath Tulp, Kanawha, IA
57VG, Mike Van Genderen, Newton, IA
33VH, Dusty Van Horn, Atlantic, IA
57V, Mike Vandermark, Cedar Springs, MI
44, Austin VanHoff, Chowchilla, CA
19, Kyle Vanover, Beatrice, NE
37E, Jason Vansickel, Webster City, IA
04, Don Vis, State Center, IA
20V, Dustin Vis, Martelle, IA
72W, Robert Waechter, Luxemburg, WI
1JR, Robert Waechter, De Pere, WI
107J, Justin Walter, Killeen, TX
41, Jason Ward, Sioux City, IA
83, Jeff Ware, Columbus, NE
03W, Timothy Warner, Malone, WI
8W, Randy Weaver, Little Rock, AR
10W, Brady Wenzlaff, Yankton, SD
10X, Paul Wenzlaff, Yankton, SD
31X, Mathew West, Kellerton, IA
16W, Jeff Whiting, Gothenburg, NE
X9, Brad Whitney, Trenton, MO
27B, Bruce Wickman, Emmetsburg, IA
83W, AJ Wiechmann, Hubbard, IA
77K, Jed Williams, Edgar, NE
77W, Cody Williams, Minneapolis, KS
82W, Shelby Williams, Bonham, TX
67X, Brandon Williams, Platte City, MO
K9, Tyler Wilson, Little Suamico, WI
177S, Collen Winebarger, Corbett, OR
35JW, Casey Woken, Norton, KS
76W, Shay Woods, Humeston, IA
36, Brett Woznicki, Minot, ND
14C, Leah Wroten, Independence, IA
66Z, Elijah Zevenbergen, Allendorf, IA
34, Jordan Zillmer, Cleveland, ND
83Z, Allen Zimmerman, Central City, NE
NORTHERN SPORTMODS
6BX, Mike Adam, Bettendorf, IA
20, Brayden Ahlers, Slayton, MN
1S, Shelby Alves, Casa Grande, AZ
14A, Chase Alves, Casa Grande, AZ
53, Logan Anderson, Eddyville, IA
65J, Josh Appel, Garner, IA
2BA, Jacey Archer, Hays, KS
10A, Jacob Arp, Donahue, IA
2X, Matthew Avila, Madrid, IA
17A, Adam Baker, Taft, CA
11B, Brian Baker, Bakersfield, CA
151, Tyler Bannister, Bakersfield, CA
51, Jason Bannister, Bakersfield, CA
7C, Connor Barnes, Lindsborg, KS
5150, Josh Barnhart, Colby, KS
2, Troy Bayne, Hershey, NE
21BT, Kirk Beatty, Siouxcity, IA
8X, Justin Bell, Louisville, NE
09B, Brett Berry, Hays, KS
10B, Ryan Besaw, Omro, WI
10K, Kaden Besaw, Omro, WI
112, Adam Birck, Canton, MO
76L, Lance Borgman, Beatrice, NE
13K, Karl Brewer, Vermilion, SD
96, Cody Brill, Bates City, MO
79, Nathan Bringer, Lewistown, MO
84B, Trent Brink, Bussey, IA
10C, Coleman Browning, Cameron, MO
6B, Travis Burger, Leonardville, KS
CB25, Chris Burke, Altoona, IA
21R, Randy Butterbrodt, Olin, IA
26AB, Jason Carney, Boone, IA
01, Brayton Carter, Oskaloosa, IA
99, Rocky Caudle, Ellsworth, IA
1JR, Ben Chapman, Clarence, IA
7J, Jonah Chinn, Sioux City, IA
12XL, Stephen Clancy, Odessa, MO
4D, Danny Concelman, Peyton, CO
11, Joseph Cooper, North Platte, NE
86, Randy Cram, Algona, IA
24C, Marshall Cramer, Hannibal, MO
8C, Logan Cumby, Quincy, IL
21CZ, Cole Czarneski, Denmark, WI
95, Mason Day, Farmersville, TX
12D, Joe Docekal, Dysart, IA
62R, Robert Draper, Valparaiso, NE
7TG, Heath Dry, Phoenix, AZ
15, Billy Dyer, Johnston, IA
211, Tim Eaton, St Joseph, MO
9E, Eric Elliott, Ogden, IA
30, Kenser Ellis, Ankeny, IA
14E, Justin Erickson, Glendale, AZ
96E, Clay Erickson, Glendale, AZ
34F, Cole Fenske, Waukee, IA
08, Alec Fett, Burt, IA
00XX, Colby Fett, Algona, IA
22S, Scott Foster, Oakley, CA
76, Chuck Fox, Silvis, IL
33, Jarett Franzen, Maquoketa, IA
17, Christopher Frisbie, Boone, IA
7FYE, Danny Fye, Boxholm, IA
31G, Will Garceau, Mishicot, WI
222, Ryan Gillmore, Springfield, MO
0, Dakota Girard, Moberly, MO
00X, Kyler Girard, Moberly, MO
27G, Kamren Gruber, Munjor, KS
29J, Gregg Hamman, Kingsley, IA
46, Jackson Harpole, Farmington, NM
26, Taylor Haufschildt, Greenville, WI
42, Tyler Heckart, Ottumwa, IA
CH19, Colby Heishman, Brooklyn, IA
00, Crystal Hemphill, Yuma, AZ
20B, Brady Henderson, Curtis, NE
22, Joe Hendricks, Council Bluffs, IA
5H, Hayden Hillgartner, Harlan, IA
22JR, Brady Hilmer, Mount Auburn , IA
36H, David Hoover, Boone, IA
7, Lee Horky, Fairbury, NE
117X, Zach Hovell, Boone, IA
21H, Jeff Hunter, Henderson, CO
15X, Boe Jenkins, Marshalltown, IA
97J, David Johnson, Columbus, NE
79J, Taylor Johnson, Hospers, IA
OK, Brandon Kaye, Luxemburg, WI
07, Cory Kemkes, Appleton, WI
22K, Mike Kennedy, Madison Lake, MN
57K, Ryan King, Colo, IA
86W, Willy Kirk, Sloan, IA
2K, Taylor Kuehl, Cave Creek, AZ
8L, Thomas Lathrop, Ottumwa, IA
R31, Ryan Leeman, Randall, IA
75, Jeff Lloyd, Lecenter, MN
9, Matthew Looft, Swea City, IA
16K, Kaylin Lopez, Marshalltown, IA
5, Dustin Lynch, Boone, IA
127, Jacob Mallet, Oakley, CA
111, Izac Mallicoat, Boone, IA
8, Dusty Masolini, Des Moines, IA
6M, Matt McAtee, Council Bluffs, IA
7M, Steve McLaughlin, Newton, IA
30M, Greg Metz, Hollenberg, KS
79M, Michael Miller, Des Moines, IA
3, Miles Morris, Yuma, AZ
26BM, Bryan Morris, St. Charles, IA
07X, Troy Morris, Bakersfield, CA
180, Ryan Moser, Englewood, CO
77JR, Rayce Mullen, Pearl city, IL
27M, Mike Munson, Boxholm, IA
37M, Derek Murphy, Colorado Springs, CO
95N, Garrett Nelson, Osceola, IA
93N, Colton Nelson, Osceola, IA
9N, Monty Nordyke, Holly, CO
9JR, Brendyn Nordyke, Holly, CO
5K, Jared Nytroe, Brandon, SD
19X, Nathan O'Bright, De Pere, WI
88J, Jacob Olmstead, Overton, NE
T23, Tony Olson, Cedar Rapids, IA
K3, Kyle Olson, Cedar Rapids, IA
04, Trent Orwig, Ottumwa, IA
XA, Alissa Palsrok, Estherville, IA
17C, Shane Paris, Muscatine, IA
15P, Andrew Pearce, Oakley, CA
62, Cory Pestotnik, Boone, IA
28P, John Piker, Bakersfield, CA
58, Hunter Poston, Villisca, IA
11QR, Austin Price, Alton, IA
20P, Nicholas Profeta, Keokuk, IA
88K, Kole Quam, Waterloo, IA
5J, Justin Raymond, Burt, IA
39R, John Rebstock, Franklin, MN
9J, Jeremiah Reed, Otho, IA
1R, Joe Reetz, Dunlap, IA
21, Cam Reimers, Kelley, IA
11R, Braden Richards, Madrid, IA
45R, Dyllan Ricks, Boyden, IA
9R, Matthew Roehl, Fond Du Lac, WI
8T, Ty Rogers, Yuma, AZ
75R, Joe Roller, Morning Sun, IA
0R, Robby Rosselli, Minot, ND
911, Darin Rothfus, Jefferson, IA
MM5, Matt Ruf, Grand Junction, CO
0C, Charlie Rustman, Saint Peter, MN
25R, Chad Ryerson, Wellsburg, IA
97, Mark Saathoff, Beatrice, NE
14, Jake Sachau, Manning, IA
0NA, Ahnna Schouten, Council Bluffs, IA
99RE, Arie Schouten, Omaha, NE
14X, Austin Schrage, Cresco, IA
1-14, Brian Schrage, Cresco, IA
93S, Chad Shaw, Trimble, MO
32S, Blair Simmons, Des Moines, IA
555, Josh Sink, Ankeny, IA
35, Connor Smith, Britt, IA
3T, Tyler Soppe, Sherrill, IA
216, Camron Spangler, Dove Creek, CO
23M, Matt Speiss, Jefferson City, MO
T25, Tim Stallbaumer, Topeka, KS
118, Austin Stamm, Orangeville, IL
62S, Jeff Steenbergen, Watertown, WI
81, Charlie Stevens, Algona, IA
75S, Cole Suckow, Cresco, IA
48, Tommy Tanner, Hinton, IA
193, Jessiah Taylor, Boone, IA
B21, Brandon Tharp, Vinton, IA
82T, Brett Thomas, Walker, IA
1T, Robbie Thome, Spalding, NE
7V, Carter VanDenBerg, Oskaloosa, IA
117, Dylan VanWyk, Oskaloosa, IA
13V, Curtis Veber, Polk City, IA
45, Justin Wacha, Vinton, IA
9W, Ryan Walker, Wilton, IA
03W, Timothy Warner, Malone, WI
55W, Aiden Webb, Roland, IA
79W, Bill Wegner, Armstrong, IA
Z28, Ty Weidner, Chandler, AZ
26J, Jace Whitt, Hamilton, MO
44, Aaron Wiersma, Sioux Falls, SD
68, Will Wolf, Evansdale, IA
77W, Thomas Wood, Monroe, WI
66X, Chris Wright, Chillicothe, MO
8W, Kenny Wyman, Marshalltown, IA
20X, Cody Yaw, Altoona, IA
31, Jason York, Boone, IA
72, Joey Young, Carlisle, IA
HOBBY STOCKS
28C, Cory Adams, Norwalk, IA
A24, Nicholas Adams, Ames, IA
23, Jordan Ahlers, Slayton, MN
47P, Parker Anderson, Welcome, MN
00, Jordan Androy, Dunlap, IA
13A, Brian Ashburn, Callender, IA
14Z, Zach Bales, Merrill, IA
7BH, Jim Ball, Quasqueton, IA
17B, Garrett Ball, Quasqueton, IA
27B, Tyler Ball, Independence, IA
45, Drew Barglof, Sioux Rapids, IA
84B, Rusty Bates, Casey, IA
31, Dylan Bell, St. John, KS
11B, Solomon Bennett, Minburn, IA
25, Aaron Betz, Avoca, MN
88, Luke Bird, Winthrop, IA
8, Travis Blythe, Beatrice, NE
45B, Craig Brotherton, Wall Lake, IA
35, Conner Brown, Yankton, SD
78, Matt Brown, Dysart, IA
77W, Andrew Burk, Milan, IL
01G, Gavin Bussinger, Granada, MN
22, Seth Butler, Jefferson, IA
2C, David Carter, Fremont, NE
81C, B.J. Charlson, Indianola, IA
9C, Colby Christensen, Audubon, IA
79RC, Riley Christensen, Audubon, IA
77, Craig Clift, Sioux City, IA
20, Tanner Clough, Wallace, NE
56J, Dalton Coady, Newton, IA
3C, Charlie Cook, Pueblo West, CO
01, Christian Cook, Coon Rapids, IA
C00P, Travis Coop, Portis, KS
66, Brandon Cox, Norwalk, IA
81, Thomas Daffern, Brawley, CA
25D, Bob Daniels, Des Moines, IA
33X, Carter Davis, Hinton, IA
37G, Calvin Dhondt, Kellogg, IA
144, Riese Dignan, Kenmare, ND
20D, Jimmy Doescher, Blanchardville, WI
7D, Stephen Doss, Boone, IA
18A, Aaron Elliott, Boone, IA
14J, Jacob Floyd, Cedar Rapids, IA
19DD, Danny Foster, Norwalk, IA
83X, Justin Frederick, Cleghorn, IA
53F, Gordon French, La Junta, CO
8F, Aron Fye, Alden, IA
99, Nathan Gegner, Morgan, MN
22B, Braden Gifford, Boone, IA
22W, Wayne Gifford, Boone, IA
12, Eric Gillette, Slayton, MN
2G, Bradly Graham, Victor, IA
14, Tristan Grape, Columbus, NE
33G, Joe Gyles, New Virginia, IA
98, Dan Hanselman, Algona, IA
0, Ryan Havel, Iowa City, IA
3Z, Zach Hemmingsen, Marne, IA
7H, Adam Hensel, Atlantic, IA
8A, Alicia Hilzer, Fort Morgan, CO
8X, Andy Hoffman, Sioux City, IA
3, Auston Honeycutt, Sioux City, IA
85, Seth Janssen, Ogden, IA
4, Lowell Janssen, Yankton, SD
45J, Kyle Jared, Ryan, IA
21, Bennett Johnson, Red Oak, IA
20J, Darin Johnson, Spencer, IA
5, Jeremy Johnson, Worthington, MN
49, James Johnson, Cherokee, IA
12T, Tanner Jones, Boone, IA
1K, Tom Killen, Des Moines, IA
51, Michael Kimm, Vinton, IA
27K, Jason Kohl, Missouri Valley, IA
91, Chris Krug, Emmetsburg, IA
4R, Randy LaMar, Buffalo, IA
24T, Tylan Lambertus, Grand Island, NE
16X, Blake Luinenburg, Reading, MN
96, Austin Lundquist, Sioux City, IA
73, Aaron Martin, Delta, IA
12M, Matt McDonald, Scranton, IA
23M, Kent Miller, Milroy, MN
5A, Anthony Nelson, Plainview, NE
13N, Dylan Nelson, Perry, IA
78N, Matt Nelson, Ankeny, IA
51E, Ethan Neu, Fairview, MT
7N, Trenton Neuhaus, Masonville, IA
T8, Brandon Nielsen, Spencer, IA
71J, Joshua Oles, Greenwood, NY
98Z, Zach Olmstead, Overton, NE
42T, Tyson Overton, Carlisle, IA
3A, Kyle Parizek, Hartwick, IA
33, Luke Phillips, Wapello, IA
96P, Skylar Pruitt, Linden, IA
17, Luke Ramsey, Bedford, IA
4C, Curt Reed, Des Moines, IA
24R, Dillon Richards, Beatrice, NE
53, Chad Rigby, Madrid, IA
13, Jacob Robinson, Minot, ND
37, Bingston Rogers, Selden, KS
28X, John Ross, Rushmore, MN
22R, Lyle Russell, Colby, KS
12R, Brooke Russell, Montezuma, KS
5S, Jonathan Saliba, New Cambria, KS
27, Malik Sampson, Worthington, MN
92, Brandon Schneider, Mechanicsville, IA
34B, Ben Schneiders, Sioux City, IA
99X, Josh Sidles, Emmetsburg, IA
28, Jay Sidles, Emmetsburg, IA
1, Scott Siems, Cedar Rapids, IA
J7, David Simpson, Des Moines, IA
1S, Hunter Smith, Brush, CO
22X, Mike Smith, Lake City, IA
22T, Tyler Smith, Sioux City, IA
52, Billy Stanford, Wapello, IA
7B, Eric Stanton, Carlisle, IA
171, Jeremy Swanson, Strawberry Point, IA
8T, Adam Tiernan, Madrid, IA
L5, Lenny Tucker, Jefferson, SD
103, Alex Tvedt, Minot, ND
19A, Alan Van Gorp, Des Moines, IA
51V, Josh Vancannon, Ogden, IA
357, Brett Vanous, Quasqueton, IA
20W, Matt Wahl, West Des Moines, IA
4W, John Watson, Des Moines, IA
47, Sam West, Ferguson, IA
2-14, Kirk Westring, Humphrey, NE
33W, Scott Wetter, Platteville, WI
LATE MODELS
126, Dean Abbey, Boyd, TX
12B, Alex Banks, Newman Grove, NE
26, Troy Behnke, Ewing, NE
15B, Braxton Berry, Colby, KS
83, Jake Bridge, Waverly, NE
17, Andrew Chelf, Lost Nation, IA
2X, Joey Haase, Norfolk, NE
1H, Mike Haines, Davenport, IA
20, Greg Krohn, Albion, NE
1M, Mitch Manternach, Earlville, IA
3, Sterling Perkins, Bellevue, NE
23, Austin Russell, Evansdale, IA
60, Dalton Simonsen, Cedar Rapids, IA
76, Zach Zeitner, Bellevue, NE
SPORT COMPACTS
71, Kimberly Abbott, Camp Point, IL
7G, Gilbert Aldape, Sioux City, IA
77, Branston Arnder, Salina, KS
44, Conner Barlow, Abilene, KS
13T, Noah Beenken, Waterloo, IA
3, Jake Benischek, Durant, IA
19B, Carter Besaw, Omro, WI
73B, Andrew Bieber, Independence, IA
12, Mitch Bielenberg, Charlotte, IA
24Z, Zach Bohlmeyer, Beatrice, NE
101K, Kevin Bolte, Odin, MN
29X, Jason Bolte, Odin, MN
35, Conner Brown, Yankton, SD
35JR, Taylor Brown, Yankton, SD
19K, Ryan Brown, Fontanelle, IA
37, Ryan Bryant, Mason City, IA
83B, Mitchell Bunch, Des Moines, IA
12X, Tristan Clark, Maquoketa, IA
10, Logan Clausen, Atkins, IA
14Z, Zachary Cleghorn, Des Moines, IA
19, Blaise Coffee, Elk Point, SD
68, Devin Coghlan, Marion, IA
M07, Maci Constance, Descanso, CA
19C, Jerry Coopman, Mankato, MN
7C, Stephanie Coopman, Mankato, MN
87C, Jay Crabill, Cedar Rapids, IA
8K, Kaytee Devries, Spencer, IA
91, Bobby Douglas, Bowen, IL
31D, Blake Driscol, Dysart, IA
7B, Blaine Ellis, Slaughters, KY
16X, R.J. Esqueda, Granada, MN
M80X, Tyler Fiebelkorn, Stuart, IA
51X, Dayton Filloon, Tama, IA
14, Rileigh Flohrs, Blue Hill, NE
48C, Chandler Fullenkamp, West Point, IA
48, Chuck Fullenkamp, West Point, IA
7, Mylee JoAnn Goldwich-Rhames, Farmington, NM
89, Cristian Grady, Cedar Rapids, IA
2H, James Haring, Oskaloosa, IA
711, Payce Herrera, Price, UT
95H, Michael Hotze, Malvern, IA
57, Dylan Huston, Charter Oak, IA
7D, Devin Jones, Mason City, IA
R4C, Matt Kaye, Green Bay, WI
33K, David Kimmel, New Virginia, IA
24, Korey Lana, Vinton, IA
43, Jade Lange, Humboldt, IA
21T, Tayla Lange, Boone, IA
67L, Sean Leasure, Mansfield, TX
15A, Ally Luna-Richey, Medford, OR
24M, Caine Mahlberg, Dunlap, IA
22, Shannon Mahlberg, Dunlap, IA
81, Christopher Mannion, Waterloo, IA
16, Curtis Masterson, New Virginia, IA
29, Matt Miller, Waterloo, IA
32S, Schad Myers, Beatrice, NE
10N, Camden Nehring, Storm Lake, IA
J316, Brian Newcomer, Red Oak, TX
07, Brooke Osler, Milford, IA
65, Riley Paysen, Wall Lake, IA
25, Chris Pittman, Dunkerton, IA
69G, Gage Porter, Hays, KS
28R, Trent Reed, Missouri Valley, IA
6M, Madison Reed, Stockton, KS
14R, Justin Reetz, Dunlap, IA
27R, Brandon Reu, Donnellson, IA
85, Lukas Rick, Center Point, IA
90, Robert Rundle, Walker, IA
33R, Jordan Runge, Magnolia, IA
27, Mason Rust, Minot, ND
9R, Mick Rykhus, Le Center, MN
9, Kolby Sabin, Des Moines, IA
33, Megan Sandvig, Estherville, IA
33D, Devin Schmidt, Nortonville, KS
333, Steven Schmitz, Vinton, IA
63, Tim Schnathorst, Burlington, IA
19J, Jacob Schwab, Crete, NE
M80, Mark Smith, Huxley, IA
22D, Dalton Sowers, Oskaloosa, IA
17SG, Stephanie Spangler, Dove Creek, CO
65C, Colton Stewart, Vinton, IA
, Aaron Swearingen, Monticello, IA
11, Aiden Wagner, Minot, ND
32X, Nathan Wahlstrom, Beatrice, NE
51, Jacob Walding, Sioux City, IA
95, Thomas Werning, Walker, IA
69M, Jeremy Wheeler, Vinton, IA
STARS MOD LITES
641, Sara Anderson, Meservey, IA
19, Ryan Ayers, Salina, KS
14, David Bailey, Carlisle, IA
56B, Cameron Beene, Arkadelphia, AR
22B, Dalton Bell, Hoisington, KS
6X, Kyle Berry, Crosby, TX
78J, J.J. Borden, Hensley, AR
52B, Matt Boyd, Farmington, MO
65, Joe Boyll, Kokomo, IN
96, Jon Braathun, Story City, IA
B51, Johnny Brown, Orange, TX
64, Randy Bryan, Ames, IA
0, Kevin Carl, Buna, TX
6, Dana Chittenden, Rhome, TX
LR8, Ronnie Choate, Cookeville, TN
46C, Randy Coleman, Ofallon, MO
16C, Sam Coleman, Farmington, MO
55C, Jacob Copley, Milan, IL
4, Eddie Craft, Jacksonville, TX
32, Chad Culp, Dallas Center, IA
70, Alex Eischeid, Mechanicsville, IA
11, Dustin Ford, Bridgewater, IA
19DD, Derek Foster, Nevada, IA
4G, Ben George, Altoona, IA
3G, Joe Glick, Madrid, IA
7, Rick Graves, Altoona, IA
48G, Austin Gray, Story City, IA
18J, Josh Guy, Knob Noster, MO
52X, Clayton Hogie, Saint John, KS
28, Dylan Hollingshead, Sheridan, AR
X50, Joel Huggins, Des Moines, IA
5, Jeffrey Isabell, West Monroe, NY
6J, Joseph Isabell, West Monroe, NY
7J, Shane Jenkins, Vidor, TX
27K, Zander Keeland, Bakersfield, CA
95, Mike Kennedy, Boone, IA
18M, Chelsea Ladurini, Pleasant Hill, IA
22, Alex Loveless, Salina, KS
301, Michael Mann, Tennessee, IL
41M, Jason Masengarb, Colona, IL
99, Josh May, Des Moines, IA
94KB, Paul McCollett, Arkadelphia, AR
27, Thomas Messamer, Des Moines, IA
07, Travis Messamer, Redfield, IA
99X, Dallon Murty, Chelsea, IA
54N, Scott Naggatz, Carter Lake, IA
8, William Nobles, West Des Moines, IA
11P, Jon Padilla, Silvis, IL
16P, Mike Pershing, Colchester, IL
14X, Taylor Pollock, Prague, NE
4D, Doug Pollock, Tekamah, NE
75, Justin Raffurty, Kearney, MO
46, Dillon Raffurty, Kansas City, MO
41, Michael Raffurty, Kansas City, MO
31, Gage Raines, Searcy, AR
94M, James Rollins, Arkadelphia, AR
47, Cory Sonner, Polk City, IA
20, Jeff Stensland, Nevada, IA
4K, Garrett Stonum, Excelsior Springs, MO
2, Jason Toppenberg, Ames, IA
52, Bryce Vowan, Marion-West Memphis, AR
71W, Matthew Weiss, Rockwell City, IA
14W, Douglas Williams, West Monroe, NY
10W, Justin Williams, West Monroe, NY
88, Jeromy Wilson, Mabelvale, AR
18, Blake Wilson, Mabelvale, AR
3, Nathan Wolfe, Lee's Summit , MO
131, James Bryan Wonick, Iowa City, IA
807K, John Wright, Colchester, IL
46Z, Bryan Zehm, Ames, IA