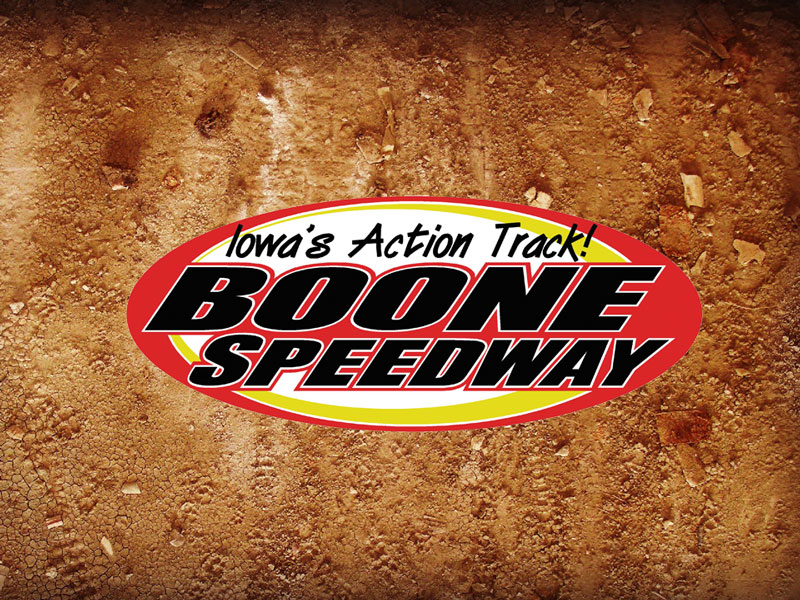 By Joyce Eisele
BOONE, Iowa (Aug. 27, 2022) – The forecasters had been calling for a high probability of rain in the area for days but Saturday night, Boone Speedway had just a few sprinkles. The Tune Up for the Super Nationals, the P1 Promotions Modified Challenge and the D & E Outside Services Watermelon Classic were all completed before 9 p.m. All heat and feature winners also raced for the well-known watermelon.
The eighth annual P1P Challenge race for Friesen Performance OMCA Modifieds saw the drivers qualify through time trials and heat races. The top 12 then raced 15 laps for $1,000 and a unique trophy
Johnathon Logue grabbed the lead from the outside front row as the race went green. Logue was content to let some heavy hitters duke it out behind him as Tom Berry Jr., Bricen James and Richie Gustin sliced and diced for position.
Logue, in his rookie season in the division, was never seriously challenged as he led all laps on his march to victory lane. Berry started sixth and finished second. Third went to three-time race winner Richie Gustin, fourth was Oregon star Bricen James and Paul Nagle was fifth. The race went caution-free.
The IMCA Modifieds also ran another full field feature race. Jake McBirnie was looking strong as he led through lap 16. That's when an incident between McBirnie and two other top runners, Cody Laney and Gustin, left McBirnie and Gustin limping off the racing surface with flat tires.
This put Laney in command but Berry had been methodically working his way through the pack from 11th starting and was sniffing at the tailpipe of Laney. A few sliders and lane changes were thrown between the two until finally at lap 23 of the 25-lap event, Berry took the lead for good and sailed to the checkers and the win.
Laney finished as the runner-up, it was Tim Ward in third, Jeremy Mills took fourth place and Todd Shute completed the top five. This time, Berry didn't let the win and this $1,000 payday slip through his fingers.
The Friesen Performance IMCA Northern SportMods ran a 23-lap feature event for a $600 prize. Jake Sachau, who has been having a fabulous year at Boone Speedway with five previous feature wins this year, showed no signs of letting up on his great run.
He started on the pole of the feature and it was a runaway as he pulled away from the field and won going away.

Cory Pestotnik ran up front all race long and finished as the runner up, holding off a hard challenge by Izac Mallicoat in third. Eric Elliott made his return to racing after being absent since the early race season and took fourth, and Nate Albrandt hard charged his way from 17th to finish fifth.
The IMCA Sunoco Stock Cars were running for $1K in their 25-lap main. Jay Schmidt started on the pole and took the lead as the race went green.
Dallon Murty started on the outside front row and was in hot pursuit immediately, taking to the top of the track and on the hunt. It took him until lap four but he got the job done, flying into the lead. It was all Murty from there on out as he "walked the dog" and won easily going away.
Scott Davis ran at the front all race long and finished second, followed by Schmidt in third place. Jason Vansickel, The Flying Electrician, got some redemption after his car got battered and bruised last week, and went home with a fourth place finish. Mathew West, piloting a borrowed car, was fifth.
Murty had also started the season off with the Frostbuster special win.
The IMCA STARS Mod Lites ran later in the night than normal for their 20-lap feature. Randy Bryan would "drive away" in this one on his way to the checkers. He ran down early leader Bryan Zehm right before the halfway point and stretched his lead at the finish.
Cory Sonner finished as the runner-up and Josh May was third. Bryan Zehm held off Dallon Murty, who was testing out the car usually driven by Darrick Knutsen as they went fourth and fifth, respectively.
The finale of the night was 20 laps of IMCA Sunoco Hobby Stock feature racing. Mark Hidlebaugh had Josh VanCannon knock, knock, knocking on his rear bumper for most of the race but it didn't faze him as he motored home to the flying checkers.
VanCannon had to settle for second place. Joe Wollenhaupt ran up front the entire race and finished in third place. Fourth went to Tanner Jones who had started 14th and 13th place starter Stephen Doss was fifth.

Next up for racing at the Boone Speedway will be Saturday and Sunday, Sept. 3 and 4 for the Wild Rose Casino Prelude. Gates open at 2, and hot laps are slated for 3, with racing at 4.
Then Labor Day Monday, Sept. 5, will be the start of the six day run of the 40th Annual IMCA Super Nationals. Hot laps are scheduled for 1 p.m. with racing at 2 each day.