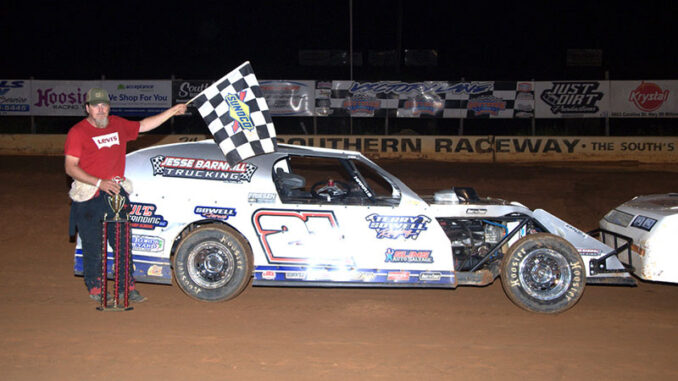 MILTON, Fla. (Aug. 24, 2022) – Jesse Barnhill attended his first IMCA Speedway Motors Super Nationals fueled by Casey's last year, in the roles of driver's dad and crew chief.
When he returns to Boone Speedway, he's hoping to add a new title: Big Dance qualifier.
The champion of IMCA's Gulf Coast Region in 2004 and father of 2021 Dirt Works Eastern Region rookie of the year, Barnhill brings his own Friesen Performance IMCA Modified to the 40th annual Super Nationals with an absolute best case scenario of joining son Owen in the Saturday night main event.
"We hope to make the big race and put on a good show," said Barnhill, who already has the 1,100 mile trip from Milton, Fla., mapped out. "It would mean a lot to both of us. Making the main event is our ultimate goal. We've waited all season to go to Boone."
Two Florida drivers have qualified for the Super Nationals Modified finale, Jimmy Balkcom in 1987 and Curtis Galbreath in 2000. Both Barnhills know the challenge they'll face to join them in the accomplishment.
"When I came up here last year with Owen, we just had all kinds of problems. We just didn't know enough about his new car," Barnhill admitted. "The big thing for me this year is to help Owen and have my car ready for him if he needs it."
"It would be great if we could both make it in, but especially Owen. That would mean a lot," he added, "but this is a tough race to get in. There are going to be a lot of good drivers at Boone, like there are every year, trying to do the same thing."
A multi-division star in his home state, 17-year-old Owen is also the defending Florida state champion. He comes back to Boone eligible to qualify for the Harris Auto Racing Race of Champions and the Fast Shafts All-Star Invitational.
The regional crown earned 18 years ago earned career-long qualifying eligibility for Jesse in the RoC.
His IMCA career went on hiatus from 2006-2017 but he's got back on track with some success since, getting his first win of 2022 in mid-August at hometown Southern Raceway.
"I wished we'd gone to Super Nationals and raced years ago. My brother Jason and I talked about doing it when we were racing a bunch, back around the time Curtis (Galbreath) qualified, but just didn't do it," Barnhill said. "Our home tracks have a sandier, red clay so Boone is a different animal. It will be the furthest north I've raced."
Team Barnhill will race Saturday and Sunday close to home, then start the trek to Boone on Labor Day.