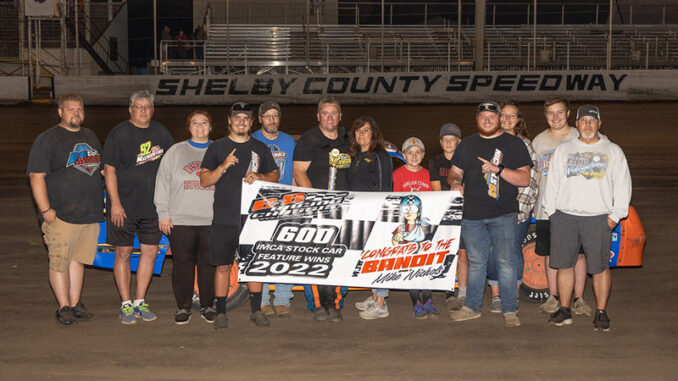 HARLAN, Iowa (Aug. 20, 2022) – Another win, another milestone.
Mike Nichols, won for the 600th time in his incredible IMCA Sunoco Stock Car career, taking his latest checkers Saturday night at hometown Shelby County Speedway.
"It was pretty cool," said Nichols, the winningest driver in IMCA's 108-year history. "Years and years ago, my first win was at Harlan and it was good to get this milestone win at the same track with so many friends, fans and sponsors here."
"The environment couldn't have been any better," he added. There was a good car count and the grandstand was packed. It was a pretty good night."
Nichols has enjoyed a lot of "pretty good nights" since first taking The Class Too Tough To Tame by storm in 2002.
Now chasing an IMCA record extending 11th national crown, he's averaged better than 28 wins a season over the course of his Stock Car career and leads all IMCA drivers with 44 career track titles.
His resume also includes 10 EQ Cylinder Heads Northern Region championships and the 2017 IMCA Speedway Motors Super Nationals fueled by Casey's prize.
"Our 600th feature win was one goal we set for the season. We have a very good idea what we have to do now to accomplish the rest," said Nichols. "This has been an unusual kind of season for us but we've been able to step up to different challenges."
Saturday's win at Harlan was the 17th of that aforementioned atypical season for Nichols, delayed in his trek to 600 by regular runner-up finishes before and after being injured in a riding lawnmower rollover accident in late June.
"I have been getting a lot of seconds and that's a testament to the people I race against. There are a lot of good drivers in this division," said Nichols, who will undergo surgery early this fall to repair a rotator cuff torn. "
"There was some dumb luck to the timing of the accident. We didn't miss any nights," continued Nichols, since nicknamed The One-Armed Bandit, "and about the same time we found some things that were not quite right with the car that we've been able to fix."
The day after reaching his latest milestone win, Nichols was busy helping another driver running for another win of his own, loaning the transmission from his Friesen Performance IMCA Northern SportMod to Kaylin Lopez.