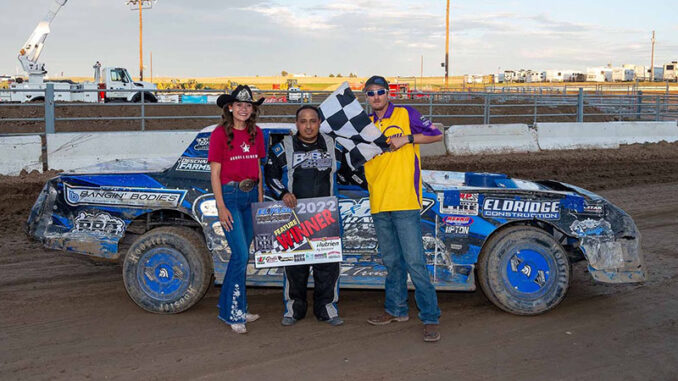 CALHAN, Colo. (July 22, 2022) – He isn't a fan of bullrings but Angel Munoz sure knows how to get around them in a hurry.
Munoz started 20th and raced his way to the front of the Colorado IMCA Sunoco Stock Car Showdown field at El Paso County Raceway, earning $2,000 for the Friday night feature win at Calhan.
"I'm not a big fan of bullrings but we do good at 'em," said Munoz, more partial to the big tracks of western Kansas. "I'd only raced here once before, in 2016, and we won $1,000 that night."
He'd won his heat but was disqualified when post-race tech found the right rear shock measurement off by a quarter of an inch.
"I'd changed a spring right before the heat and didn't compensate. Rules are rules," Munoz said following his big charge to the front. "The track had a lot of character. You had to be patient but cowboy up at the same time. The cards just played out in our favor and the gaps were there when we needed them to be."
Finding those gaps all over the oval, Munoz was running second midway through the 20-lapper. He followed pole starter Layne Bellm four times around the track before sneaking underneath for the lead with five circuits left.
The front pair ran in traffic to the finish. Munoz checked up behind a lapped car and had Bellm right behind him at the finish.
D.J. Banks, Kelly Yutterman and Jeremy Frenier, who'd started 21st, completed the top five.
"We've run a very limited schedule this season. This was our second win, along with a second place finish, in three starts other than the Dakota Tour," said Munoz, already B & B Racing Chassis All-Star Invitational qualifying eligible.
A Frostbuster winner at Boone Speedway in 2017, he'll get a new body and wrap before returning to Iowa's Action Track for the 40th annual IMCA Speedway Motors Super Nationals fueled by Casey's in September.
Feature results – 1. Angel Munoz; 2. Layne Bellm; 3. D.J. Banks; 4. Kelly Yutterman; 5. Jeremy Frenier; 6. Phil Reid; 7. Brian Lessig Jr.; 8. Cameron O'Lear; 9. Allen Green; 10. Dillon Reese; 11. Mike Puckett; 12. Joey Riese; 13. Ryan O'Lear; 14. Shane Grippin; 15. Quinton Yutterman; 16. Brian Lessig; 17. Brady Alberson; 18. Joel Alvarado; 19. Jon Hogeboom; 20. Danny Concelman; 21. Payton Bellm; 22. John Buchanan.