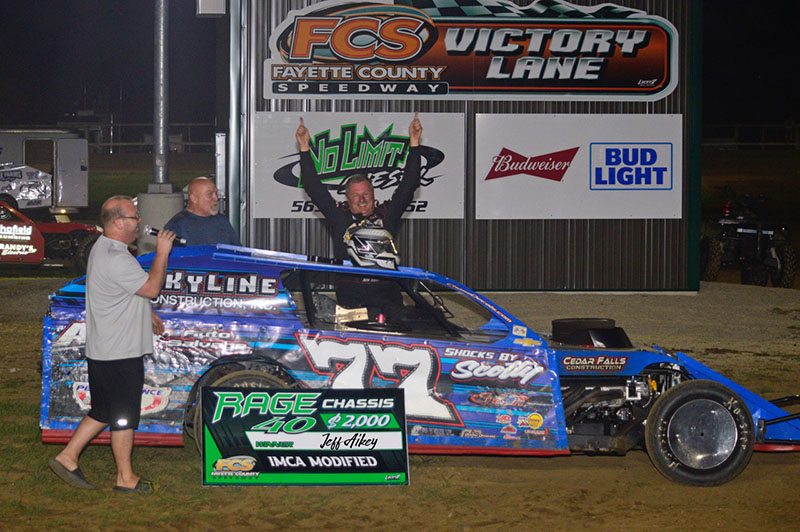 By Zakary Kriener 
WEST UNION, Iowa (July 20, 2022) – The Rage Chassis 40 did not disappoint Tuesday night as Fayette County Speedway hosted the $2,000 to win fair special for Friesen Performance IMCA Modifieds. 
At the end of the 40-lap feature race, it was legend Jeff Aikey who parked his no. 77 hot rod in victory lane.
Aikey wasted little time finding his way to the front after starting third on the grid. After a few cautions in the opening laps, Aikey got past early leader Chris Snyder and was able to maintain a good distance over eventual runner-up and defending IMCA national champion Jeff Larson throughout the rest of the caution-free race.
"I started my racing career right here 42 years ago," said an ecstatic Aikey in his post-race interview. "I may be 60 years old, but giving up racing is not something that I have in my future plans."
Aikey was already eligible to qualify for the Fast Shafts All-Star Invitational.
Larson, who got a win at West Union earlier this year in his late model, closed in on Aikey several times as the leaders fought through lapped traffic, but ended up second after charging ahead eight spots.
In third was Drew Janssen. Ryan Duhme advanced as high as second but apparent damage to his left front wheel caused him to drop back to fourth. Rounding out the top five was Ryan Maitland.
Feature results – 1. Jeff Aikey; 2. Jeff Larson; 3. Drew Janssen; 4. Ryan Duhme; 5. Ryan Maitland; 6. Spencer Diercks; 7. J.D. Auringer; 8. Justin O'Brien; 9. Brennen Chipp; 10. Chris Snyder; 11. Josh Roney; 12. Josh Barta; 13. Kyle Madden; 14. Mark Schulte; 15. Jeff Reay; 16. Jason Morehouse; 17. Keith Pittman; 18. Matt McCahen; 19. Ed Thomas; 20. Jacob Snyder; 21. Corey Dripps; 22. Andrew Lokenvitz.