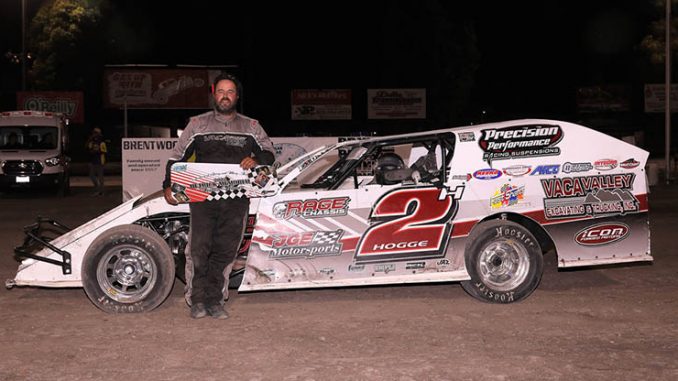 ANTIOCH, Calif. (July 9, 2022) – Antioch Speedway had a special place in Bobby Hogge IV's heart as the site of his first-ever Modified feature win. 
On Saturday night, it became the site of his Friesen Performance IMCA Modified career 100th victory.
The Salinas speedster took the inside line from fifth starting to the front early in the 30-lap Hetrick Memorial main event, outrunning Troy Foulger to the $1,500 checkers.
"It was a good night. It came at a special event with a good field of cars and at the track where I got my first Modified win, back when they ran NASCAR, in 1994," said Hogge, the all-time wins leader at Antioch. "That first win also came at a big event and I got to race against my dad that night."
"We have a lot of time in at Antioch," he added, "so it's special to get my 100th IMCA win there."
The Saturday night victory was the sixth of the season for Hogge, who'd been runner-up to Foulger at the previous weekend's $7,300 to win special at Southern Oregon Speedway.
He'd returned home from a short vacation on Friday, unloaded his car for the first time since the trip to Medford for some quick body work and a power washing, then started the two-hour trip to Antioch.
A third generation driver, he followed both his paternal and maternal grandfathers into the sport. Hogge's father Bobby ran Modifieds during his own career and is a former Antioch track champion.
Hogge's first IMCA win came in 2005. He raced to career-best 14-win seasons along with track titles at Ocean Speedway in 2015 and 2016, and was champion of the inaugural California IMCA Speedweek in 2020.
He's also a two-time qualifier for the main event at the IMCA Speedway Motors Super Nationals fueled by Casey's, finishing third in 2001 and 11th last year in a 2021 Rage by Precision Performance he'd picked up just the week before.
Win number 100 came in the same car.
"We'd kind of been stuck at 99 for a while so there was a little monkey on our back," said Hogge, last a winner at Ocean on May 13. "We don't race as often as we used to or for points a lot anymore, so we're very happy to get this win. It's a great accomplishment with a great sanctioning body."
Hogge became the second IMCA Modified driver to reach the 100 career win mark this season, and the 66th driver in division history with triple digit victories.