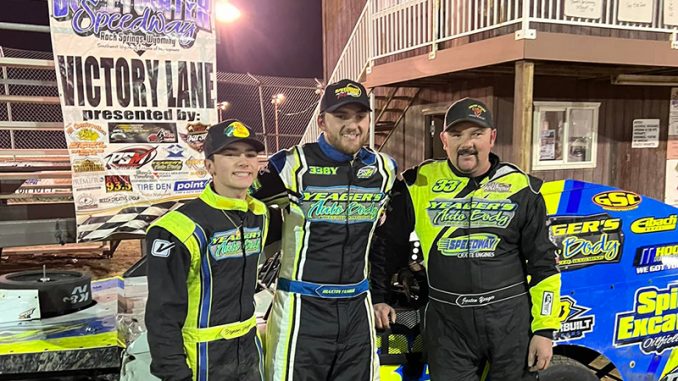 By Jayson Klepper
WWCC Student Intern
ROCK SPRINGS, Wy. (May 31, 2022) – Friday, May 27, and Saturday, May 28 marked the first two races of the season at Sweetwater Speedway and they did not disappoint.
The track was as fast as ever even with the rainy weather leading into the races both nights. The crowd was also treated to an impressive car count of over 114 cars with many being first-time racers at the track. With this many racers it was bound to be a special opening weekend, but this was only the beginning of what became some of the best nights of racing this county has ever seen.
This weekend of racing was particularly special because it was also the Paul Trent/Rudy Yeager Memorial Race.
Paul Trent and Rudy Yeager were essential to Sweetwater Speedway and without all their hard work and dedication, many believe we would not have racing in the county or this great facility.
Trent was instrumental in promoting the races throughout the years and drew a lot of attention to the track that helped it gain its popularity. Yeager helped with the actual construction of the track and was a long-time racer who mentored his sons in their own racing careers.
The track honored their legacies through the weekend and it was incredibly special to Justen Yeager, who is Rudy's son, and his sons Braxton and Bryson, who all raced this weekend in the Friesen Performance IMCA Modified Division.
For the actual racing this weekend, it too was nothing short of excellent. It consisted of five separate classes. These were the Friesen Performance IMCA Modifieds, Friesen Performance IMCA Northern SportMods, IMCA Sunoco Stock Cars, cruisers and dwarf cars.
Many fans were impressed with how great the racing action was in all classes. Many fans were excited to see the new cars their favorite racers had this year as well and the new drivers that made an impressive impact their first week here.
Not only were the fans treated with new up and coming racers, but we were also gifted with a familiar legend taking the track. Justen Yeager of Green River did not race the first night as he was watching his sons Braxton and Bryson tear up the track with Braxton taking first and Bryson at seventh.
After the first night of racing, I asked him if he felt the urge to get in a car and race and he seemed to be itching to get into one again. Well, the next night, he scratched that itch and hopped into the 73u owned by Joe Miller, who offered Justen his car so he could race for his dad's memorial.
All three of the Yeagers raced that night with all of them finishing top 10. Braxton again took first place, Bryson took third this night, and Justen watched his boys finish in front of him with a sixth-place finish.
It was a story book ending where the father watches his two boys grow up right in front of his eyes just like how Rudy watched his boys grow up right in front of his eyes on the track as well. It was an amazing weekend of racing and one that will be hard to top but I am sure that Sweetwater Speedway will find a way like always to keep us coming back again and again.