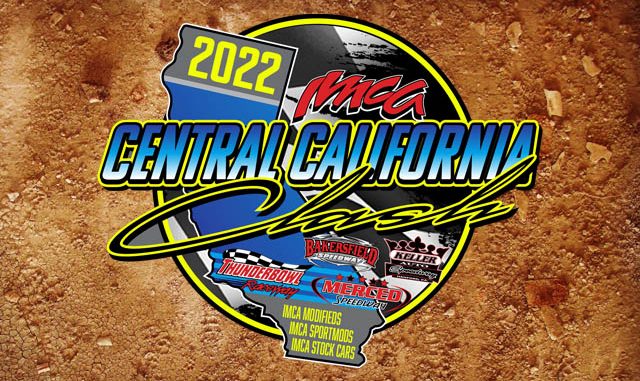 By Ben Deatherage 
MERCED, Calif. (May 7, 2022) – Cody Laney raced his way into the record book on the sixth and final night of the IMCA Central California Clash Saturday evening. 
Laney won a second straight Friesen Performance IMCA Modified main event at Merced Speedway, and for the record fourth time in wrapping up the series crown. 
Opening salvos had Bobby Hogge go toe to toe with Troy Morris III, with Laney joining them to make it three-wide before the first circuit was scored.
A pair of early cautions prevented Hogge from getting away from the rest of the pack and he'd trade a couple sliders with Laney before falling to second on lap five.
Laney had a couple cautions to deal with himself but kept an even keel on both restarts and won ahead of
Morris, Hogge, Jerry Flippo and Kyle Heckman.
It was a barnburner of an IMCA Sunoco Stock Car feature. Bo Partain maintained a firm grip on the lead despite three early restarts before Dakota Schweitzer closed the gap during a long green-flag run.
Schweitzer was briefly in front on lap 17 before Partain regained the lead. The Arizona traveler held on to become the sixth different winner in as many Central California Clash features for The Class Too Tough To Tame.
Garrett Corn was credited with the runner-up position, followed by Eric Hamilton, Rick Diaz and Paul Stone. Uber consistent Steven Johnson clinched the series crown with a seventh place showing, the only time he ran outside the top five all week.
Garrett Jernagan led from lap five to the checkers in winning the Friesen Performance IMCA Northern SportMod main. That victory was his series career sixth, another new Central California Clash record.
Jason Bannister got second at the line over Nick Spainhoward. Cale Kanke wound up fourth while Clash champion Tyler Bannister ended the week in fifth.
Feature Results
Modifieds – 1. Cody Laney; 2. Troy Morris III; 3. Bobby Hogge; 4. Jerry Flippo; 5. Kyle Heckman; 6. Troy Foulger; 7. Rick Diaz; 8. Jim Pettit II; 9. Paul Stone; 10. Cody Burke; 11. Matthew Hagio; 12. Ryan Porter; 13. Michael Paul Jr.; 14. Chuck Weir; 15. Aaron Crowell; 16. Brent Curran; 17. Danny Roe; 18. Danny Lauer; 19. Robby Sawyer; 20. Josh Combs.
Stock Cars – 1. Bo Partain; 2. Garrett Corn; 3. Eric Hamilton; 4. Rick Diaz; 5. Paul Stone; 6. Troy Foulger; 7. Steven Johnson; 8. Loren DeArmond; 9. Anthony Guiliani; 10. Mike Shepherd; 11. Chad Johnson; 12. Dave Hill; 13. Scott Foster; 14. Les Friend; 15. Cody Johnson; 16. Jacob Van Essen; 17. Mark Morton.
SportMods – 1. Garrett Jernagan; 2. Jason Bannister; 3. Nick Spainhoward; 4. Cale Kanke; 5. Tyler Bannister; 6. Nathan Rolfe; 7. Adam Baker; 8. Matt Sanders; 9. Jarrod Mounce; 10. Markus Frazier; 11. Richard Ragsdale; 12. Riley Jeppesen; 13. Ryan DeForest; 14. Austin Pugh; 15. Ethan Killingsworth; 16. Jeremy Hoff; 17. Jeff Mead; 18. Brian Baker; 19. Gavin Espino; 20. Dave Pearson.