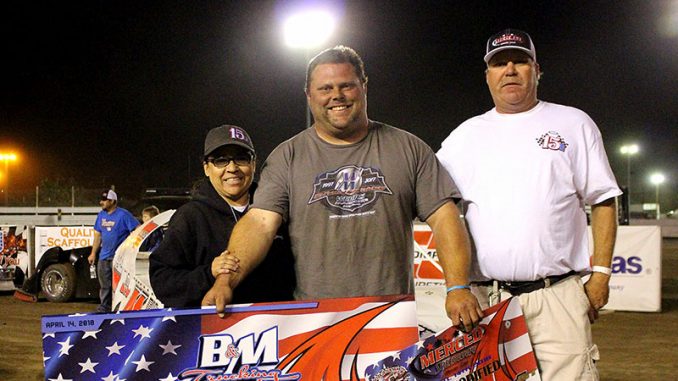 MERCED, Calif. (April 14) – It had been a few years since Danny Lauer turned laps at Merced Speedway but it didn't take him long to find the fastest way the oval at Saturday's Bill Egleston Trib­ute.
Lauer led all 50 laps of the evening's IMCA Modified feature, earning $4,015 along with a spot on the Fast Shafts All-Star Invitational ballot.
"We were stoked. We unloaded the car and never touched a thing. It was fast all night," Lauer said after pocketing the biggest check of his career in the class. "I took the lead going into (turn) one on the first lap and ran the bottom. I figured if anyone was going to pass they'd have to go around me."
The last yellow came out with nine circuits left. Lauer kept Austin Burke at bay to win for the first time this season and the first time he's entered a 50-lapper that didn't have a pit stop at midway.
"We haven't won that many races the last few years. The sport evolved and we didn't keep up with it the way we should have," said Lauer, who had crossed racing paths with fellow Modified driver Egleston at weekly events in California and en route to last November's Duel In The Desert.
"We got this Rage before the Wild West Tour in Oregon last year and have been getting it dialed in," he continued. "The $4,015 was awesome but I want to be more consistent. I think I have the car now and want to prove it."
Darrell Hughes, Roger Holder and Shane DeVolder were next across the stripe. Modified entries came from across California and Arizona, Nevada and Oregon as well.
A regular at Merced during 2013 and 2014 California State championship campaigns, Nick Spainhoward returned to his old stomping grounds to lead all 25 laps of the Karl Chevrolet Northern SportMod main event.
His $1,815 payday was also a career best.
"I tried to stay smooth and steady on the bottom. I heard Garrett (Jernagan) a couple times," said Spainhoward. "There are a ton of fast guys on the West Coast and it seemed like all of them were on my back bumper."
Jernagan, Tim Elias, Fred Ryland and Chris Falkenberg rounded out the top five. Spainhoward got into a lapped car while running with traffic just before midway but righted the ship and stayed in front the rest of the way.
"I met Bill at Chowchilla in 2012 back when nobody knew who I was," Spainhoward said after career win number 47 in the class. "He always came over and talked to me. Bill was a good guy. It was important for me to be here and I was happy to have been part of this event."
Feature Results
Modifieds – 1. Danny Lauer; 2. Austin Burke; 3. Darrell Hughes; 4. Roger Holder; 5. Shane DeVolder; 6. Troy Foulger; 7. Cody Burke; 8. Paul Stone; 9. Bobby Hogge IV; 10. Ryan Porter; 11. Nick Trenchard; 12. Brian Pearce; 13. Jeff Streeter; 14. Chris Lewis; 15. Tim Balding; 16 Chett Reeves; 17. Carl Berendsen; 18. Chris Crompe; 19. Stephen Hopf; 20. Brian Lewis; 21. Randy Brown; 22. Robby Sawyer; 23. Freddie Plourde; 24. Bret Bennett.
Northern SportMods – 1. Nick Spainhoward; 2. Garrett Jernagan; 3. Tim Elias; 4. Fred Ryland; 5. Chris Falkenberg; 6. Danny Roe; 7. Bruce Nelson; 8. Matthew Mayo; 9. Andrew Peckham; 10. Jeremy Hoff; 11. Austin Manzella; 12. Kelly Wilkinson; 13. Chase Thomas; Atwater; 14. K.C. Keller; 15. Patti Ryland; 16. Anthony Giuliani; 17. T.J. Etchinson III; 18. Jack Aguiar; 19. Dale Grissom; 20. Chuck Weir; 21. Cody Parker; 22. Andrew Odgers; 23. Tanner Thomas; 24. Kevin Johnson.