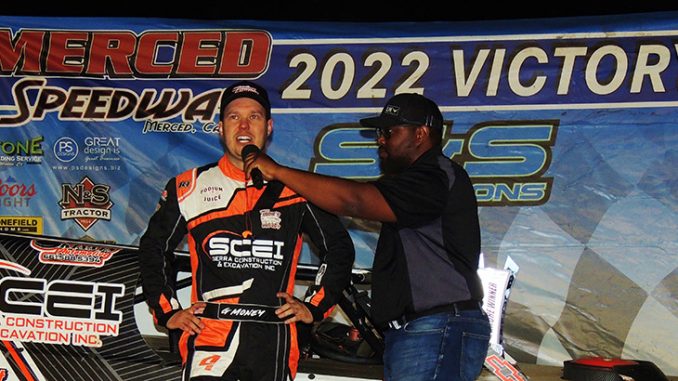 MERCED, Calif. (April 9, 2022) – Garrett Jernagan turned a marquee event into a career-best payday Saturday night.
He led the last 26 of 30 laps in winning Merced Speedway's Al Miller Memorial special for IMCA Northern SportMods, taking home a $5,000 check.
"This win ranks right up there, knowing the Miller family and racing one night for five grand," the Bakersfield driver said, adding plugs for the dual heat format as well as track officials and sponsors. "This is one of the marquee events on the West Coast and it's nice to only have to go 2-1/2 hours from home and race for $5,000."
Kenny Shrader got the jump on the 20 car field before Jernagan found the fast bottom groove. 
"I stayed there until right around lap 14 when we had a caution. I'd heard another car (Jacob Mallet Jr.), glanced at the top and saw it was getting pretty clean," he said. "We got the yellow, I went to the top and while I was never really challenged from there, it wasn't easy. I had to work for it."
Fred Ryland repeated as runner-up after starting 10th. Cale Kanke, Shrader and Mallet completed the top five.
Tyler Bannister also duplicated his 2021 hard charger showing, starting 19th and finishing sixth.
Jernagan added $250 for the trophy dash win and $100 for turning the fast lap to his share of the main event purse.
A Craftsman tool set accompanied the checkers as well.
Jernagan had been a preliminary feature winner at last year's fourth annual Al Miller Memorial but came up one spot short of qualifying out of his 'B' feature after a rough heat race outing.
He also counted a checkered flag run at Merced among the five wins in six California Speedweek starts in 2020.