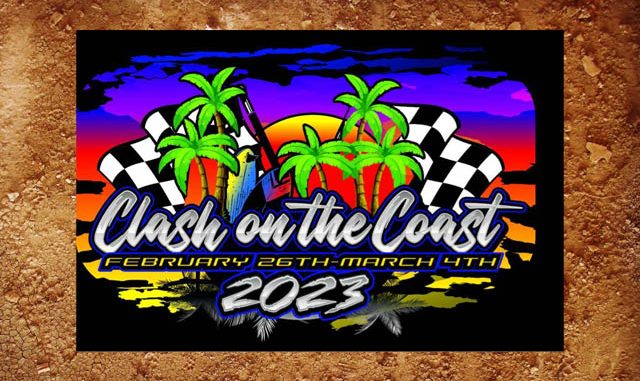 BAKER, Fla. (May 6, 2022) – Friesen Performance IMCA Modified drivers can start making plans for a Florida vacation early in 2023.
The inaugural Clash on the Coast opens with Feb. 27 and 28 features at Northwest Florida Speedway in Baker, then travels to Southern Raceway in Milton for March 3 and 4 shows.
All four main events pay $1,000 to win, $900 for second, $800 for third, $700 for fourth and $600 for fifth. Nightly purses total $7,500 with a minimum of $100 to start. Drivers competing all four nights are eligible for shares of a $10,000 point fund.
The top driver in points earns $2,500 with $1,500 for second and $1,000 for third.
The Clash on the Coast is the brainchild of veteran IMCA Modified driver Peyton Taylor from Arkansas, a double winner at Southern Raceway's Winter Nationals earlier this season.
"This will be the first Florida-based Speedweek for IMCA Modified drivers in about 20 years," said Taylor. "I think we can make this an annual event that will expand to three or four tracks and be good for everybody."
IMCA.TV will broadcast all four nights and entry fee each evening will be $25. Practice nights will be Sunday, Feb. 26 at Baker and Thursday, March 2 at Milton – no hot lap sessions will be held any race night – with drivers getting a day off to enjoy Florida with the family on Wednesday, March 1.
"Batesville Motor Speedway has been in my family over 35 years so I've been at this all my life," Taylor said. "We'd raced in Florida before and went down again this year on a whim and met a lot of good people there along the way. We felt like this was the right time to start planning something like this."
"This is an event I want to be part of and I think I have the street cred with racers to help it be successful," he added. "We've already had a lot of support from IMCA. It's something we couldn't do without them."
"If Peyton Taylor can't make this a fun week for drivers," said IMCA President Brett Root, "no one can."
More information about the Clash on the Coast is available from Taylor at 870 805-0727.
Feature winners all four nights of the Clash on the Coast become eligible to qualify for the Fast Shafts All-Star Invitational at the 2023 IMCA Speedway Motors Super Nationals fueled by Casey's.