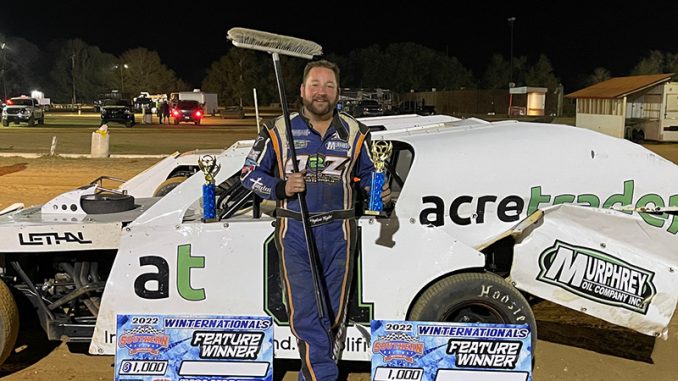 MILTON, Fla (Feb. 25-26, 2022) – A spur of the moment decision to load up his IMCA Modified for a Florida vacation led to a storybook ending for Peyton Taylor. 
Taylor topped both Friday and Saturday night Winter Nationals features at Southern Raceway, earning $1,000 for each checkered along with Fast Shafts All-Star Invitational qualifying eligibility. The wins were his first-ever in Florida and came in his first visit to the Milton speedplant as well.
"This was a spur of the moment deal. We got down there and A.J. Ward and William Gould were there and a lot of good local drivers were there," said Taylor, from Batesville, Ark. "This is the first time we've been to Milton. They're great people and it's a great track, and it worked out pretty well for us."
His opening night win came from fifth starting. Taylor passed Ward for the lead, held off the defending Dirt Works Eastern Region champion following multiple restarts and was able to pull away in the later laps.
Fellow Arkansas speedsters Landon Meilke and Kelby Wright were third and fifth, respectively. Fourth was 2021 track champion and Eastern Region rookie of the year Owen Barnhill.
After avoiding an early multi-car Saturday night tangle, Taylor caught Mielke for second and ran down Ward, taking over up front when the leader got out of his line in the late going.
Oklahoma pilots Gould, the defending GRT Race Cars South Central Region king and Michael Ables ran 2-3, and the top three drivers each advanced seven places.
Barnhill and Meilke rounded out the top five.
"This was a storybook weekend for us. It couldn't have worked out any better," Taylor said, after conquering the red clay at Southern for his first wins of 2022 in the AcreTrader-backed 2021 Lethal Chassis. "One of our goals for the year was to win an out-of-state race that was streamed (on Dirt2Media.TV, an affiliate of IMCA.TV) and we accomplished that the first night out."