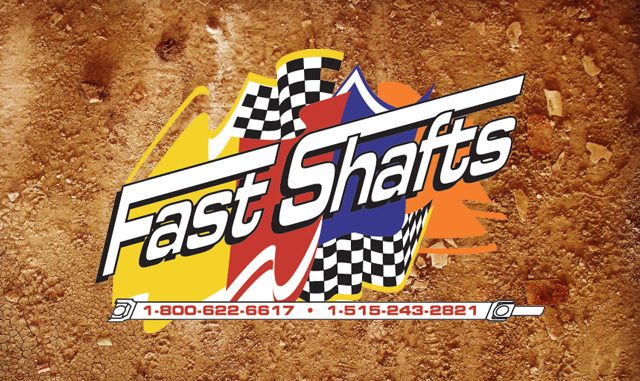 DES MOINES, Iowa (April 18, 2022) – Fast Shafts celebrates its 20th season of IMCA sponsorship with awards for another record number of drivers.
Friesen Performance IMCA Modified, IMCA Sunoco Late Model, IMCA Sunoco Stock Car, IMCA STARS Mod Lite IMCA Sunoco Hobby Stock, Friesen Performance IMCA Northern SportMod and Smiley's Racing Products Southern SportMod state champions all receive two $25 product certificates from the Des Moines, Iowa, manufacturer, founded by Pat Fagen in 1992 and now owned by Beau Kaplan. 
"This opportunity was both exciting and humbling," said Kaplan, a former IMCA Sunoco Hobby Stock and Friesen Performance Northern SportMod competitor. "I had been selling heavy construction equipment and loved doing it. Pat first talked to me about this last fall and I knew if I was going to make a change it would have to have something to do with racing."
"My passion for racing was still there and the growth and popularity of Fast Shafts intrigued me," he added. "We closed the deal on Dec. 31, 2021."
Fast Shafts recognized a record 94 state championship winning drivers last year.
The only title sponsor the Fast Shafts All-Star Invitational has known returns to that role for the 17th consecutive season, furnishing part of the purse to be paid to Modified drivers competing in that event at the upcoming IMCA Speedway Motors Super Nationals fueled by Casey's.
All qualifiers receive a custom fire suit and mini replica driveshaft; 163 drivers from 26 different states and Canada have taken the green flag in All-Star events at Boone Speedway since 2004.
Other awards to be given by Fast Shafts at the upcoming Super Nationals include free driveshafts to longest tow qualifiers for Modified, Stock Car, Northern SportMod, Hobby Stock, Late Model and Mod Lite main events; and $50 product certificates for top five Modified, Stock, Northern SportMod and Hobby Stock non-qualifiers and top five Late Model and Mod Lite finishers.
"The next thing about this is that we aren't missing a beat," said Fagen, who continues traveling, answering the phone and just about everything else between at Fast Shafts. "We pride ourselves on our ability to take care of our customers in timely fashion and that keeps us on top of the podium on the driveshaft business."
"I enjoy what I do and hope to continue being able to do it," he continued, crediting Boone Speedway promoter Robert Lawton with helping spark the original sponsorship program with IMCA. "It's been neat to see 30 All-Star drivers on stage in Fast Shafts suits at the same time."
"Pat has always put the racer first and his dedication to our sport and specifically IMCA racing has been absolutely incredible," said IMCA Marketing Integration and Sponsorship Director Carson Becker-Gramm. "I look forward to working with Beau and am thrilled to welcome Fast Shafts back in 2022. Be sure to stop by their booth on Manufacturers' Row at the IMCA Speedway Motors Super Nationals fueled by Casey's."
Fast Shafts also returns to national decal programs for Stock Cars and SportMods.
Information about Fast Shafts products and services is available at www.fastshafts.com, by calling 800 622-6617 and on Facebook.