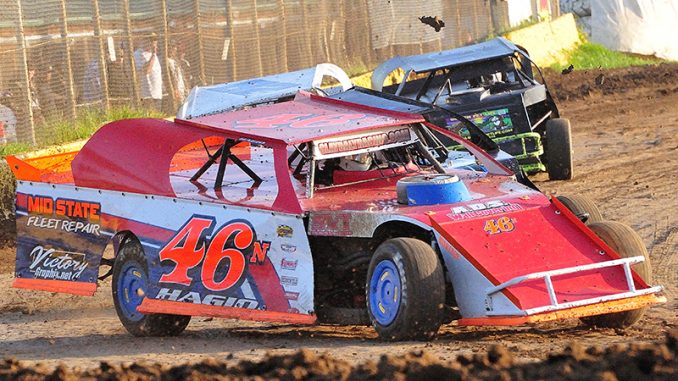 By Ben Deatherage 
WATSONVILLE, Calif. (April 1, 2022) – Ocean Speedway returned to racing on Friday for their third race on the campaign, with IMCA feature wins going to Cody Burke and Jonathan Hagio. 
At the release of the green flag for the 20-lap IMCA Northern SportMod main, Igor Gandzuk took the reins on the opening lap and set a rapid pace but was eventually caught by the completion of the seventh circuit.
The driver to catch Gandzuk was Jonathan Hagio. However, Hagio was by no means out of the proverbial woods as he got bottled up in lapped traffic that brought the entire top five into contention for the lead.
Shortly after Hagio passed the last car on the lead lap, a multi-car incident, including two top-five runners, occurred on the 12th circuit.
Hagio got up to speed but felt some brief heat a few circuits later. Richard Ragsdale got close to getting around Hagio, but the leader kept Ragsdale in check and scored his first win of 2022. Ragsdale was second, followed by Fred Ryland, who had been one of the cars caught up in the lone caution, in third. 
In the 20-lap IMCA Modified feature, Burke battled hard with Bobby Hogge IV for the race lead. Both Burke and Hogge pulled away from the field, with Cody eventually creating some breathing room.  
Two late-race cautions occurred, including the final stoppage on lap 19 that set up a one-lap showdown.  In both instances, Burke kept his mount in front of all challengers as he went on to win his first main event of the campaign and make it three different IMCA Modified winners in three races at Ocean. 
Hogge was a close second over third finishing Jim Pettit II.