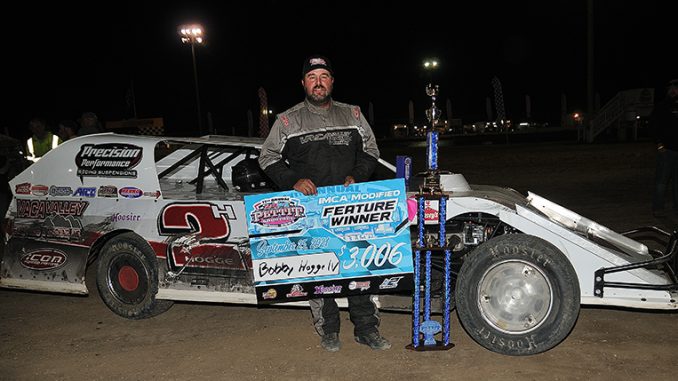 WATSONVILLE, Calif. (Sept. 24-25) – Bobby Hogge IV added to his collection of Pettit Shootout trophies while Cale Kanke started his.
Both drivers swept weekend events at Ocean Speedway, with Hogge picking up $1,003 and $3,006 IMCA Modified victories, his career sixth and seventh at the event. Kanke earned $503 for Karl Kustoms Northern SportMod career win number one on Friday and $1,003 for win number two the next night.
"It was a pretty amazing weekend for us," said Hogge, who wheeled the Rage by Precision Performance ride he'd debuted at the Prelude and IMCA Speedway Motors Super Nationals fueled by Casey's. "We started our venture in California with this car really well. Things couldn't have gone any better for us."
Newly eligible to qualify for the Fast Shafts All-Star Invitational, he won from 10th starting on opening night and from outside row one on Saturday.
"We floundered around mid-pack for a while before we found our way toward the front and battled with Paul Stone," he said, "and got the lead around midway of the 33-lapper."
Stone ended in second. Jim Pettit motored from 14th starting to third and Tim Balding and Troy Foulger completed the top five.
Hogge earned career win number 94 in the division on Saturday.
"We just kind of stayed with the program we were on the night before," he explained. "I don't know if I've ever had a car that good on a track that slick. We ended up running 53 laps straight through."
Pettit, Rick Diaz, Josh Combs and Foulger ran second through fifth, respectively.
"It took us a couple nights to get this car figured out," Hogge said, "but we made the All-Star race, won our last-chance feature and went from 26th starting to 11th in the Super Nationals main event. We went forward in every race we were in."
A regular at the Pettit – the families are long-time friends – Kanke called the special "Our highlight event for heading up north."
The Pettit became an even bigger highlight when he raced to career wins one and two on back-to-back nights.
"It was pretty unbelievable. We work extremely hard. We build all our own stuff in the garage for the most part so we put in a lot of time and effort," he said. "We're pretty stoked up about it all."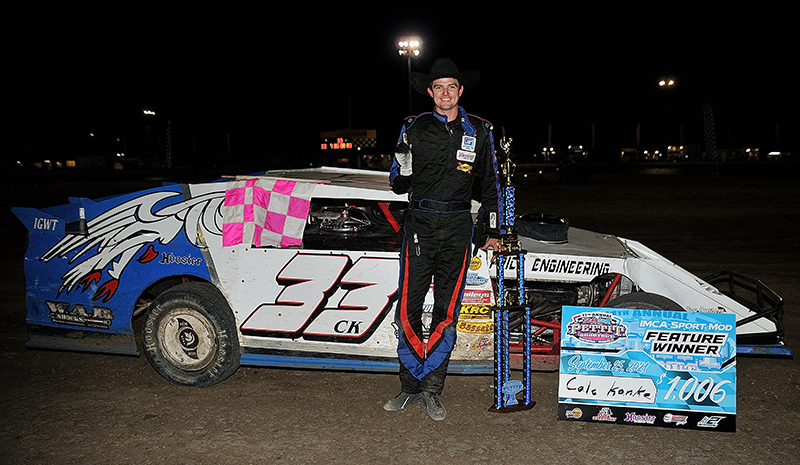 Cale Kanke's career first Karl Kustoms Northern SportMod feature wins came on back-to-back nights, at Ocean Speedway's 11th annual Pettit Shootout. (Photo by Top Dawg Racing Photos)
Kanke started sixth on Friday, was quickly up to second and battled Nick Spainhoward in traffic.
He got the lead before a late caution, getting the W in front of Spainhoward, 11th starting Fred Ryland, Randy Miller and Andrew Pearce.
After drawing the outside row one start, he reeled in Chuck Weir for the front spot and used lapped traffic to his advantage in
Todd Gomez, Kc Keller and Kenny Shrader finished 3-4-5.