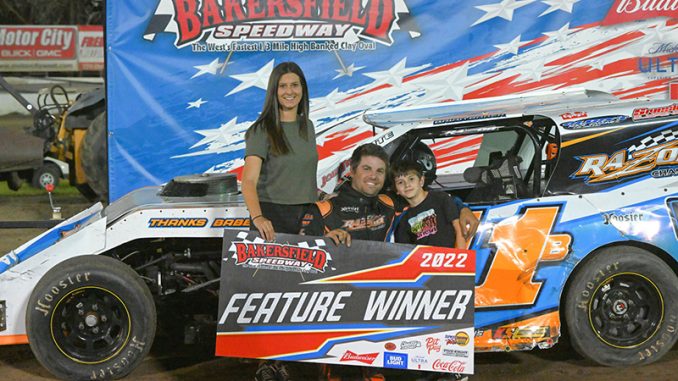 BAKERSFIELD, Calif. (April 4, 2022) – A driver who admittedly hasn't led a lot of laps finally led the most important one Saturday night.
Brian Baker won the April 2 IMCA Northern SportMod feature at Bakersfield Speedway. While it wasn't his first win in the sanctioned division, the checkers were his first in 10 years in the class at his hometown track.
"I'd never finished in the top four here. There's no place I'd rather win at than Bakersfield," said Baker. "We won our heat race and when we pulled the one out of the bucket to start on the pole, we knew we'd have to get out and go."
Baker stayed in front all 25 times around the track, holding off all challengers following numerous cautions.
"There were some of the best drivers in California behind me," said Baker, ultimately the winner ahead of hard-charging Garrett Jernagan, Levi Kiefer, Nick Spainhoward and Jason Bannister. "There was definitely an uneasy feeling for a driver who hasn't led a lot of laps."
"We had every different track condition you could race on," he continued. "I'd forgotten the race was 25 laps and was surprised when I came around the track on lap 19 and didn't see the white flag. I tried to keep the car straight and really had to push the last few laps."
"My brother Adam is starting his second full season in the division," Baker said, "and it was fun getting to race with him. He ran in the top three early before he got together with another car and finished ninth."
Saturday's win came in Baker's fourth start of the new season and turned the page on a frustrating 2021 campaign.
"Last year was a tough one. We had 18 starts in six or seven different states and had a bunch of seconds and thirds but just never got there. We just played bridesmaid too much," he said.
Most recently a winner at Bakersfield in a midget in 2011, Baker had gone on the road for victories at Fairgrounds Speedway in Colorado and at Wyoming's Sweetwater Speedway in June of 2020.
"We've qualified at Super Nationals and Las Vegas but the three wins really mean a lot," he said. "Cortez because it was our first win, Sweetwater because it was our biggest paying win ($1,500) and now Bakersfield because that was our first win at home."
"It was good to check that off. It was a good feeling."
Baker will be a regular at both Bakersfield and Merced Speedway this season, catching area specials before heading to the Midwest to visit builder Razor Chassis and chase another out-of-state trophy in Kansas, Nebraska and Iowa.