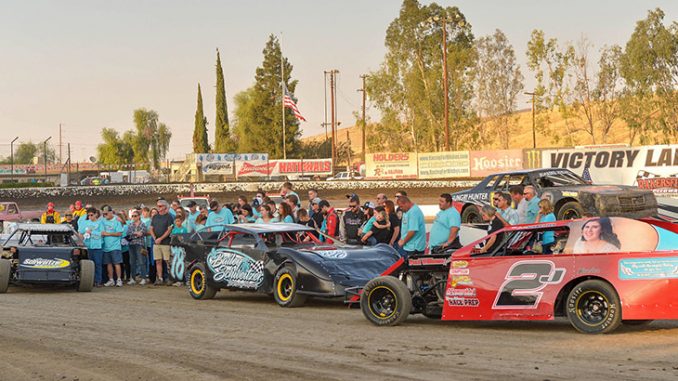 BAKERSFIELD, Calif. (Oct. 13-14) – Racing took a backseat to remembering a much loved mem­ber of the Bakersfield Speedway family.
Bailey Schweitzer, daughter of promoter Scott Schweitzer, was one of the victims of the Route 91 Harvest Festival shooting in Las Vegas. She was remembered in pre-race ceremonies before both nights of the Budweiser Nationals, with a balloon launch held before racing began on Satur­day.
"This has been a race I've always wanted to win and especially being able to do it this year means a lot to me," said Friday night IMCA Modified winner Cody Laney. "There were a lot of peo­ple here and a lot of work went into this weekend. A lot of people came together."
Laney's 30-lap win on Friday and Collen Winebarger's 40-lap victory on Saturday both paid $1,500 and were Fast Shafts All-Star Invitational ballot qualifying events.
Robby Sawyer ran up front early on Friday and was in and out of the lead before Laney got there to stay on the 18th lap. After moving to the lower line, Laney went on to take the win ahead of Saw­yer, Ethan Dotson, Brad Pounds and Bobby Hogge IV.
Winebarger's 14-hour tow from Corbett, Ore., was rewarded the next night with a start to finish run in the lead. Laney threatened to sweep the weekend but came up just short following a restart with two laps to go.
"I'd put the competition here up against anybody," he said. "You've got to bring your 'A' game be­cause there are so many good cars and we had a pretty good car all weekend."
Darrell Hughes II, Dotson and Danny Lauer rounded out the top five.
Nick Spainhoward also scored a $1,500 feature win after leading the last three times around the track in Saturday's Karl Chevrolet Northern SportMod 30-lapper.
Also the Budweiser Nationals winner in 2015, Spainhoward led Jason Nation, Austin Kiefer, Wayne Dotson and Garrett Jernagan across the stripe. Kiefer had led the first 27 laps.
Oct. 13 Feature Results
Modifieds – 1. Cody Laney; 2. Robby Sawyer; 3. Ethan Dotson; 4. Brad Pounds; 5. Bobby Hogge IV; 6. Collen Winebarger; 7. Alex Stanford; 8. Ryan Daves; 9. Robert Sanders; 10. Scott Drake; 11. Kyle Heckman; 12. Joe Antonetti; 13. Grey Ferrando; 14. Ryan Porter; 15. Jordan Ha­gar; 16. Justin Crockett; 17. Blake Thornell, 18. Randy Thornell; 19. Troy Foulger; 20. Darrell Hughes II; 21. Chad Reichenbach; 22. Roger Holder.
Oct. 14 Feature Results
Modifieds – 1. Winebarger; 2. Laney; 3. Hughes; 4. Dotson; 5. Danny Lauer; 6. Logan Drake; 7. Sawyer; 8. Justin Schweitzer; 9. Tom Malcolm; 10. Scott Drake; 11. Ferrando; 12. Pounds; 13. Sanders; 14. Stanford; 15. Heckman; 16. John Piker; 17. Troy Morris, Jr.; 18. Bill Egleston; 19. Foulger; 20. Porter; 21. Hogge; 22. Holder.
Northern SportMods – 1. Nick Spainhoward; 2. Jason Nation; 3. Austin Kiefer; 4. Wayne Dot­son; 5. Garrett Jernagan; 6. Michael Johnson; 7. Chris McKellar; 8. Billy Simkins; 9. Cory Hemphill; 10. Lee Jensen; 11. Austin Manzella; 12. Matt Lewis; 13. Brylon Holder; 14. Brian Cooper; 15. Cale Kanke; 16. Tina Pounds; 17. Todd Cooper; 18. Matthew Mayo, Jr.; 19. Rick Chil­dress Jr.; 20. Shane DeVolder; 21. Clint Reichenbach; 22. Doff Cooksey.