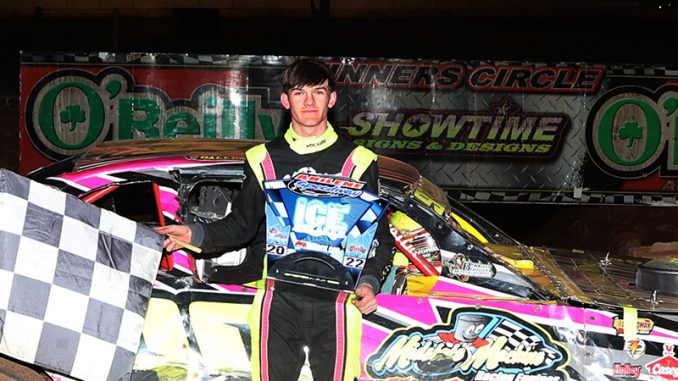 ABILENE, Texas (Feb. 19, 2022) – The setup changes Dallon Murty made following his first night out at Abilene Speedway took him straight to victory lane in his second night on the lightning-quick Texas oval.
Murty topped Saturday's $3,000 to win IMCA.TV Ice Breaker Prelude to the Sniper Speed Lone Star Tour feature, leading the last 17 times around the track in the 20-lapper.
"I didn't know how this Texas trip would go. To end the Ice Breaker with a win, I'll take it. It's a good way to start the tour," the young Iowan said following his second IMCA Sunoco Stock Car checkers of 2022. "Tracks are different here. The dirt is different. To come here and get a win was huge."
Two cautions slowed the early going before Murty beat pole starter Jordan Zillmer to the stripe by a bumper width on lap four.
The laps clicked off in a hurry before Zillmer spun after getting together with Friday winner P.J. Egbert on the 12th circuit.
Egbert lined up second on the restart but he had to settle for the runner-up's $2,000 share of the purse after Murty checked out. Tyler Iverson, Derek Brown and Shelby Williams completed the top five.
While Murty didn't bring first-hand experience to Abilene, the defending Junior National Champion did have his father Damon, a three-time Ice Breaker winner, in his corner.
"We struggled the night before with my standard setup," said Murty, eighth in the Friday night main event and already qualified for the B & B Racing Chassis All-Star Invitational. "I talked with my dad, we changed a few things around and it ended up working out."
Brint Hartwick earned $1,000 and Fast Shafts All-Star Invitational qualifying eligibility with his IMCA Modified feature win.
Dave Trauernicht, then Jim Thies challenged before a couple cautions right after midway. Josh Cain took over second at that point but had nothing for the leader. Jesse Sobbing started 10th and finished third.
Bradley Poor motored to Ice Breaker career win number six and $600, outrunning Friday winner Payton Zentgraf in a déjà vu kind of Smiley's Racing Products Southern SportMod contest.
Zentgraf again did his best to make the high side work but could not repeat his opening night effort as the front pair dealt with lapped traffic in the final laps. Austin Moore rounded out the top three.
Steven Bevills got the best of another opening night winner, beating Randy Martin to the stripe in the $250 to win Mach-1 Sport Compact feature. Third was Keagan Haralson.
Feature Results
Stock Cars – 1. Dallon Murty; 2. P.J. Egbert; 3. Tyler Iverson; 4. Derek Brown; 5. Shelby Williams; 6. Blake Clark; 7. Jesse Sobbing; 8. Abe Huls; 9. Matt Guillaume; 10. Caleb Stone; 11. Damon Murty; 12. William Gould; 13. Taylor Carver; 14. Elijah Zevenbergen; 15. Randy Weaver; 16. Ricky Alvarado; 17. Jordan Zillmer; 18. Dennis Bissonnette; 19. Jason Rogers; 20. David Goode Sr.
Modifieds – 1. Brint Hartwick; 2. Josh Cain; 3. Jesse Sobbing; 4. Jim Thies; 5. William Gould; 6. Josh McGaha; 7. Mike Petersilie; 8. John Webb; 9. Fred Wojtek; 10. Vince Ogle; 11. Chris Elliott; 12. Caleb Stone; 13. Brandon Clough; 14. Dave Trauernicht; 15. Cody Tidwell; 16. David Goode Jr.; 17. Danny Patterson; 18. Justin Shaw; 19. Steven Whiteaker Jr.; 20. Kyle Wisdom.
SportMods – 1. Bradley Poor; 2. Payton Zentgraf; 3. Austin Moore; 4. Tim Hamilton; 5. Hunter Welch; 6. Matt Mueller; 7. Tony Spencer; 8. Roger Sisson; 9. Gavin Faulks; 10. Michael Scott; 11. Ragen Martin; 12. Cole Bishop; 13. Leland Cruz; 14. Terry Owen; 15. Bret Bush; 16. Robby Crabtree; 17. Scotty Cook; 18. Michael Watkins; 19. Devin Ely; 20. Corey Ross; 21. Bubba Ross.
Sport Compacts – 1. Steven Bevills; 2. Randy Martin; 3. Keagan Haralson; 4. Chase Martin; 5. Michael Trammell; 6. Brandon McFall; 7. Dustin Vurkus; 8. Gage Davis; 9. Kelly VanDriel; 10. Kooper Teafatiller; 11. Thomas Bedrick; 12. Frank Lackey; 13. Tylan Davis; 14. Sean Leasure; 15. Shawn Miles; 16. Kollin Teafatiller.