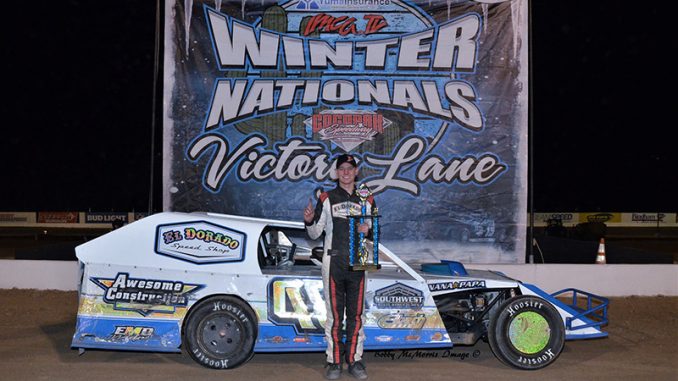 By Ben Deatherage  
SOMERTON, Ariz. (Jan. 5) – Opening night of the IMCA.TV Winter Nationals presented by Yuma Insurance featured a very full pit area at Cocopah Speedway and saw Kollin Hibdon end his evening with the $1,000 IMCA Modified checkers.
The Pahrump, Nev., pilot took off from the rest of the pack at the start of the 25-lapper, powering his way around the Diamond In The Desert with nothing slowing down his pace but a lap two caution. Once racing resumed, Hibdon got back on the hammer for his first win of the 2022 IMCA Speedway Motors Weekly Racing campaign.
His first career IMCA.TV Winter Nationals presented by Yuma Insurance main event victory also made Hibdon eligible to qualify for the upcoming Fast Shafts All-Star Invitational.
Don Shaw and Tanner Black were second and third, respectively. Chandler native Tim Ward ended his night fourth while 2021 IMCA rookie of the year Cody Thompson hit the wire fifth.
The Wednesday night lidlifter saw 215 cars in action, including 72 IMCA Modifieds, nearly 60 Karl Kustoms Northern SportMods and 50 IMCA Sunoco Stock Cars. Twenty states were represented.
Jim Horejsi won the Stock Car feature and Josh Most topped the Northern SportMod headliner. Bobby Horton was best in the IMCA Sunoco Hobby Stock main and Kaytee DeVries led the way in the Mach-1 Sport Compact feature.
Steve Stone and Bubba Stafford Jr. led early in the Stock Car feature before Minnesota traveler Horejsi came to call and took over at the point on the fifth circuit.
Chanse Hollatz and Damon Richards raced into contention before Horejsi pulled away and celebrated his birthday with the $750 victory. Eligible to qualify for the B & B Racing Chassis All-Star Invitational, at the races, Horejsi won ahead of Hollatz and Richards.
The Northern Sport Mods ran a 25-lap affair which came down to the very last circuit.
Most edged race-long leader Andrew Pearce by a slim three thousandth's of a second on lap 20 while running three-wide with Chris Toth down the front chute. A late caution kept the competition in close proximity with just a few laps to go.
When the final green flag waved, Most had a strong restart but Toth found the necessary drive to put up a challenge and the two drag raced down the back straightaway on the final trip around the speedway.
Most managed to hold off Toth for the $750 win. Shane Paris placed third.
Despite his ninth place start, long-time Cocopah motorist Horton pulled away during a long green flag run in winning the Hobby Stock feature and $500. Erik Knutson was second with third going to Zach Tate.
DeVries took the reins early in the 15-lap Sport Compact feature. Waylon Hale propelled himself to challenge on the last lap but DeVries kept him in check for $300 and career win number 77 in the division. Kevin Reuter was third.
All five divisions return to the track for Jan. 6, 7 and 8 shows at Cocopah. Those events and Jan. 12, 13, 14 and 15 programs are all broadcast by IMCA.TV.
Feature Results
Modifieds – 1. Kollin Hibdon; 2. Don Shaw; 3. Tanner Black; 4. Tim Ward; 5. Cody Thompson; 6. Ethan Dotson; 7. Paul Stone; 8. Jerry Flippo; 9. Braxton Yeager; 10. Tripp Gaylord; 11. Grey Ferrando; 12. Danny Lauer; 13. Aaron Elwess; 14. Chaz Baca; 15. B.J. Wild; 16. Mike McKinney; 17. Justen Yeager; 18. Ryan Roath; 19. Kyle Heckman; 20. Jeremy Mills; 21. Travis Denning; 22. Bricen James; 23. Dan Menk; 24. Brenda Kirby; 25. Austen Becerra.
Stock Cars – 1. Jim Horejsi; 2. Chanse Hollatz; 3. Damon Richards; 4. Bo Partain; 5. Josh Most; 6. Taylor Kuehl; 7. Jason Doyle; 8. Andrew Altenburg; 9. Joe Schmit; 10. Chase Berkeley; 11. Austin Kaplan; 12. Paul Stone; 13. Rob Gallaher; 14. Steve Stone; 15. Rick Diaz; 16. Dan Menk; 17. Kersey Ferrando; 18. Bubba Stafford Jr.; 19. Collen Winebarger; 20. Nicholas Johnson; 21. Brock Badger; 22. Jake Nelson; 23. Fred Ryland; 24. Cody Williams.
Northern SportMods – 1. Josh Most; 2. Chris Toth; 3. Shane Paris; 4. Chase Alves; 5. Andrew Pearce; 6. Phillip Shelby; 7. Jacob Mallet Jr.; 8. Ty Rogers; 9. Tim Bergerson; 10. Ryan Peery; 11. Shelby Alves; 12. David Siercks; 13. Braden Richards; 14. Jarrod Mounce; 15. Jake Triska; 16. Jesse Johnson; 17. Izac Mallicoat; 18. Danny Concelman; 19. Fred Ryland; 20. Joe Feyen; 21. Mark Martini; 22. Matthew Mayo; 23. Jayson Aldridge; 24. Brian Carey; 25. David Kilpela.
Hobby Stocks – 1. Bobby Horton; 2. Eric Knutson; 3. Zack Tate; 4. Brett Vanous; 5. Brandon Bombardo; 6. Nick Posey; 7. Chandler Dodge; 8. Brycen Daffern; 9. Matt Olson; 10. Jim Robinson; 11. Brian Brown; 12. Shawn Rico; 13. Scott Tenney; 14. Ben Reierson; 15. William Herron; 16. Jason Duggins; 17. Mark Merlen; 18. Bobby Gallaher; 19. Thomas Daffern; 20. Andy Pearce; 21. Tory Harazin.
Sport Compacts – 1. Kaytee DeVries; 2. Waylon Hale; 3. Kevin Reuter; 4. D.J. Werkmeister; 5. Maci Constance; 6. Katie Barthel; 7. Mylee Joann; 8. Enzo Deckers; 9. Camron Spruell; 10. Jenna Wilson; 11. Benjamin Pendleton; 12. Austin Harris; 13. Wynona Ragland.