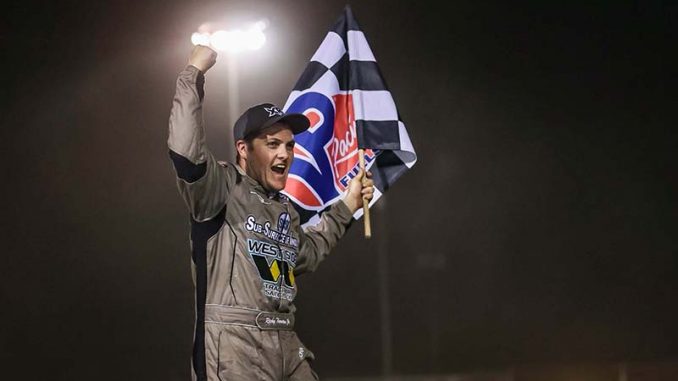 LAS VEGAS (Nov. 13) – There was a time when Ricky Thornton Jr. and Zane DeVilbiss went to Las Vegas and wondered where their good luck went. 
Now they've both repeated as winners of rich IMCA main events Saturday night at the 24th annual Karl Chevrolet Duel in the Desert.
Thornton took home $10,000 after taking the IMCA Modified checkers while Devilbiss' latest IMCA Sunoco Stock Car win at the half-mile Dirt Track paid $5,000.
"It's nuts. I had struggled there for a while and now I've won the Duel two years in a row," said Thornton, who had started from the pole and chased Cody Laney most of the 25-lapper, getting the lead back with five circuits left. "It's definitely special to win here. This is just five hours from where I grew up and my whole family gets to come."
Laney had climbed from the sixth position to take the lead at the conclusion of the sixth lap.
Thornton kept pace with Laney until six laps remained. Thornton attempted a slide job at that point, but wasn't able to make the pass until the following lap with the same move.
Laney made one last effort to regain the lead, but broke with two laps to go.
"We got to lapped traffic about halfway, right before a caution," Thornton said. "The race ended green, white, checkered and no one showed me a nose or anything on the last restart."
Completing the top five were Zack VanderBreek, Ricky Alvarado, Peyton Taylor and DeVilbiss. The win by Thornton made his eligible to qualify for next September's Fast Shafts All-Star Invitational.
Dallon Murty joined DeVilbiss on the front row for the 25-lap Stock Car main event. DeVilbiss led early before Murty made the first pass for the lead on the seventh lap. From there it was an all-out dogfight for the championship.
Murty's father Damon and Jesse Sobbing joined in for a thrilling four-car battle for the victory. Sobbing, who started 16th, used the high side in taking the lead from Damon Murty with seven to go.
After a couple late cautions, Dallon Murty went for a haymaker slide job in the final corners, but DeVilbiss crossed over to the inside of Murty, drove up beside him and the two slammed doors at the line, with DeVilbiss prevailing by .067 seconds.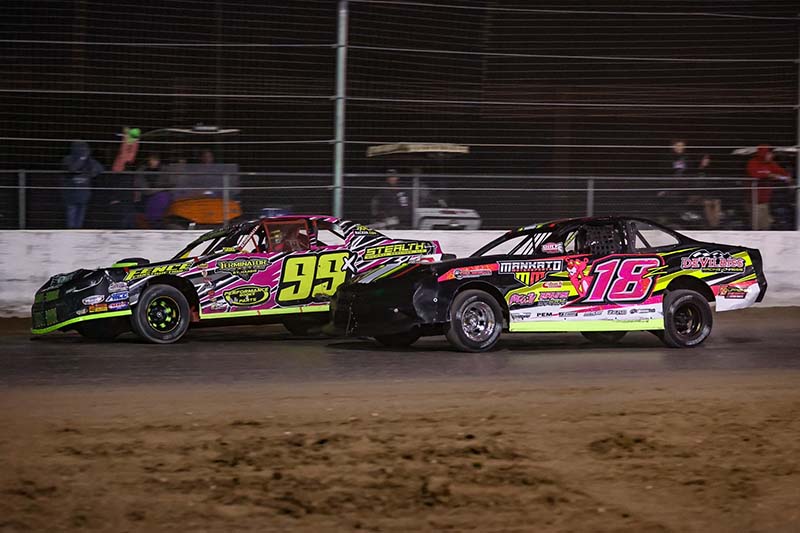 A fraction of a second separated Zane DeVilbiss and Dallon Murty at the finish of the Saturday night IMCA Sunoco Stock Car feature at the Las Vegas Motor Speedway Duel in the Desert. DeVilbiss' margin of victory was less than seven hundreth's of a second. (Photo by Michael Boggs/Speedway Shots)
"Oh man, it was knock-down, drag-out. The last laps were wild," DeVilbiss said. "Last year we dominated. This year there were a lot of guys who were really fast. To win this two years in a row is amazing."
"We're still figuring this track out and getting better and better there every year," added DeVilbiss, newly qualified for the B & B Racing Chassis All-Star Invitational.
Third went to Mike Petersilie, with Jesse Sobbing fourth and Damon Murty fifth.
Feature Results
Modifieds – 1. Ricky Thornton Jr., Adel, Iowa; 2. Zack VanderBeek, New Sharon, Iowa; 3. Ricky Alvarado, Hotchkiss, Colo.; 4. Peyton Taylor, Batesville, Ark.; 5. Zane DeVilbiss, Farmington, N.M.; 6. Kollin Hibdon, Pahrump; 7. Tim Ward, Harcourt, Iowa; 8. Ethan Dotson, Bakersfield, Calif.; 9. Chaz Baca, Mesa, Ariz.; 10. Jeff Larson, Freeport, Ill.; 11. Eddie Belec, Arvada, Colo.; 12. Mike McKinney, Plainfield, Ill.; 13. Robert Sanders, Bakersfield, Calif.; 14. Steven Whiteaker, Robstown, Texas; 15. Kyle Brown, Madrid, Iowa; 16. Jerry Flippo, Bakersfield, Calif.; 17. Jacob Hobscheidt, Plattsmouth, Neb.; 18. Bricen James, Albany, Ore.; 19. Jeff Taylor, Locust Grove, Ark.; 20. Johnny Saathoff, Beatrice, Neb.; 21. Cody Laney, Torrance, Calif.; 22. Jeremy Payne, Buckeye, Ariz.; 23. Collen Winebarger, Corbett, Ore.; 24. Tanner Black, Otis, Kan.
Stock Cars – 1. Zane DeVilbiss, Farmington, N.M.; 2. Dallon Murty, Chelsea, Iowa; 3. Mike Petersilie, Hoisington, Kan.; 4. Jesse Sobbing, Malvern, Iowa; 5. Damon Murty, Chelsea, Iowa; 6. John Parmeley, Phoenix, Ariz.; 7. Beau Hutchison, Layton, Utah; 8. Chase Berkeley, Colville, Wash.; 9. Jerry Schram, Vancouver, Wash.; 10. Mike Stapleton, Denison, Iowa; 11. David Murray Jr., Oberlin, Kan.; 12. Jessie Shearin, West Plains, Mo.; 13. Scott Sluka, Casa Grande, Ariz.; 14. Michael Jaennette, Kellogg, Iowa; 15. Christopher McCurdy Jr., Phoenix, Ariz.; 16. Robert Chalupa, McCook, Neb.; 17. Matt Mayo, Bakersfield, Calif.; 18. Alex Dostal, Glencoe, Minn.; 19. Jake Nelson, Williston, N.D.; 20. Michael Villanueva, Atwater, Calif.; 21. Shelby Williams, Bonham, Texas; 22. Bubba Stafford Jr., Wittman, Ariz.; 23. Brandon Monson, Denison, Iowa; and 24. Anthony Madrid, Phoenix, Ariz.