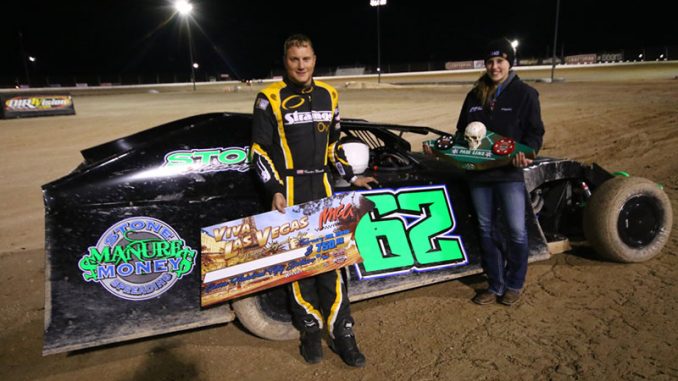 LAS VEGAS, Nev. (Feb. 28) – Continuing his torrid early season streak, Hunter Marriott was the $750 IMCA Modified winner in the Wednesday special at the Las Vegas Motor Speedway Dirt Track.
Marriott caught pole starter D.J. Shannon for the lead six circuits in and outran R.C. Whitwell for the checkers.
"The track was fast and the car was pretty good. There was a lot of lapped traffic but we were able to get through without any problems," Whitwell said. "I've raced there a handful of times and always like to get as many laps in there as possible to get ready for the Duel" (in the Desert, in November).
Thirty cars started the 20-lap main event, with Cody Laney, Chaz Baca and Shannon completing the top five.
Coming from the fourth starting spot and piloting a Paul Stone-owned ride, Marriott reeled in Shan­non and brought Laney along.
The first half of the race was dotted by yellows but ran caution-free the last nine laps. The 18th starting Whitwell took over second and 24th starting Baca was up to third just after midway.
Neither would be able to catch up with Marriott, however, as he followed the high line in the first set of turns and switched to the lower groove for the second, working his way through traffic to take the win two seconds ahead of Whitwell.
Another top prize of $750 is at stake for the Modifieds Thursday on the half-mile LVMS dirt oval, with IMCA Speedway Motors Weekly Racing National, Larry Shaw Race Cars Western Region and Nevada State points also to be awarded for the midweek event.  
Feature results – 1. Hunter Marriott; 2. R.C. Whitwell; 3. Cody Laney; 4. Chaz Baca; 5. D.J. Shan­non; 6. Joey Price; 7. Randy Brown; 8. Zach Olson; 9. Rob Sanders; 10. Chris Delp; 11. Billy Wormsbecker; 12. Chad Reichenbach; 13. Don Martin; 14. Brad Hopkins; 15. Leland Hibdon; 16. Jerry Bailey; 17. Andy Strait; 18. Blake Lyle; 19. Dave Spears; 20. Adam Fischer; 21. Justin Mil­ler; 22. Brenda Kirby; 23. Josh Dingman; 24. Joey Franklin; 25. Hunter McDonald; 26. Jesse Hoskins; 27. Ron Moser; 28. Casey Delp; 29. Terry Hershberger; 30. Paul Stone.