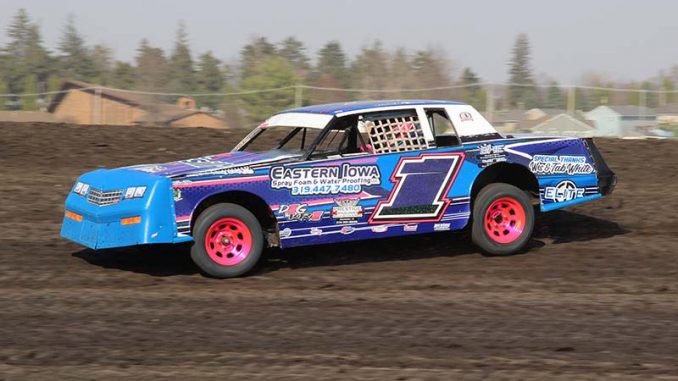 CEDAR RAPIDS, Iowa – Kaden Reynolds describes himself as "kind of a fender fan." 
Now he's an IMCA national champion, too.
The Cedar Rapids, Iowa driver got an early season shot of confidence and won 30 features on the way to the IMCA Sunoco Hobby Stock national crown.
"Everybody goes into the year thinking about or hoping to have a good season," said Reynolds, national rookie of the year in the division in 2019 and IMCA's first-ever Junior National Champion in 2020. "Winning seven of our first eight starts was a real confidence booster. It solidified the idea of us going for the national championship."
"It's definitely cool to win pretty much the biggest awards I could," he added. "My mom said something like I got a three-peat. It's awesome."
The Big Daddy Race Cars Northern Region champion also won track titles this season at Marshalltown Speedway and Independence Motor Speedway while running third at Benton County Speedway.
His 11 wins at Marshalltown included the Dale DeFrance Memorial in May, his nine wins at Vinton the Urbana 5 special in July.
Reynolds was also a seven-time winner at Indee and also topped the fair special at Dubuque Fairgrounds Speedway.
"I don't necessarily have a favorite track but I have favorite characteristics," he said. "I like the banking at Marshalltown and you can race four wide, especially running the cushion. The racing surface at Independence is unique and I like finding the fastest line at Vinton. That's another track with its own character."
Wins in eight of nine starts put him on top of the national point standings in late July. Reynolds locked up the national championship with streaks of six and then three straight wins through August.
"We started thinking about the national championship late last year," Reynolds said. "The biggest thing about national points is not to overthink them. We went out and did the best we could every night and let the points take care of themselves."
"I'm a big believer that shop time turns into speed on the track," he added. "There's always some luck involved, and I've gotten to race with a lot of good drivers who helped me learn the ropes. It's been cool to race with them, for sure."
Reynolds doubled his Hobby Stock career win total to 60, good for a top 40 spot all-time in the class.
He'll race for national honors in a new division in 2022 with a new IMCA Sunoco Stock Car already purchased and in the shop.
"I'm kind of a fender fan and the Stock Cars are another class where you can race close," Reynolds said. "Right now, we want to go for national rookie of the year and race more specials."
Starts-45        Wins-30        Additional Top Fives-7
HIS CREW: Grandfather Randy Olson and Austin Rayner.
HIS SPONSORS: Eastern Iowa Spray Foam, D & S Disposal, Cassill Motors, Speedeez Indoor Karting, FYP Rental Properties and Climate Engineers, all of Cedar Rapids; Albert Auto 380 of Center Point; Shellsburg Car and Truck Wash of Shellsburg; Prestige Masonry of Anamosa; Dynamic Drivelines of Des Moines; Finishline Body and Paint of Grimes; BHE Custom Suspension of Ames; and Motorsports Warehouse of Boone.